This article was originally published in Turf Magazine, where Chad writes a monthly column about sales and marketing tips for landscaping and lawn care companies.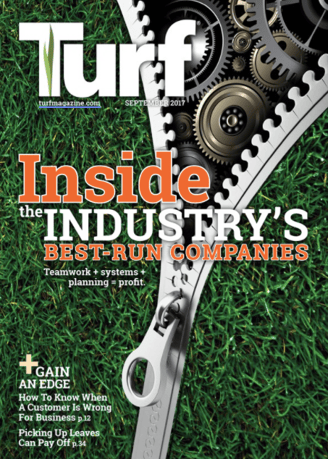 Your company and its team have a loyal following. In fact, you get constantly reminded of it through e-mails, handwritten notes, raving reviews, and kind words every day. On tough days it's just the encouragement you need to keep your head up.
There's only one problem—you're realizing not enough people know you. Your lawn care or landscaping company's reputation is almost as obscure as a D-List celebrity. Some people may have heard of you, but most of the public has no clue just how wonderful you are. But with the right representation, you could have a crowd of raving fans ready to follow you anywhere you go, even if they've not yet done business with you.
One thing I frequently notice is that extremely talented green industry companies do a poor job of utilizing positive client feedback in their marketing. Yet this kind of social proof is exactly what prospects need to become your next client! Just saying you're the best in your advertising doesn't matter. Prospects need to hear it from your clients. That's what it takes to become a rockstar.

(RELATED READING: Who Is Your Ideal Customer?)
From Proof to Popularity
Without a purposeful strategy and process, you'll remain in obscurity. It's important that your whole entourage gets on board with your goal and follows the same procedure, whether they are in sales, answering the phone, or performing work on a client's property. This golden feedback is too valuable to squander.
Do As Many Interviews As Possible
Sure you'll get the unsolicited fan mail. But most clients are busy and won't let you know how they feel about you, even if they're thrilled. They need a subtle nudge and you need to make it easy for them. You can't wait for the opportunities to come to you. You're going to have to take advantage of every chance you get.
Develop simple ways that happy clients can share their thoughts. You can do this a variety of ways, including:
Email Surveys

(keep it short and sweet and easy for them)
Postcards

(give a few multiple choice scoring questions, and a few lines for a comment)
Website Forms

(great to include on the page after a client submits a payment)
Online Reviews

(promote these links on social media platforms or email)
Conversations

(ask them questions that get specific, meaningful answers)
Whatever means you use, tell your client it only takes a minute and why it's important. Make it about them, not you! Let them know that what they say matters and that their feedback will help you do an even better job for them in the future.
(RELATED READING: How to Get More Positive Online Reviews for Your Green Industry Company)
Record It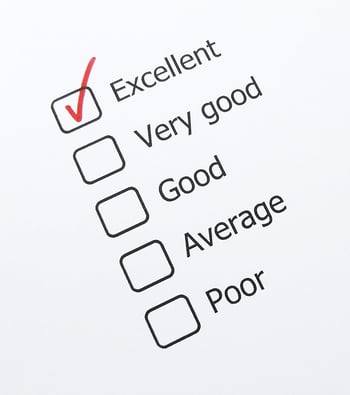 Don't let these responses slip through the cracks or get filed away to be forgotten like one-hit wonders.
Whether it's in a spreadsheet, document, or CRM software, it's essential that all feedback gets logged in one central location and is easily accessed by your team. Store comments in a manner that anyone from your team can look them up by the client's full name, related service, and the city in which the client is located.
Promote It
After formalizing a process for getting and recording client feedback, it's to put it to use in your marketing. The more you can reveal that it's coming from a real person, the more credible a testimonial will be. When possible, use first and last names, along with the city or town they are located in. You could even ask them for a picture of them to include.
Here are just a few examples of where to use client feedback:
Social Media Posts:

Instead of posting an obvious self-promotion of, "We're having a shrub trimming special now, so contact us!", you can be more subtle by using a client quote. Think how your followers would respond while reading something like this:
"Mike and Jim rock! My shrubs look so much better and this would have taken me several weekends to complete! "

- Kay Hoober, San Diego, CA
Print Media:

Whether it's a magazine ad, billboard, direct mail piece, or even the back of your company vehicle, imagine a prospect's reaction when they see a client testimonial reading:
"I absolutely love my new patio and outdoor fireplace! It looks like something out of a magazine!"

- Adam Christopher, Orlando, FL
Websites:

There are multiple places on your website, perfect for displaying client feedback. Testimonials can be contained in a long list on their own page, even with the capability to sort them by service type. Smaller modules of individual testimonials can be added to a footer, sidebar, or within the content of a website page or blog article. Picture your prospect reading your website's page on landscape design, only to see this great testimonial displayed:
"I had no clue of what I wanted for my backyard, but you made the design process easy and fun! You asked me the right questions to create a space that is breathtaking and that my family loves using!"

- Shaina Miville, Phoenix, AZ
(Here is a great example of how Oasis Turf & Tree showcases their client feedback throughout their website.)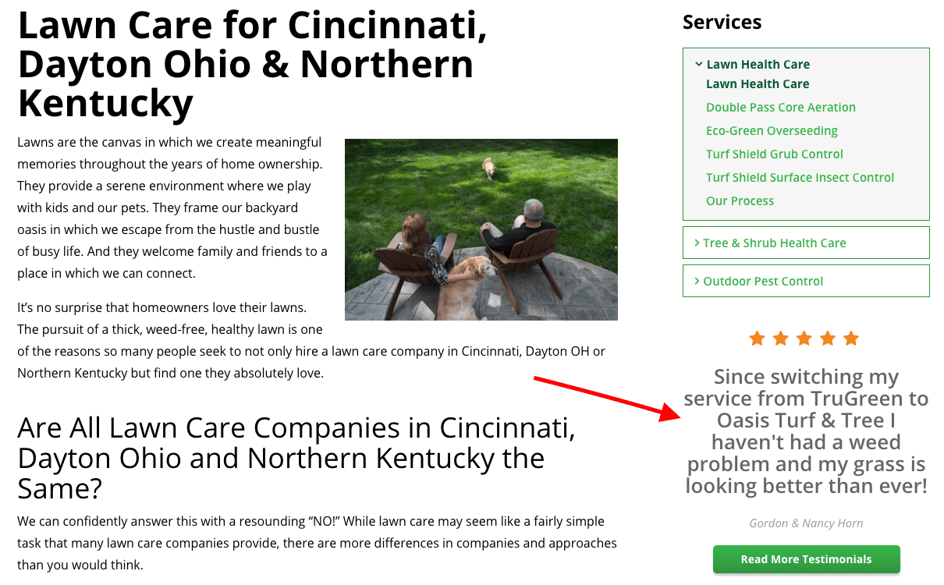 In-Depth Case Studies:

There are just those clients who have plenty to say, and carry a lot of weight. Maybe they just had a huge design/build project completed or they are a well-known commercial property. You could interview them to include multiple quotes within a detailed written case study. Imagine a facilities director at a local college reading an article with quotes from the staff at Hughes University, a rival school.
(Here is an excerpt from one of Native Land Design's awesome case studies featuring a client quote.)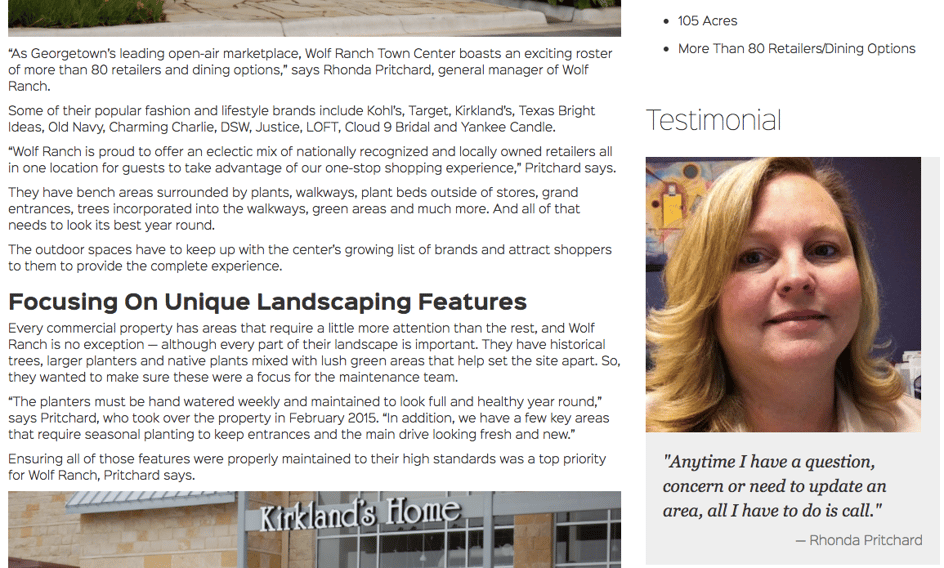 Video:

While it's always good to display written testimonials, you could also use video to tell the story of the process of the project and communicate the depth of your client's satisfaction. Your prospect is going to be more apt to reach out for a free consultation after watching a captivating project video, featuring recorded answers from Mr. & Mrs. Plank's hassle-free experience with your company.
(Level Green Landscaping displays a great example how to use not only written feedback, but how to also combine it with a video testimonial.)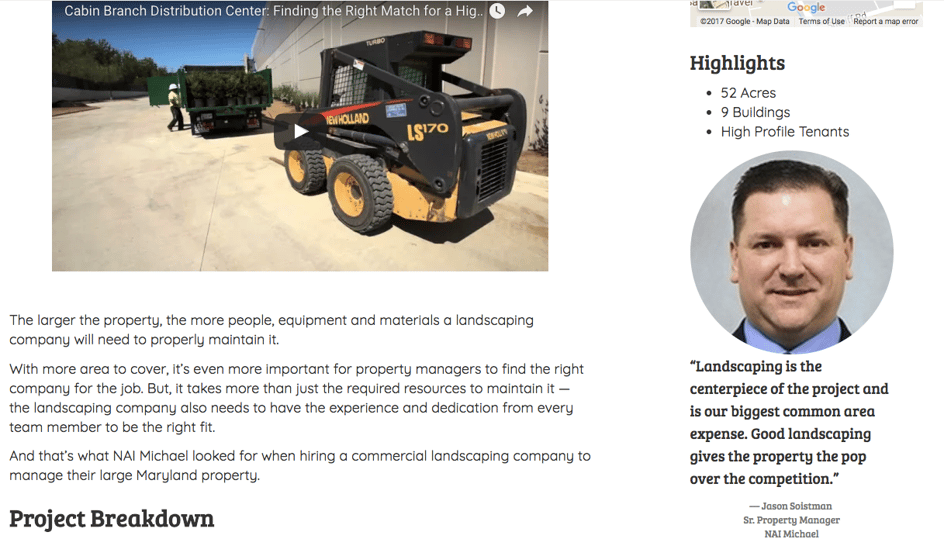 Becoming a Force to Be Reckoned With
To be a marketing success, creating and recording client feedback takes a long-term strategy. Over the years, you'll go through seasons of mediocre, vague responses. But give it your best shot and eventually, you'll uncover client quotes that are sure to get stuck in the heads of your prospects. Keep at it and soon people will recognize the familiar tune of your clients singing your praises.
Want more regular tips on how to improve your landscaping or lawn care company? Subscribe to our blog or take advantage of some of our free resources.