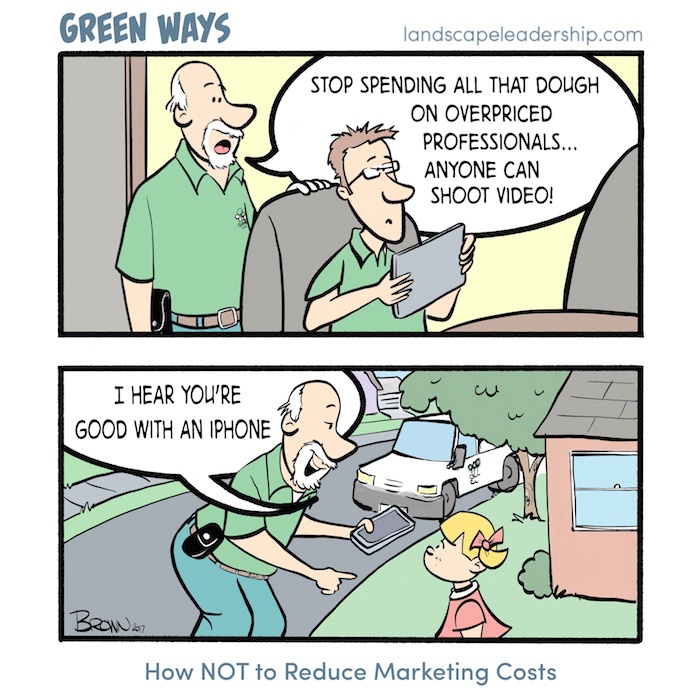 Purchase our entire collection of Green Ways comics on Amazon
This is a special guest post from our friend, Lindsey Getz. Big thanks to her as well as Jackson Deaver and Michael Mayberry.
---
These days people are watching more video than ever before online. Professional video can be an incredibly powerful tool in reaching your lawn and landscape clients (and potential clients) because it not only engages viewers with images but with audio and contextual information, as well.
According to YouTube, more than one billion unique visitors visit their platform every month, spending more than 4 billion hours watching video. It's undoubtedly a popular way to consume information—and to learn more about a product, service, or company.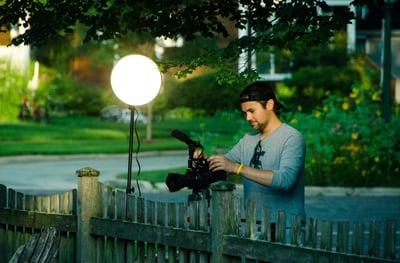 There are several reasons why video is so popular. For one, it's just an easier way to digest information, says Jackson Deaver, a Chicago-based filmmaker and photographer with a passion for the green industry. He likens it to watching someone prepare food on Facebook. Most users would rather watch a quick video that actually demonstrates how it's done as opposed to reading through a recipe.
"Video is such an efficient communicator," Deaver says. "It's easier and quicker to watch someone stir a bunch of ingredients into a batter than to read about it."
And the information tends to stick with you. It's also a way to show what you mean and that goes a long way—especially in a competitive industry like landscaping where everyone is saying the same thing. Deaver calls it a "differentiator" for that very reason.
"Everyone is out there saying that their landscape company cares about attention to detail," Deaver says. "It's one thing to say it, but it goes another step to actually show it. Photos are certainly one way to show that, but video takes it a step even further."
Deaver says that while everyone utilizes photos these days, not a lot of companies are using video yet, making it another way you can differentiate your company from the competition. A short video highlighting some of your best work can really have a lasting impact in a way that photos may not.
That's exactly the reason why Level Green Landscaping in Upper Marlboro, Md., has started implementing video with the help of Landscape Leadership. While they're still in the early stages of using it, Michael Mayberry, the company's Chief Technical Officer, says they plan to continue using more of it based on the positive response they've gotten so far.
Video produced by Landscape Leadership, for Level Green Landscaping
"We wanted to be able to showcase our commercial landscaping work in a way that really makes it stand out," Mayberry explains. "We've done some case studies with minute-long clips where we talk about a property and do a short interview with the property manager and account manager for that property. We've put those on our website and on social media and gotten really good feedback."
Mayberry says that he believes video is so popular because it "draws you in." In general, Mayberry says our society today is more interested in being visually connected to a company or service, and video helps do that.
In addition to creating more case studies, Mayberry says they also plan to create "explainer" videos that tell clients more about the company and what it's all about. While a website viewer might not be inclined to read through an entire company history, they may be more likely to watch a quick video about it.
(RELATED READING: Getting Started With Drone Photography and Video for Landscaping)
How Much Does Professional Video Cost?
While the cost of professional video can run the gamut, you should expect that it will be a substantial investment—definitely more than photography. That's because videography is a lot more labor intensive, says Mayberry, who did not divulge what Level Green invests in professional video with Landscape Leadership but said that other landscape companies should recognize that it takes a lot more work and a lot more equipment. There's also a lot more involved on the post-production side in terms of editing.
When it comes to pricing for professional video, Deaver says that most companies have unrealistic expectations. He adds that the line between professional and hobbyist has become blurred because the cost of equipment has come down dramatically. Still, the difference in the work is obvious.
"If you give a novice a $50,000 cinema camera and a pro an iPhone, the pro will bring back better content every single time," Deaver says.
A quick google search of the question: "How much does professional video cost?" solicits a variety of responses but includes a figure of $1,000 per finished minute of video. However, Deaver, says that would likely be for a very basic video with low-level professional gear. He says: "Think corporate/social events, infomercial style product demonstrations, or a seminar that can be shot within 8 hours or less with just one person."
Video produced by Landscape Leadership, for No Ka Oi Landscape Services
"At the $1,000 per finished minute rate, most of these videos would be for internal communication purposes without the intent to wow a potential customer," Deaver adds. "This is what I call disposable or single use content."
He says that when companies are considering representing their brand with video content that they need to consider the impression it makes.
"I doubt a landscaping company wants their brand to be thought of as disposable or cheap," Deaver says. "The best companies create video content that makes a lasting impression, which can be easier said than done."
Deaver says that for a basic brand video distributed online, you can start around $2,500. But be prepared to spend as high as $10,000 for something truly unique. Again, every situation is different so it's very important to be clear about expectations.
"Professionals manage their clients' expectations because their reputation depends on it," Deaver continues. "Novices tend to bite off more than they can chew and hope for the best. When it comes to the cost of a video, do you want to hope it's going to be good or know it's going to be good? With a novice, you're gambling but with a professional, you're investing."
Video produced by Landscape Leadership, for Outback Landscape Inc.
(RELATED READING: Using Professional Video in Your Marketing)
Finding a Professional Videographer
When seeking a professional videographer for your landscaping company, Deaver says it's important to find someone who has both the equipment and the experience. As with any professional service, the cost will reflect those criteria. The more experienced the videographer is and the better equipment he or she has, the more they are going to cost.
Mayberry adds the importance of hiring someone who knows the lawn and landscape industry. Not only is it different shooting video outside than inside, but you also want to hire someone that has a good eye for landscaping.
"You want the videographer that will say, 'I see a dead plant in this frame, we need to move the shot,'" Mayberry says. "Someone with zero landscaping background will have no idea what to highlight—and what to avoid."
Mayberry says that the next step in their video journey will be to incorporate drone photography and drone video. He says that giving customers' a "bird's eye view" will give them a whole new perspective—plus, it's another differentiator that will help set Level Green apart from the pack.
At the end of the day, that's probably the biggest benefit of using professional video in your marketing efforts. Differentiation is the name of the game—particularly in saturated markets—and video will help you to do just that.
---
Thanks Lindsey!
Are you lacking the time and expertise required to shoot and produce professional video for your company? Let us help you! From story boarding and scripting to shooting and final edits, we handle video production from start to finish. We work with lawn and landscape companies across the country. Get in touch with us here to learn more.