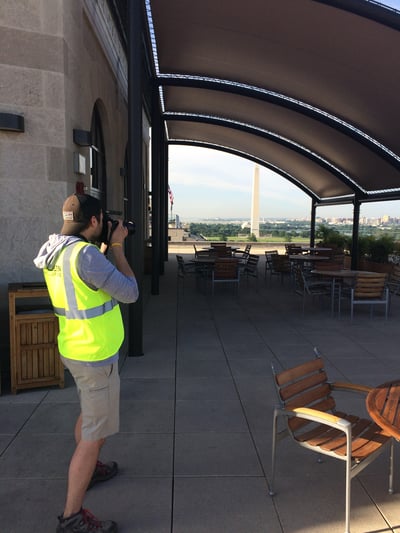 The following article was written by our guest and friend, Lindsey Getz.
When it comes to showing off your work as a landscaper, there's nothing quite like professional photography. Yes, the cameras in phones have improved and you can get some decent shots on your own. But it's still not comparable to professional equipment—operated by a professional. After all, there's skill and art involved in professional photography that makes the person you hire just as important (if not more) than the equipment used.
Dean DeSantis, owner of DeSantis Landscapes in Portland, compares it to a homeowner who thinks they can do their own landscaping. When you compare the landscape project of a homeowner to that of a true professional, DeSantis says it's like "night and day." The same is true of professional photography versus amateur.
"In the same light, it's a reach to think we could take professional quality photos on our own," DeSantis says. "If you want the best, you hire a professional."
Jackson Deaver, a Chicago-based filmmaker and photographer with a passion for the green industry, agrees. He says that just as your clients wouldn't pay a kid with a mower to take care of their lawn, you shouldn't just pay someone with a nice camera to take photos of your landscaping work. He says that like most things in life: "you get what you pay for."
Once you see the difference between amateur and professional photography, the decision is obvious. Jarod Hynson, owner of Earth, Turf, & Wood in Denver, Pa., and client of Landscape Leadership, says he had a "turning point" that caused him to recognize the importance of using a professional about 13 years ago. EP Henry had asked if they could photograph a project for their catalog and had sent a professional out.
"I can remember looking through the professional photos and thinking 'Why aren't we doing this?'" Hynson recalls. "Our work was represented so much better in the professional images. In all of the marketing efforts at the time, I realized we needed to start over to incorporate professional shots. We made it an item in our budget and it's been there ever since. We allocate thousands of dollars a year to photograph some key landscaping projects."
Hynson says it's become such an integral part of his business that he likens it to "investing in a new computer" whenever it's time to upgrade. He says professional landscape photography has become a necessary and ongoing investment. It helps to uphold the high level at which the bar was set once he started going professional and it's not something he would go back on.
(RELATED READING: Using Landscaping Photography in Marketing: Tips, Costs and Hacks)
What to Look for in a Professional Landscape Photographer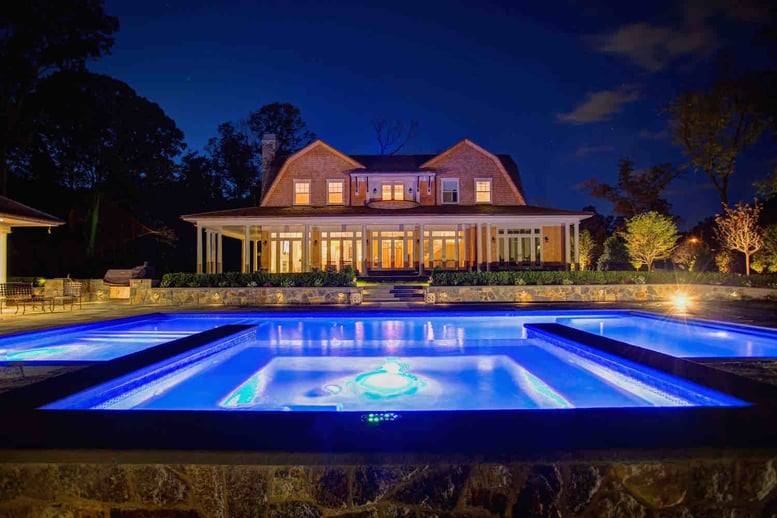 No matter where your business is based, you should be able to find a good range of professional photographers to choose from. But how do you know who is right for the job? These days there are a lot of photographers advertising their services but they're not all going to be the right fit for what you need.
Glen Baisley, marketing and customer service director for Neave Group Outdoor Services in Wappingers Falls, NY, says it's important to look at a photographer's qualifications when hiring them to photograph a landscape project. He says to ask: "Have you done photography for the green industry?"
Baisley says there's a big difference between a photographer who has shot a lot of portraits and one who is accustomed to shooting landscapes. It's ideal to hire a professional who has already shot for the industry because they'll know all the nuances involved in getting a good image.
"They'll know the right angles to shoot to highlight what you want to feature in the landscape," Baisley says. "I've worked with photographers who shoot really pretty pictures but their shots aren't accentuating the right things to really show off the work."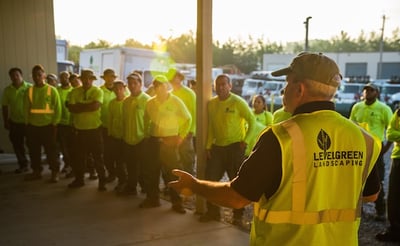 One thing to consider is what you get for your investment. For instance, how involved do you have to be in the process? Hynson says he is willing to pay more for a service in which he can trust the photographer to handle all the details.
"Besides calling my clients to ask if they're OK with being photographed, I'm out of the loop as soon as I pass their names off to the photographer," Hynson says. "He sets up the shoot with them, scopes it out ahead of time, gets the right props for staging, and handles cleaning up when it's all done. I don't have to be involved at all."
Your investment should also get you some editing, says Deaver. While a professional landscape photographer is going to get you some great shots to start with, they'll also have editing software and skills to make those shots the best they can be.
Another thing you will want to invest in is the rights. This can cost extra, but DeSantis says it's worth it in the long run. He once used a photographer that didn't sell him the rights and he had to pay him every time he wanted to use the photos. That was far from ideal.
Hynson says they always purchase all the rights and are also very protective of the photographs once they own them. They typically do not let any subs or vendors utilize the photography for their own advertising or portfolio purposes.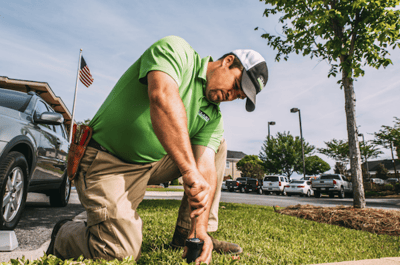 "We've also had subs ask if they could take some photos while they're on site and use them and I say no," Hynson says. "We ultimately want to be in total control of how our projects are portrayed and how any images are used."
You might also consider what types of shots are valuable to you. Deaver says that before and after shots have really paid off for his clients. With this type of photography, he chooses five or six points of the site to photograph before the landscape project is done. Then he returns when it's completed. It's a great way to visually demonstrate the impact of landscaping.
(RELATED READING: Getting Started With Drone Photography and Video for Landscaping)
What to Expect to Pay For a Professional Landscape Photographer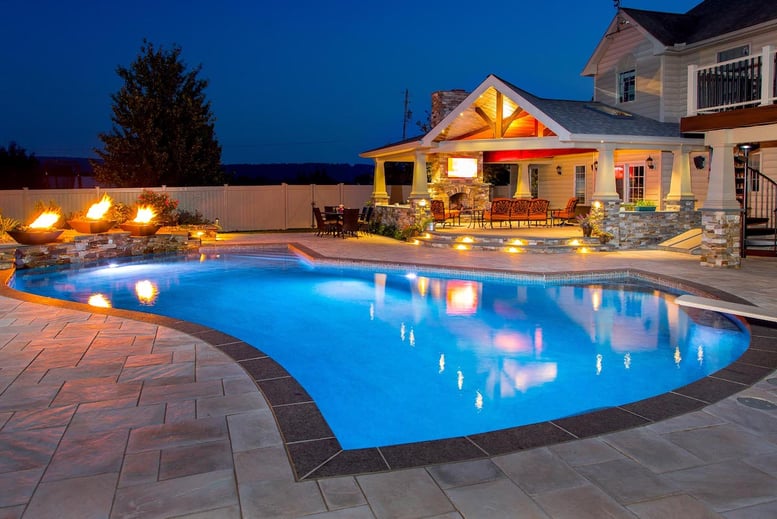 Like any investment in a professional service, the cost can run the gamut depending on who you hire. The local marketplace you're in is also going to impact the price. Naturally, photographers from a big city are going to charge more than those in a smaller rural area. But no matter where your business is based, you'll likely be able to find photographers of varying levels of talent and skill.
In speaking to several landscapers, an appropriate range seems to be $500 to $2,000 per project for professional photography. Of course, that number can climb above $2,000 if you hire a really high-end professional. Some photographers will charge by the day instead of the project. Prices up to $2,500 per day are not uncommon.
In terms of how much to budget each year, Hynson says he usually plans for $8,000 to $10,000 in professional photography. That typically allows him to have four or five amazing landscape projects photographed and helps keep his portfolio, website, and marketing materials fresh.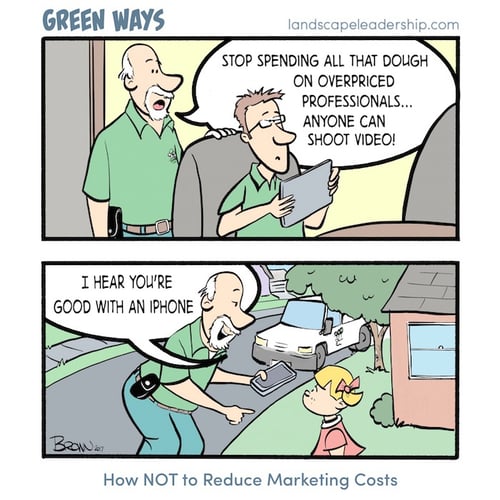 If you're considering a professional landscaping photographer, perhaps the biggest question you're asking yourself is: Will I get a return on my investment? And the landscapers we spoke with all give a resounding YES.
"Visual media is so important in showcasing the beauty of such a visual service as landscaping," Deaver says. "These days people look at stuff so quickly, so hiring a professional will help catch their attention. Potential clients will take extra time looking at your work and that can make a huge difference."
DeSantis adds: "I definitely get the value of my investment in professional photography back. After all, we're in the image business. We create beautiful spaces. Potential clients need to be able to go to your website and see those aesthetics portrayed in an image so that they can say Yes, that's what I'm looking for. Nothing says it better than a beautiful and professional photo of your work."
---
Thanks for the great info, Lindsey!
I'll add one suggestion: Budget $5,000 to $6,000 each year – or at least every other year – for your professional photography needs. This budget will typically get you a professional photographer for at least two days. And that should be enough to keep your portfolio fresh year to year.
Ready to get serious and hire a professional photographer to shoot your awesome landscaping work? Get in touch with us. We'll tell you all about our professional photography and video services.
And, download our free tip sheet full of expert photography tips, including a list of over 100 photo shoot ideas!
Images courtesy of Jackson Deaver (first), Neave Group Outdoor Solutions (second), Level Green Landscaping (third), T. Lake Environmental Services (fourth), Earth Turf & Wood (fifth)