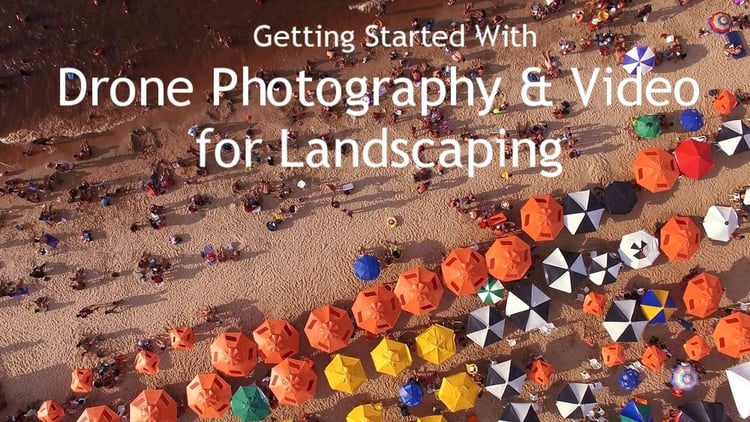 This is a special guest post from our friend, Lindsey Getz. Thank you to her and her great sources!
Drones can be an incredibly powerful tool for photography. The aerial views that are now available through the use of a drone can capture an entirely different vantage point and produce a stunning result. It's fair to say that drones for landscaping photography can be a game changer when it comes to your sales and marketing approach.
It may be something you've considered but have no idea where to begin. We spoke to three different experts that can help give you some idea of how to get started. As a tool of this digital era, getting on board with drone photography and video now will help keep you at the top of the game.
Landscaping Photography with Drones
Drones pose exciting new possibilities when it comes to creating videos and photography for marketing and advertising purposes. Scott Cohen, owner and founder of The Green Scene Landscaping and Pools in Chatsworth, CA, says that he has been utilizing drones for landscape photography and video to take his portfolio of work to the next level.
Cohen says that photography has always been key to showcasing his work. In fact, he says he relies heavily on photography to help sell jobs. And now, with drones for landscape photography and video, Cohen says it opens up a whole new world of possibilities in terms of the shots he can get.
"We have a saying here that the 'next job always comes from the last job,' and photos have a lot to do with that," Cohen says. "With a drone, you can get views that aren't possible with a regular camera. For example, you can fly a drone off the edge of a cliff and get an incredible shot of a vanishing edge pool."
Cohen owns his own drone but having crashed several of them in the past, he now hires someone to fly it for him. He recently found a film student from USC who flies the drone, gets the images, performs the editing, and creates the videos for a fee of $500. This appears to be lower than the average cost by a professional, though fees can really vary across the country and depending on the level of professionalism involved.
Jackson Deaver, a Chicago-based filmmaker and photographer with a passion for the green industry, has worked with a drone photography service and says to expect to pay around $1,000 for a full day of work. He absolutely advises working with a professional when it comes to drone usage. It's a bit more complicated than it may seem at the onset.
(RELATED READING: Using Landscaping Photography in Your Marketing: Tips, Costs and Hacks)
The Value of a Drone Expert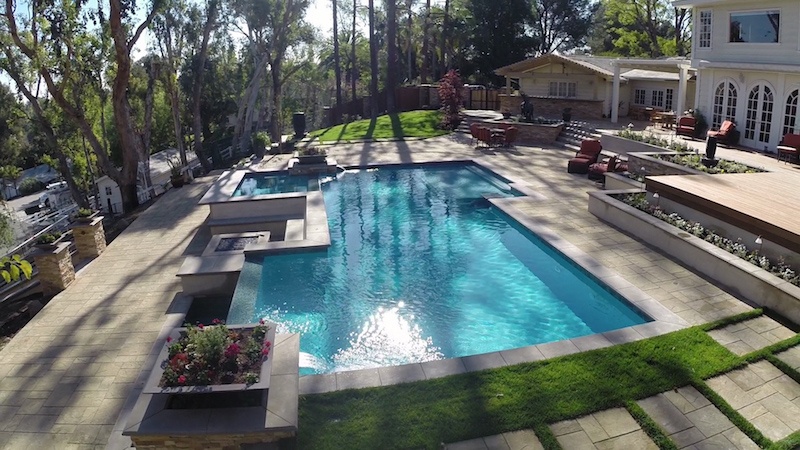 Considering not only the learning curve but some of the regulations that are being put in place for flying a drone, drone expertise is important.
To fly a drone as a hobby, it needs to only be registered. But the minute you start making money off of your drone, you need to be in line with the Federal Aviation Administration's Part 107 ruling, which includes needing a remote pilot airman certificate with a small UAS rating.
"It's basically an aircraft pilot's license," says Alyssa Brackett, who co-owns Oklahoma Drone Photography with her husband Aaron. The first client of their drone photography business was Galt Landscape, LLC, a high-end landscape company in Oklahoma
Brackett says there are also a number of adherences you must stick to in order to be in compliance with FAA Part 107. These include not flying within five miles of an airport or helipad without filing a request to do so and not flying over crowds of people.
Flying is also limited from sunrise to sunset but can be extended 30 minutes before or after if your drone is equipped with anti-collision lighting. The drone must also stay within your line of sight at all times.
In addition to the regulations to adhere to, trying to do it on your own may not be as cost effective as you thought once you begin to add up the expenses.
Brackett says that although a standard drone may only cost a couple hundred dollars, a professional drone company is likely going to have a much higher quality drone and accompanying photography equipment. In addition, there's also the investment in costly software and editing tools to consider.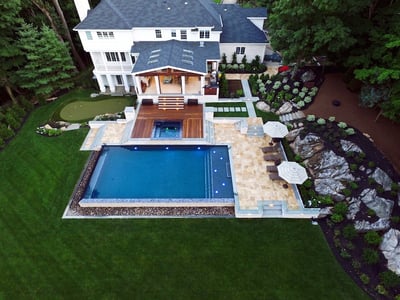 Plus, Brackett says the insurance can be very costly. Their company carries $2 million in liability insurance.
There are a lot of things that can go wrong and most landscape companies don't want that hassle, Brackett says. You not only have to consider whether the drone could ever fall on an object or person but whether it could potentially fall onto a roadway and cause an accident. These are reasons it might make sense to leave the flying to professionals.
"I think there are a lot of companies who believe this is something easy to do on their own but once they realize everything that's involved, they begin to recognize the investment of time and money and the value of hiring someone," Brackett says. "Our company offers competitive pricing and takes care of everything. It takes the hassle out of the equation."
(PODCAST: Using Professional Video and Photography in Your Marketing)
Drones for Marketing Your Landscaping Services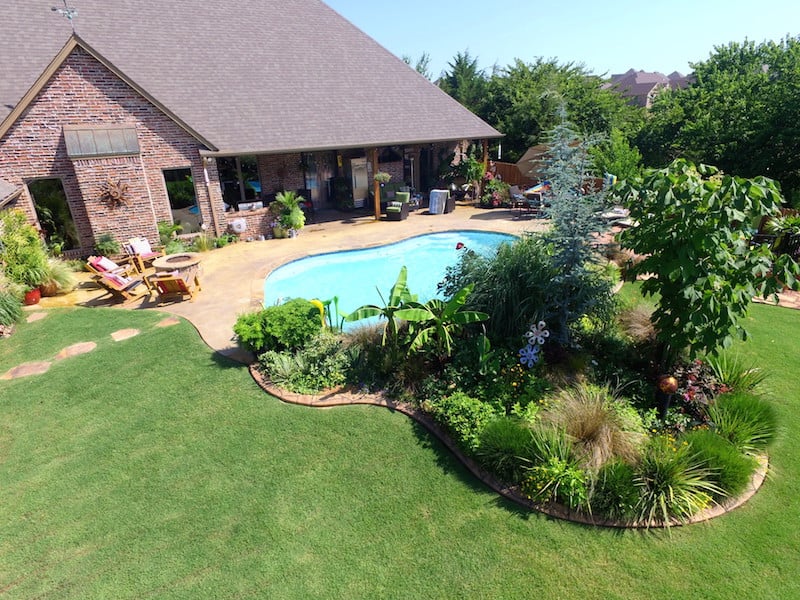 If you're considering drone photography and video, it's most likely for your marketing and advertising materials. Drone videos of landscapes as well as drone photos can be used to highlight some of your best work.
Just be careful that you don't overdo it. Deaver points out that there is such a thing as too much drone footage."I look at it as a tool," Deaver says. "There is a ton of value in it if you use it appropriately. But if you overdo the drone footage it can become gimmicky. I see a lot of videos out there that are four or five minutes long of just drone footage and it gets boring to the viewer. The best drone videos for landscapes are those that incorporate both kinds of footage. Thirty seconds to a minute of drone footage followed by some regular footage is giving you a complete view of the landscape."
Deaver says that working with a professional will help maximize the effectiveness so that it's not too much- or too little. He says that one of the greatest things about drones is that it's letting the everyday company compete in the Big Leagues.
"Aerial footage used to be reserved for the highest budgets because you would require a helicopter to get those kinds of shots," Deaver says. "In this digital day and age, people want to see great footage and the advent of drone photography is allowing more companies to provide it."
Brackett, who has a background in marketing, says that where you post your footage is also important. While still photos are great for a website gallery, she suggests putting drone videos on YouTube and then embedding them into your website. That's because YouTube is owned by Google and there's a better chance of optimizing SEO by posting it there first.
For Cohen, utilizing drones for landscaping photography and videography has been a great sales tool. But he says there has also been the benefit of using it as a design tool. Getting an aerial view of the landscape can be helpful when working on a project. He says he's even used drones for quality control checks.
"From a design standpoint, landscape architects are used to working from a plot view," Cohen says. "We draw it as though we're seeing it from space but before drones we were never actually looking at the projects that way. The drone gives us a whole new perspective during the design phase and throughout its construction as well."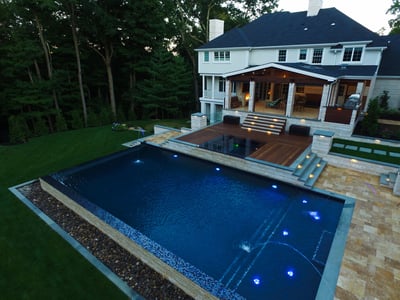 Cohen says that utilizing drone photography has also made his clients feel special and there's a benefit to that enthusiasm.
"The client gets really excited about having their project photographed and then they want to share the video on social media," Cohen says. "What better marketing tool is there than that? Is it necessary to sell jobs? No. But anything you can do to get an edge on the competition is important. If a client has the choice between working with you, a landscape company that is utilizing drone footage, or a company that has a website that looks a decade or two old with out-of-date pictures, they're going to choose you."
---
Want more awesome insight like this? Then subscribe to our blog like 2,000+ other lawn and landscape pros have done. Just add your email address below.
Oh, and speaking of drone photography and video... Yeah, we offer that to our clients (of course we do! Why else would we be writing about it...). If you're interested in stepping up your marketing and want to talk about working with us, hit us up here.
image source: Scott Cohen and the Green Scene (image two and three), Neave Pools (image four and six) and Oklahoma Drone Photography (image five)