If you invest in professional photography for your landscaping company then you want to make sure you get the most possible value out of the photos that you have taken. After all, the images won't mean much to your prospective clients if they never get viewed.

That's why an image gallery on your website is so important. But in order to maximize the value of that image gallery, there are some important factors you should be paying attention to.

In this article, we'll talk about the different ways to organize a landscaping photo gallery and some of the best practices that you should be implementing to truly get the most traction out of what you share on your website.
While you probably want the process to be as simple as just uploading all your beautiful photos, the truth is, there needs to be some forethought and planning as to how this is done.
Why is an Image Gallery So Important on Your Landscape Company Website?
If you're reading this article, it's probably safe to assume that you already understand a photo gallery of your landscape work is important. But you may not know that in many cases, it is one of the top five pages that will be viewed on your website.

Sometimes, the only page that surpasses it in views is the homepage.

When analyzing page views for our lawn and landscape clients, it's not unheard of to see the image gallery receiving up to 20 percent of their website's total traffic.

That's not to say it negates the importance of the other pages on your landscape company's website. You still need that additional content. After all, if a gallery does its job of helping you gain and validate a prospect's interest, they're likely going to continue to look into your company. You want your website content to continue to support their experience and overall feeling about whether you're worth hiring.
(ACCESS NOW: Your Guide to a Kick-Ass Commercial Landscaping Website)

The goal when creating an image gallery for your prospective clients to view is to help move them toward the point of wanting a consultation. That's why you should have "Calls to Action" easily accessible in the gallery, as well.
How to Organize a Photo Gallery
For many of our clients, it has worked best to have a single gallery (i.e.- one web page), with their landscaping images broken into specific categories. This friendly user experience allows visitors to search – or filter – for photos of the specific landscaping projects they want to view.

We call this a "dynamic" gallery, as it's not just a static web page that overwhelms a visitor with thousands of random photos. Instead, website visitors can apply filters that help to narrow what they want to see. You've undoubtedly used this same type of functionality on e-commerce websites as you've searched for products.

Rock Water Farm's interactive Project Gallery is a great example of this.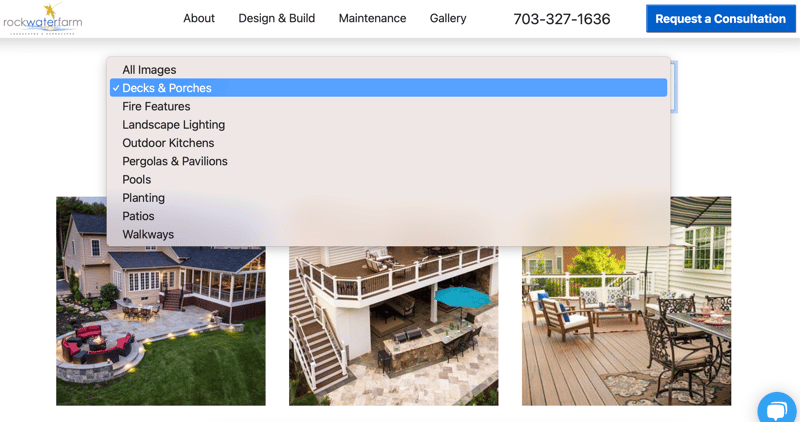 Rock Water Farm's website visitors can search for project images in categories like "Decks and Porches," "Fire Features," or "Pools."

While this is a great example of residential landscaping work, the same concepts can apply to commercial landscape work as well. In that case, however, you might want to consider organizing your photo gallery based on the property type. Those categories might be options like Resorts/Hotels, Retail, Industrial, and Community Associations, among others.

Level Green Landscaping's interactive gallery is a great example of organizing an image gallery by property type.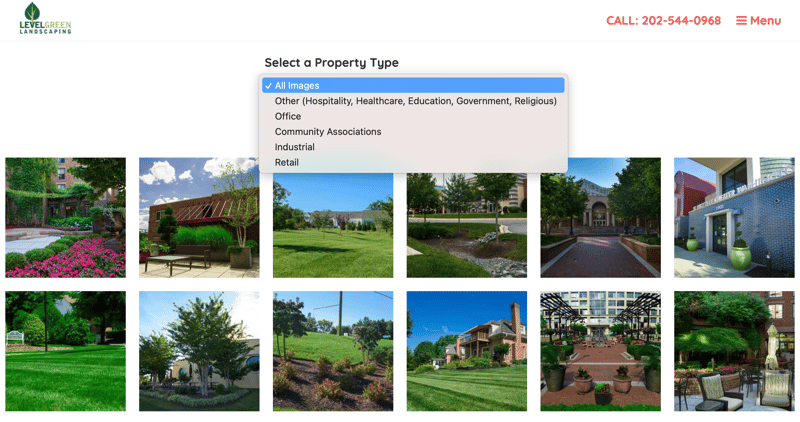 No matter what type of landscaping company you are, and what type of photos you're displaying, the key is to make the search and viewing experience easy on your prospective clients.
They should not have to dig through every single photo that you have if they're only interested in fire features, for instance. When a gallery is set up this way, you risk losing the prospect's interest before they've seen photos that are most relevant to them.


There are other ways you can showcase your landscaping projects other than with a dynamic gallery. High Prairie Landscape Group offers a great example. Rather than organizing their gallery by "project type" they organize their images by "client project". Each project has its own collection of images. Their Cedar Creek Outdoor Living and Modern Lakefront are great examples. This approach requires a multi-page gallery.
Learn more about how you can use this approach by reading our recent article about the importance of client case studies.
What Lawn and Landscaping Services Require Photos in a Gallery?
We've already talked about how both residential and commercial landscape companies can benefit from image galleries, but you might be wondering more specifically what services deserve images.

Landscape design/build services are a given. And if possible, you want to try and have images for every single type of feature that you've designed and built (pools, pavilions, pergolas, water features, fire features, patios, outdoor kitchens, walkways, and so forth).

But there are opportunities to showcase lawn and landscaping work outside of design/build, too. We've already talked about how commercial landscaping companies can show off the different types of properties that they service.
Lawn care companies also have an opportunity to show before/after images of lawns that they've transformed.

The same is true for tree work. This is a really good chance to show how your tree care services transformed a property. In general, before/after image galleries make a lot of sense for lawn care, plant health care, and tree care service work.
Where to Feature the Gallery on Your Website
It is our recommendation that a photo gallery exists as its own unique page on your website. You would want that to be easily accessible from the website's main navigation. The goal is to let people know that there are examples of your work that you want to show.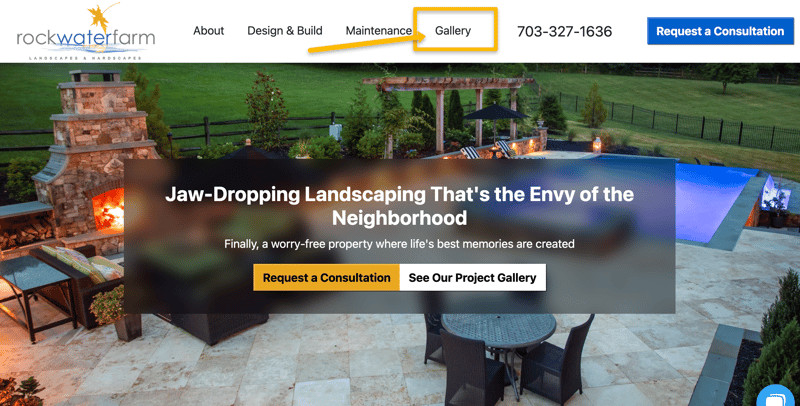 Although an image gallery will rarely be the first thing that a prospect will find with a google search, it will be one of the first ways that they start qualifying you as a company they might be serious about hiring.

While the main gallery should absolutely have its own page, one thing that we also like doing for our clients is featuring a few of the top photos on a particular service page, right under the "Call to Action."

For example, if it's a service page about a company's work for retail locations, we might include three really great shots from different retail locations, all of which link back to the main gallery so that the client can view more.
In these ways, the photos act as a visual aid for a service that you already know the client is interested in (since they're there, reading content on the page). This is a great way to continue to hold their attention—and then show them more.

You can see a great example of this treatment on Rock Water Farm's Hardscaping & Masonry service page.

One word of advice we'd give is that you don't have to go overboard if you use this approach. You don't want to bombard your prospect with a ton of photos on each service page—after all, it's not the gallery. You still want all of your landscaping photos to "live" in the main gallery while using some of the best photos in strategic places on the website to pique interest and inspire them to want to see more.
What About Video of Your Landscaping Work?
As video continues to be popular, you might be wondering where you should house the clips you're producing. Should videos also exist in your image gallery?

It is our opinion that you have a similar (but separate) set-up for your videos. You want to have a place where they are easily accessible and easily searched, but this should definitely be a gallery separate from your images.

A lot of landscaping companies have video shoots once or twice a year, and over time, they start to accumulate a lot of videos. Being sure to add these into their own gallery on the website will ensure that you're getting the most value out of them.

Here's a great example of a video gallery from Yellowstone Landscape.
Best Practices for Your Photo Gallery
Finally, we want to share some best practices that you should keep in mind as you go forward with creating an image gallery on your landscape company's website.

For one, it might go without saying, but five great photos are a lot more valuable than 20 average photos. Reserve your image gallery for the truly best images of your work. These would be professional photography shots.

Early on, everyone has to start somewhere. But you'll do yourself more harm than good to just upload a ton of poor-quality shots (just to have a larger-sized gallery), then to just stick to a handful of your best images. Trust us, in time your gallery will grow! Like anything, you just need to have a little patience as your website evolves.

Another best practice that we'd recommend is to use before and after shots when you're able to. These can be really powerful. But keep in mind that it's very important to position these images next to each other. With before/after shots you might also want to utilize captions just to be completely clear that clients are looking at a "before" shot, and not finished work.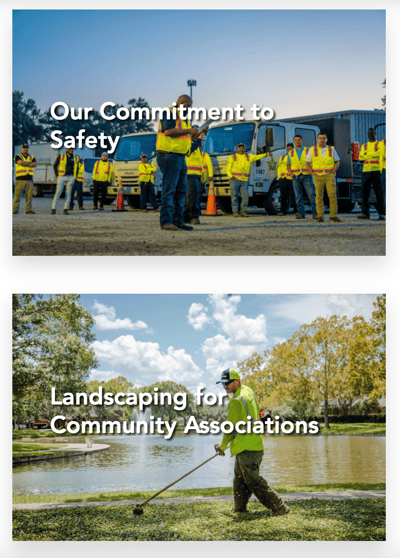 We've also found it helpful with before/after shots to use a "slider feature." This would allow the prospect the ability to slide back and forth over the photo and see the project transform before their eyes. Again, this is just another way to make the gallery interactive and appealing for prospects.

While this is an article about image galleries, and we have other articles about photography, we don't want to miss an opportunity to say how important it is that you invest in great shots. If you don't, then you won't have anything to put in a gallery! We always like to emphasize that you should put people in your images and make sure to mix those into your gallery.

Rather than have it be one shot after another of just a static project, having some real-life people in the photo helps the prospect be able to imagine themselves in that space—or enjoying the feature you're trying to show off. Yellowstone Landscape does a great job of this (see the adjacent image).
Getting Started
Whether you're a landscaping company who already has a gallery but thinks it could be enhanced, or you're truly just starting out, we know this might be overwhelming. But it makes sense to ensure that your gallery is doing lots of heavy lifting for you and moving more prospects through the sales process.

At the end of the day, images are powerful. But they're not going to get you the results you desire if you aren't using them wisely on your website. By making some smart choices for your image gallery and implementing these best practices, you can help ensure prospects like what they see—and most importantly, reach out and connect with your landscaping company.
Do you want more articles and insight like this? Subscribe to our blog. Just add your email address to the form below and join over 5,000 other lawn and landscape industry professionals.