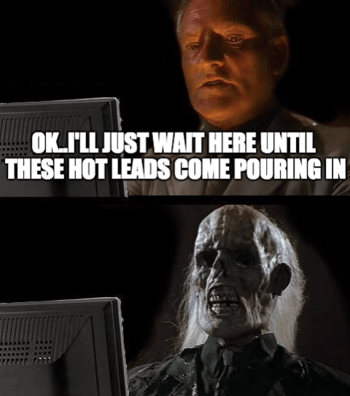 Certain words come back to haunt you..."I'm so lucky I don't have to cold-call." You see, in my most recent sales role, the landscape company I worked for was a tad understaffed on the sales side. Plus, our effective marketing led to a lot of hot leads.
As a residential account manager, I didn't have to cold-call. For that, I was thankful. I looked at my B2B business developer counterparts who tried to schmooze their way past multiple corporate gatekeepers each week, and wondered how they didn't pull their hair out. No way could I do that.
But times change and I needed a new challenge. I left that position for a new role, working for Landscape Leadership. Over the course of the next year, we determined that we wanted to actively pursue a handful of leaders in the lawn and landscape industry.
So, the logical choice was to go straight after these sales targets. That meant prospecting...great… There's that phrase haunting me, "lucky I don't have to cold-call". So what happened? Now I'm unlucky?
Giving Prospecting a Whirl
I didn't want to be one of those annoying salespeople. I should be able to keep my sales pipeline full without resorting to such crude tactics. I don't want to be "that guy"!
It was rough...a lot of emails sent, and a lot of phone messages left.
Occasionally I'd snag someone who wanted to talk . Every now and then someone would reply to my emails.
I even ended up getting a couple business opportunities out of my efforts. But it just wasn't good enough.
Upping My Prospecting Game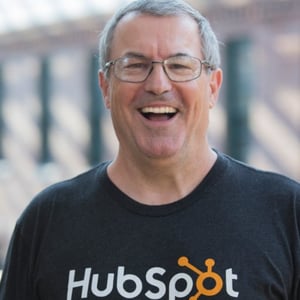 In serendipitous timing, we just happened upon a resource I am grateful for. Our agency, Landscape Leadership, is a HubSpot Partner. One of the many things we love about HubSpot is the resources they offer to their partners.
Our HubSpot rep told us about an online Pipeline Generation Boot Camp. The legendary, and always excitable Dan Tyre (who has worked at HubSpot since its early years), would be leading the course, with a few other participants.
The experience was transformational and well worth it. Although I'm still tweaking and refining my approach, the Boot Camp led me to gain some key takeaways.
And these tips are also perfect for some of my peers in the lawn and landscape industry! If you are trying to gain new commercial landscaping accounts, I hope these tips help you develop new business opportunities with less aggravation.
(RELATED READING: 10 Cool Things HubSpot's Sales Software Can Do for Your Landscape Sales Team - With Video Demos)
1) Prospect, Don't Cold-Call
Of course, cold-calling is terrible. In fact, I still won't do it. But what I will do is warm-call a prospect. Before picking up the phone or sending that first email, I do 10-15 minutes of research. I find a few specific things that are meaningful to the prospect.
These all point to struggles they're facing. First, those struggles manifest as external problems such as:
Their website isn't mobile friendly.
They blogged twice last year and stopped.
They are posting job openings on their website, but not providing other important recruitment tools.
But these are on the surface. What's more important is that I get to the internal struggles that are underneath such as:
They can't find a trustworthy agency that gets their business.
They are frustrated because they can't attract the right kind of job recruits.
Those points are what I want to get to as soon as possible.
2) Pause, Don't Launch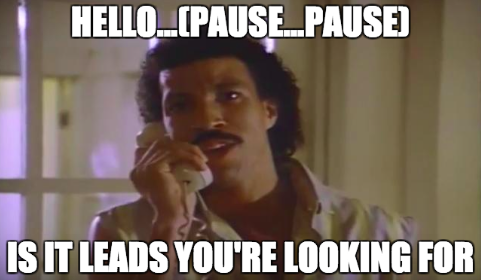 This next take-away was tough for me, but it really does work. Dan taught us to start our call by saying something like:
"Hey (name). It's Chad from Landscape Leadership."....(PAUSE…...STILL PAUSING….STILL PAUSING...AN INCREDIBLY AWKWARD, LONG PAUSE).
For some prospects, this resulted in about a 3-4 second span of dead air. But it does something for every single one of them...it makes THEM say something. This seems like a dumb, little trick, but I challenge you to try it.
It sets the tone right from the beginning. It makes the call about what they have to say without you running all over them with your verbal locomotive, launching into an all-out pitch.
3) Position Yourself Uniquely
You don't have to be "that guy". He launches into a monologue, filled with technical jargon and self-promotion. Rather, with a short, carefully crafted phrase, you can clearly position who you are and what you do.
Prospect: "I'm sorry but why are you calling?"
Me: "I help landscape companies stop wasting money on advertising."
You can see how that conversation will progress. Either the prospect will ask more questions or you can continue with more questions to get them to open up.
4) Help, Don't Sell
The biggest trap you can get into in sales is actually selling itself. It's desperate and makes you sound like a...well...salesperson. People hate being sold to but they like being helped. I'm talking about authentic concern and help, not sales strategies masked in consultation.
Plus as salespeople, we've been wired to compel and convince. That's us versus them. But helping, on the other hand, is something you do together, not to one another.
Focus on giving your prospect something they can use whether they continue with you or not.
(RELATED READING: Do You Have "Old Dogs" Standing in Your Way?)
5) Ask, Don't Tell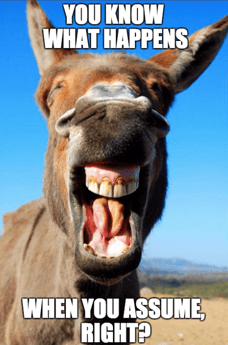 Don't assume. You know what happens when you assume, right? And if you do, apologize. You can bring up an observation, but ask your prospect to clarify or explain. Don't tell them what their problem is.
Here's an example:
Me: "I see that your company specializes in landscaping on commercial properties. I really liked the pictures you have of the shopping center you work at. Have you found those types of accounts to be good for your company?"
Prospect: "Yeah, we have a bunch of those. They're okay I guess."
If I would have assumed that they wanted more of those accounts, I could have easily taken the conversation in a wrong direction that wasn't important to them.
Instead, leading with questions followed by more questions helps with the main goal of your call which we'll cover next.
6) Set Up, Don't Close
Although you will want to get them so excited about what you do that they can't wait to sign, it's not time yet. Plus this is incredibly presumptive and actually disrespectful to the prospect's time.
Your job for this call is to connect, create interest, and get them to agree to a next step. Here's a good example of something you could say once you know they're interested.
Me: "I know there are some tips we could give you to really help you generate more leads through your website, but I really want to respect your time today. How about this...I will send you (helpful resource or link). Then later this week, you and our CEO, Chris, can talk more specifically about how that could help (company name). Does that sound like a good plan?"
Prospect: "Yeah, go ahead and send me that."
Me: "I'm glad you think it's a good approach (either obtain their email for the first time or verify any previous emails weren't going into spam). I'm going to copy Chris on my email and the two of you can take it from there."
(FYI, this is our agency's process. If you are handling the rest of the sales cycle yourself, then you would attempt to schedule that next step's call right then and there.)
7) Role Play, Don't Perpetuate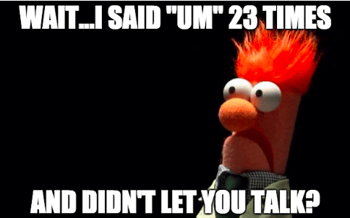 I have never met a salesperson who loves role-playing. But it's absolutely necessary to improve your skills. During the Pipeline Generation Boot Camp, we did this each week. We changed partners and even had a third party listening in.
Role playing feels incredibly vulnerable, but it's completely worth it. Instead of perpetuating the same mistakes, you can practice getting better.
Plus, when you observe your roleplay partner, you get an added benefit. You will have those, "Ooo, that's really good, I'm going to use that next time" moments.
(RELATED READING: 7 Compelling Reasons Why You are Relying to Heavily on Referrals and Word-of-Mouth)
Having a Pipeline Full of Sales Opportunities
Whether you're selling commercial landscaping, or any other product or service, prospecting should be a regular part of your sales process. Don't wait for your sales pipeline to dry up. And when it does dry up, will you be desperately begging for business because you have no clue of how to prospect well?
If you are so "lucky" that you don't have to prospect for new clients, consider this. Are you leaving good opportunities on the table just because you only handle the hot leads? What would happen if you made this part of your routine now, or hired individuals gifted in this area?
Don't let your words or empty sales pipeline come back to haunt you later. Craft a prospecting strategy, work out the kinks, and keep hard at it.
If you have prospecting skills or tips that have worked for you or on you, I'd love to hear about them! Feel free to connect with me on LinkedIn.
Or join over 3,000 green industry marketing and sales professionals who subscribe to our blog for regular, practical tips to help you land more deals and make more money.