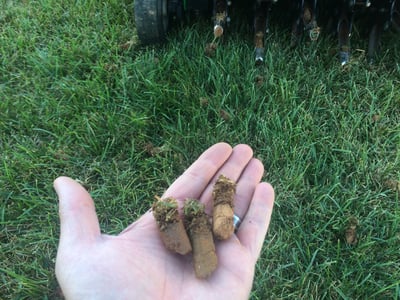 As summer is coming to a close and Labor Day approaches, I'm often reminded of a yearly memory over my past 20 years in the lawn care industry. It's almost aeration and seeding time!
Pulling those little plugs and broadcasting seed means not only improved lawns for clients, but a spike in revenue each fall. It's a race until cold temperatures arrive to get as much work done as you can.
But what if your company struggles with the question of how to sell lawn aeration and overseeding? You could send out a postcard. You could run a promotion in print or social media. But that all rests on the hope that your potential aeration and seeding prospects understand the value of the service and wants you to do it for them. It's a lot of hope to hang on the small real estate of a postcard or advertisement.
One of the lawn care marketing tools that many companies utilize is email. Sending lawn care emails to prospects and active customers is a great way to raise awareness of aeration and seeding and get more sales opportunities.
There's just one problem. Most lawn care companies do a lousy job at email marketing. They dabble, give it a try for some time, and then are quick to write it off as a wasted activity. But their take on this lawn care marketing tool would be completely different if they took the right approach with the right steps.
6 Smart Steps on
How to Sell Aeration
with Email
There is a lot we could say about being effective at email marketing for your lawn care company. Email marketing is not that simple. If you think it's a matter of just throwing out an email to thousands of people and seeing what sticks to the wall, you will get lackluster results. It takes time and a great strategy to do it in a manner that pays off.
Follow these steps and you'll be on your way to more successful results.
1) Segment Your Database
Context is a component of email marketing that often gets overlooked and a key secret on how to sell lawn aeration. Segment your clients so that the ones that would be truly interested in aeration and seeding receive it. The more specific you can be with list segmentation, the more effective you will be in the steps to follow.
While it's fairly apparent you could send emails to only people who do not have aeration and seeding scheduled, segmenting your database more specifically can really boost open rates and click-throughs. At the most basic level, you should create a customer target list and a non-customer target list.
However, here are examples of some super-specific segments you could create:
Prospects who requested an aeration and seeding proposal in the past, but did not accept it
Customers who had the service in prior years, but aren't scheduled this year
Customers who have never had aeration and seeding
Customers/Prospects in a specific local area that is notorious for soil compaction
Customers/Prospects that have had some sort of lawn damage on record in the current year
Again, it takes time, but as you will see in the steps to come, the more you can segment lists, the more effective you will be.
(RELATED READING: The 7 Deadly Sins of Email Marketing: Is Your Landscaping or Lawn Care Company Guilty of These?)
2) Create a Personalized Email to Match Your Recipient's Context
If you have four lists, you should have four different emails. Think about it. If you are sending this email to a customer who has had the service in the past, shouldn't your message be different than one going to a prospect who refused a prior proposal?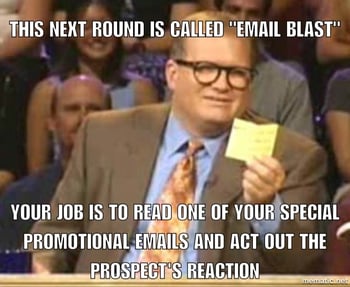 Everything needs tweaked to match the recipient's context. That means a different subject line, content, images, you name it. Create your email to be ideal for the person who is opening it. You should be able to clone the first template you created and make these subtle tweaks in little time for a new version.
Most email marketing tools also have the ability to insert personalization tokens. The most obvious would be inserting the first name of the recipient, but you could even insert city name, specific prices (that's a huge selling point), or other data you include in the list you import. These tokens get inserted in the text as if you typed each email one by one. That deeper connection is the answer to how to sell lawn aeration and seeding with email.
(RELATED CONTENT: Email Marketing for Landscapers & Lawn Care Operators: Tips, Best Practices & Software Reviews)
3) Designate a Landing Page
Where will the email recipient go for the next step when they click the Call-to-Action or link? Think about it carefully because it's a crucial step in this process. Don't just send them to your "Contact Us" page or ask them to email you back. That's not going to nurture someone with moderate curiosity to a point of decision.
Instead, create an optimal place on your website where they can learn more and submit their info quickly to start the sales process. It could be a landing page that has additional details and a form to complete.
When submitting the form, they should then be redirected to a page that explains the next steps such as when they should expect to hear from you, etc.
4) Add Additional Emails to Your Campaign
Not everyone will open your first email, and not everyone will click through. Creating additional messages to follow is also a great way to get more engagement.
Over the next couple weeks, send one or two more emails about aeration and seeding. Mix up your approach, making the focus of each email on different aspects of aeration. Here are some general areas:
Best Timing:

This also will create a sense of urgency.
Benefits:

This is a great way to convey the value of the service as it solves problems.
Case Study:

How about some before and after pics of how you improved a customer's lawn?
The fact that you're running a promotion on aeration and seeding should be mentioned, but it's not the main point of your email. While promotions can be compelling to most people, remember your job is to get them interested and perceive value in the service. People don't just buy a service because you're running your fabulous promotion (especially if you offer it up every fall anyway).
(RELATED READING: How to Go from Marketing Zero to Hero with Lead Nurturing)
5) Follow-Up Based on Their Activity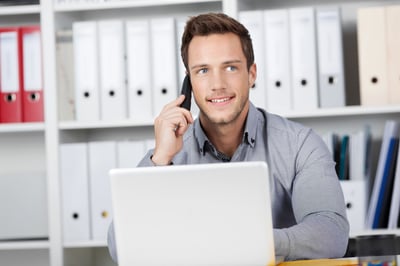 Obviously you will contact people who complete the form on your landing page, but why not nurture the interest of those that don't get that far?
Email marketing tools can show you who has opened your emails and who has clicked on the links. If you have permission to call these contacts, prioritize your efforts based on who actually clicked on links or opened the email, but didn't follow through yet on contacting you.
Some of these email tools will also give you these activity notifications in real time! Imagine calling your customer who clicked on the link, just 15 minutes later.
6) Analyze & Adjust
When you get to the end of your email marketing campaign, you're going to see what worked well and what did not. You may make observations about which emails performed better than others.
Learn from the success of certain emails. You may notice that one formula for a subject line clearly yields more opens. You may learn that some images on landing pages contribute to more people converting into a sales opportunity. Analyze all of these steps and make tweaks to the rest of your process. Make your notes while it's fresh in your mind instead of trying to remember next year what worked and what did not.
Plug Away & Get Growing
A smart approach on how to sell aeration with email requires a proactive stance. Don't wait until you're desperate for sales in the fall to take the needed and time-consuming steps to put together a great email marketing strategy for your lawn care company.
Take the time in the slower times of the year to get the details for your fall aeration campaign steps sorted out in advance. Then it could be just as easy as pulling some current, segmented lists and scheduling the emails to go out.
Maybe you're like some of our clients. You found that you are much too busy running your lawn care company or that your team really needs the help of an agency like ours to use email marketing as part of a larger inbound marketing strategy. Feel free to contact us for help. In the meantime, join over 3000 green industry professionals that have subscribed to our blog for more practical insights like these.