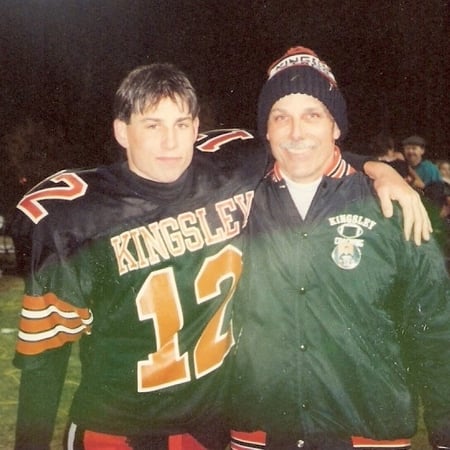 Upon graduating from Michigan State University in the fall of 1999 with my degree in horticulture and landscape design, I moved back to my hometown of Kingsley, a small, one-traffic-light town in northern Michigan.
My mom had finished her degree in landscape design a year earlier than I (after many years as a registered nurse), and my dad had recently retired from 25+ years of teaching and coaching at the local high school.
They started Heiler Landscaping, and after year one, the plan was for their son to join them.
In hindsight, it was a motley crue without a clue: a retired teacher and nurse and just-graduated, knucklehead son.
We had no background in business; no marketing or sales experience.
What my mom and I had was a shared passion for plants and a physically fit father eager to help his family in a new way.
This was just enough to sustain us for three years before I made the difficult decision to leave for a full-time landscape design position with an established, highly-regarded landscape contractor in a larger market.
The challenge we faced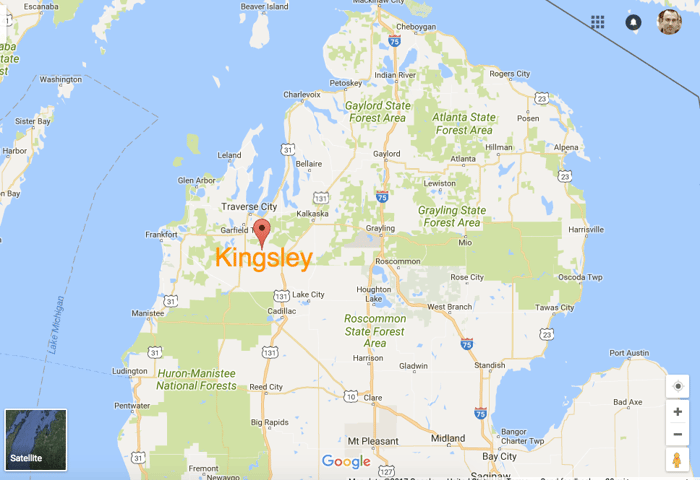 Our primary marketplace was Grand Traverse County. Along with three adjacent counties, this 2,000 square mile market had a population of only 143,000 at this time, with a median household income of $40,913 ($10,000 less than the national average).
Hmm... Perhaps we should have considered this before starting our company? Oh, hindsight...
Aside from the seeming lack of opportunity, there were already many established landscaping companies with deep roots in the area. As in most markets, there were two clear-cut leaders at the top who sucked up the majority of interesting and profitable opportunities.
There were few scraps left over for the rest of us.
My advice to my past-self
Many of you find yourselves in an eerily similar dilemma. After all, we can't all operate in the most populous, high-income markets. (Don't underestimate this competitive advantage: read more about that here.)
Here's the advice I would give to you – and my past-self – in order to thrive in a small market with established competitors:
I would not directly compete against the legacy companies, and...
I would position my company around a specialization or expertise that was mostly being ignored by other companies.
I suggest positioning yourself against the "generalist" companies doing everything, for everybody. Don't play that game: The scraps left over won't be enough to feed your family.
In a small marketplace like I've described, you will need an irreplaceable expertise to make a significant amount of money. You will need a tighter, more narrow positioning than companies in a larger marketplace.
If positioned properly, this expertise would not only distinguish you from your competitors, it could align your offerings with them, allowing you to piggy-back on their success.
Positioning option 1
The broadest positioning I would suggest would be offering services like "commercial landscape maintenance" or "residential lawn care". While this specialization would set you apart and could lead to referrals from competitors, it won't necessarily get you the price premium you want.
Positioning option 2
I would narrow your positioning even more with a goal of charging a price premium for your unique expertise.
In the case of Heiler Landscaping, in northern Michigan, I could have considered specialization such as:
Large tree transplanting
Expert stonework and masonry
Large-scale, natural waterscapes
Fine gardening
This positioning would have allowed us to truly differentiate ourselves, partner with established landscaping companies who need these services (or could refer us), and allow us to charge a price premium for our expertise.
Positioning option 3
What I described in option two is considered "horizontal" positioning. Read more about that in this article.
A third option is to position your company "vertically" by serving a specific industry or audience.
In the case of Heiler Landscaping, we could have focused on serving "vacation homes" by offering year-round, on-demand landscape concierge services for homeowners with second and third homes in northern Michigan and along the west Michigan lakeshore. (Heck, we probably could have put these high-income homeowners on a monthly retainer without much price resistance.)
Wrap up
Heiler Landscaping was Just Another Landscaper in the eyes of our prospects and customers.
We were truly a family business with a unique story and two relevant university degrees. But this isn't meaningful to prospects. It doesn't solve their problems.
Effective positioning solves problems that are meaningful to your prospects. It makes you irreplaceable, allowing you to charge the price premium your expertise deserves.
How well positioned is your company in your unique marketplace?
Are you truly irreplaceable?
Are you charging a price premium for your expertise?
If your honest answer is an unequivocal "NO", then schedule a meeting with us. You and Chad can connect over the phone and explore whether we'd be a good fit for one another. Then you and I can personally discuss how we help lawn and landscape industry companies with their positioning and messaging (i.e.- make more money).
If you want to stalk us for a bit longer, subscribe to our blog. Just add your email below and join 3,000+ landscape professionals who are getting our insights delivered directly to their inbox each week.