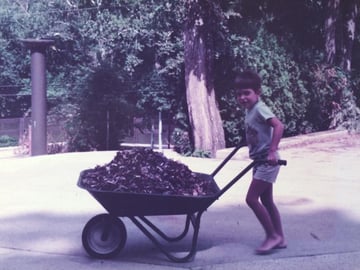 You might say I've been in the landscape industry for quite awhile...
But seriously...If you read my resume, you'll probably be scratching your head at some point. This guy goes to school for Biblical Studies, becomes a pastor, then ends up a couple decades later as a Green Industry marketing professional? Never saw that one coming.
In the Green Industry since 1998
I didn't know the destination when I started my 20+ year career in the industry. Opportunties from operations, sales, marketing, and management just presented themselves.
The truth is, every road I've been blessed to walk on so far has helped me become uniquely skilled to do what I do.
Take knowledge and teach it to others so they can clearly understand its practical use and be excited about it? Sure, I can do that.

Understand what materials work best on specific lawn weeds? Yeah, I got that one down.

Have a sickly lawn or tree that needs to be diagnosed? Yeah been there, done that, got the t-shirt.

Take someone who doesn't give a darn about their property and get them to sign a contract for tens of thousands of dollars of work? No problemo.

Take fossilized marketing methods of a green industry company and make it the most innovative player in their market, all while growing the business 12-15% each year, helping it to become one of the Top 150 landscaping companies in the country? I eat that for breakfast.

The best part? Now I get to do this over and over, not just for one company, but for many!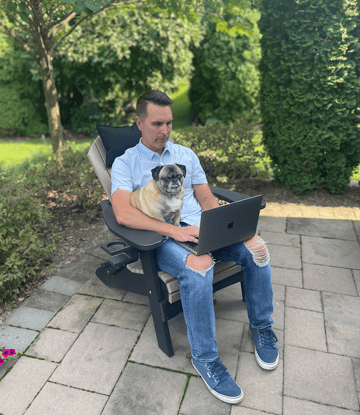 When I'm working remotely, you can find me...
When the weather is nice, I'm sitting on the paver patio in my backyard, surrounded by trees, shrubs, and a killer-green lawn.
Sometimes Juno, my office assistant and pug, comes for a visit. She isn't much help...just snores loudly and eats mulch.
If the weather is ugly, I'll be in my home office amidst my house plants, and moss art wall hangings (my newest hobby), and motorcycle decor.
What I love most about the green industry is...
I love creating and preserving beauty. There's nothing more fulfilling than to see an eyesore of a property become the most gorgeous spot on the block.
Helping companies market green industry services is truly a gift! Plus there's always something to learn.
Even after earning credentials such as ISA Certified Arborist and Landscape Industry Certified Technician, the pursuit of knowledge continues!
My interests
Spending time with my family
Singing karaoke
Riding my Harley
Traveling and vacationing at the beach or mountains
Leading small groups at my church
Writing
Watching anything about a comic book superhero
Making people laugh
Chad's Latest Insights
Check out tips, examples of client work, and more.
In-Depth Blog Articles
Thoughtful discussions and tips to grow your business
Helpful YouTube Videos
Educational and entertaining videos
LinkedIn Profile & Posts
Client video productions and other insights