Unveiling the Tropical Gardens Landscape Website: A Comprehensive Tour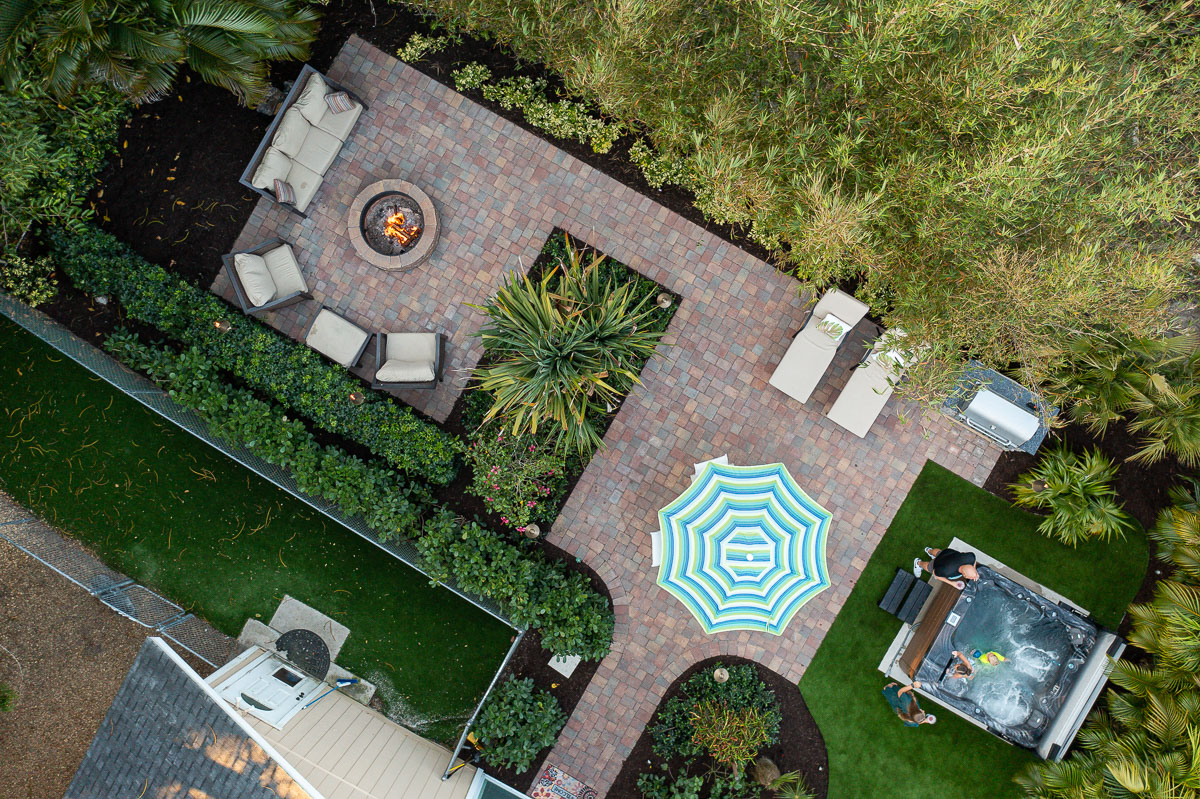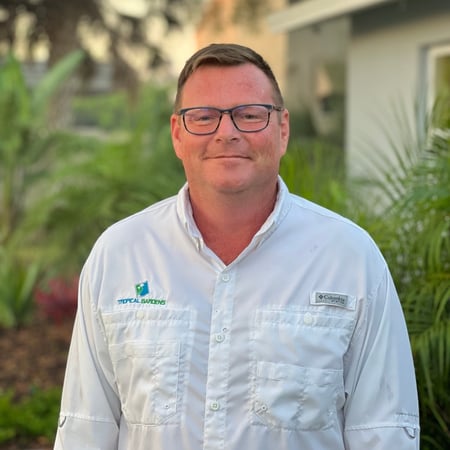 Tropical Gardens Landscape, nestled in the heart of Sarasota, Florida, isn't just another landscaping company. Ryan Empey is a passionate business owner who has been consistently striving to transform every aspect of his organization.
When Ryan reached out to Landscape Leadership a few years ago, we actually didn't have the capacity to help them create a new landscaping website and transform their marketing strategy. So, Ryan patiently waited and in 2022 we began a comprehensive engagement.
With its well-crafted website and enticing visuals, the new and improved Tropical Gardens website beckons visitors into a world where nature and technology merge seamlessly. This article delves into the intricacies of this masterpiece, highlighting design features, functional elements, and the visual journey awaiting every visitor.
A Glimpse of the Header
The website welcomes visitors with a crisp, clean header, adorned with a tilted logo - a subtle touch of creativity we were excited to repeat throughout the design elements.
The sticky header ensures navigation remains a breeze, with primary labels gracefully resting, avoiding clutter yet offering an insightful peek into the world of Tropical Gardens Landscape.
Elegance of Simplicity: The top navigation is uncluttered, each label crafted to lead visitors deeper into exploring their specific needs.
Call to Action: A strategically placed "Get Started" button beckons, promising a journey of discovery and transformation.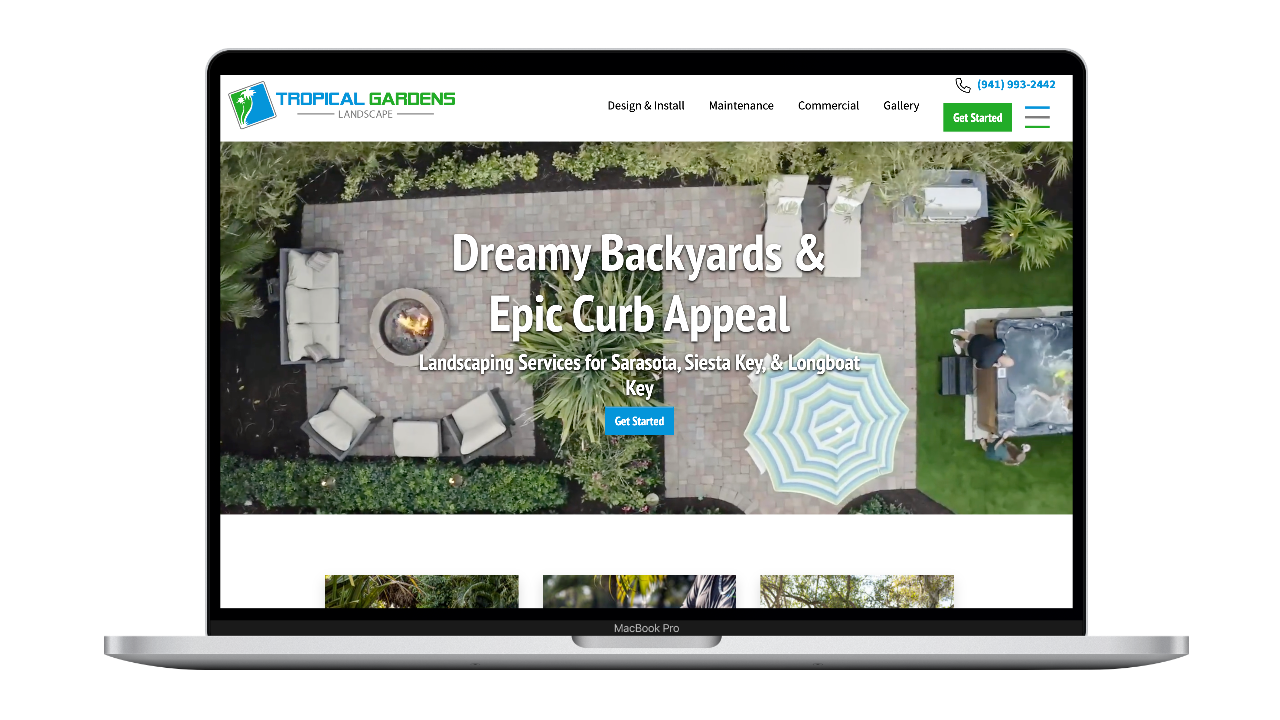 [RELATED READING: 12 Essential Ideas to Implement on your Landscaping Website's Homepage]
Visual Engagement
As if echoing the serene environments they curate, the website is laced with videos and professional photos, each narrating a silent yet compelling story of mastery in landscaping. The subtle animations, including the playful wiggle of buttons, are nods to the artistry embedded in every project.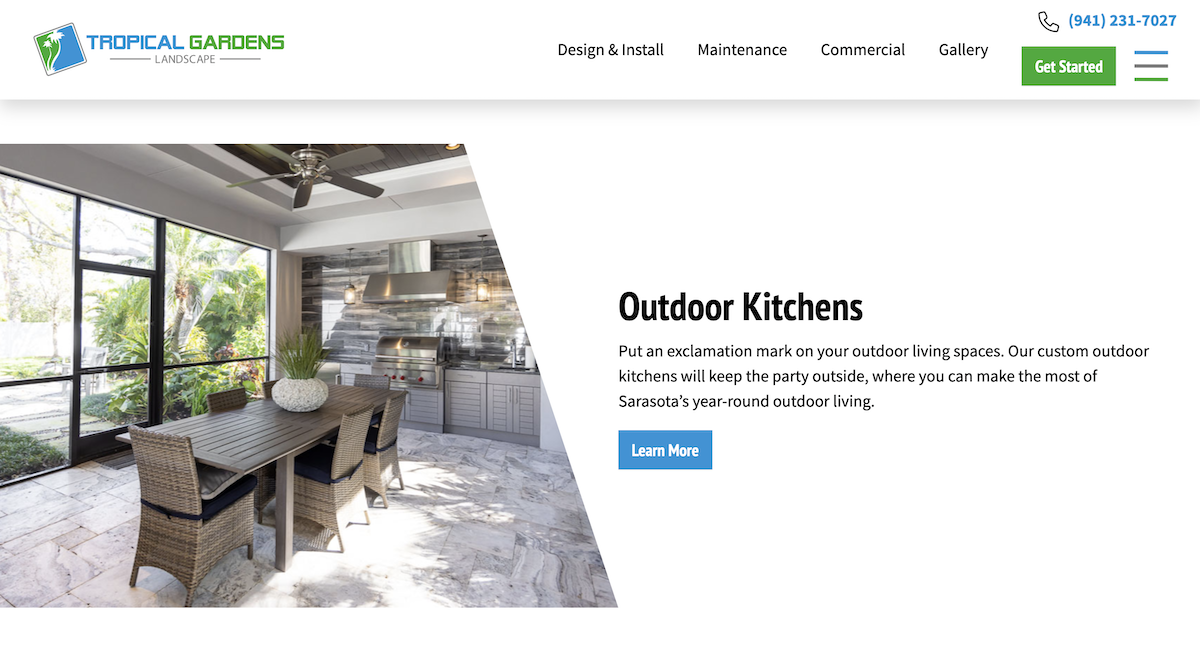 [CHECK OUT THEIR VIDEOS: Landscaper + An All-Inclusive Tropical Resort - Video Marketing Case Study]
Quick Facts & Testimonials
Bite-sized chunks of authority markers and testimonials are strategically placed, offering visual breaks while silently affirming credibility. The visual elements, including the logo's recurring tilt in the client images, weave a narrative of consistency and attention to detail.
Visual Testimonials: A blend of imagery and text, offering social proof while enhancing visual engagement.
Authority Markers: Concise, visual displays of the company's achievements and milestones.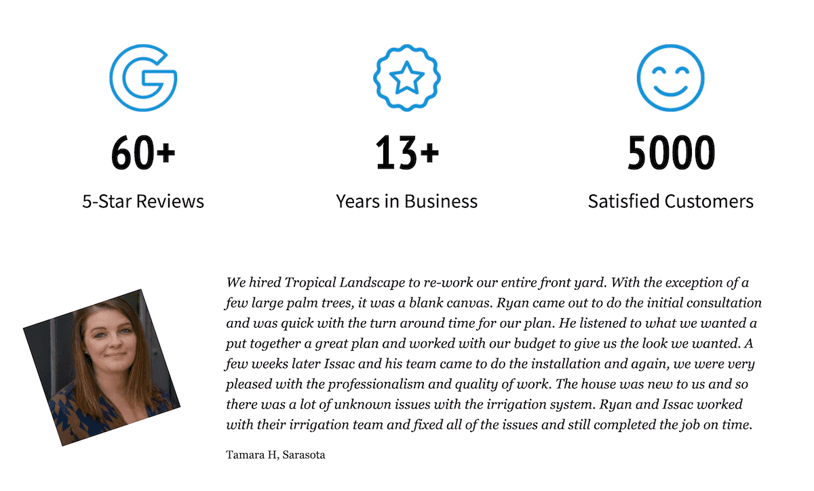 A Journey Through the Service Pages
From landscape design to maintenance, each service is spotlighted with tailored content and imagery.
The landscape design page emerges as a trailhead, offering visitors pathways to explore specific interests such as outdoor kitchens, fire pits, or paver installations. It's a balanced dance of SEO-enriched copywriting, engaging visuals, and user-centric navigation.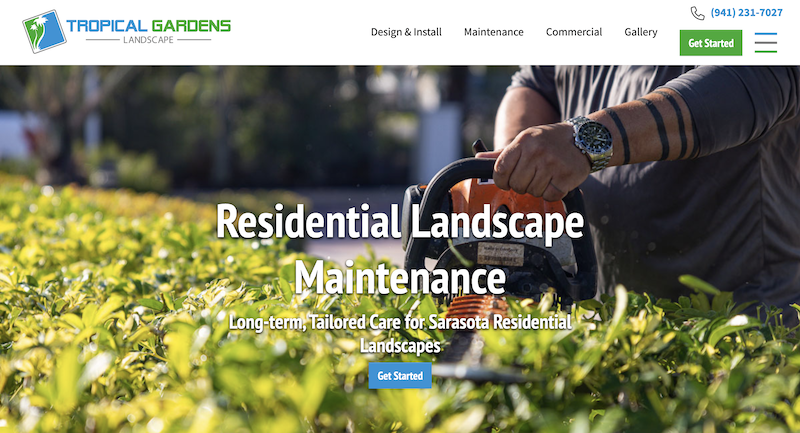 The Gallery's Visual Feast
Breaking from tradition, the gallery is a visual banquet, adorned with filters for a customized viewing experience. Each category is a doorway to a world where artistry and professionalism dance to the rhythmic tunes of nature's splendor.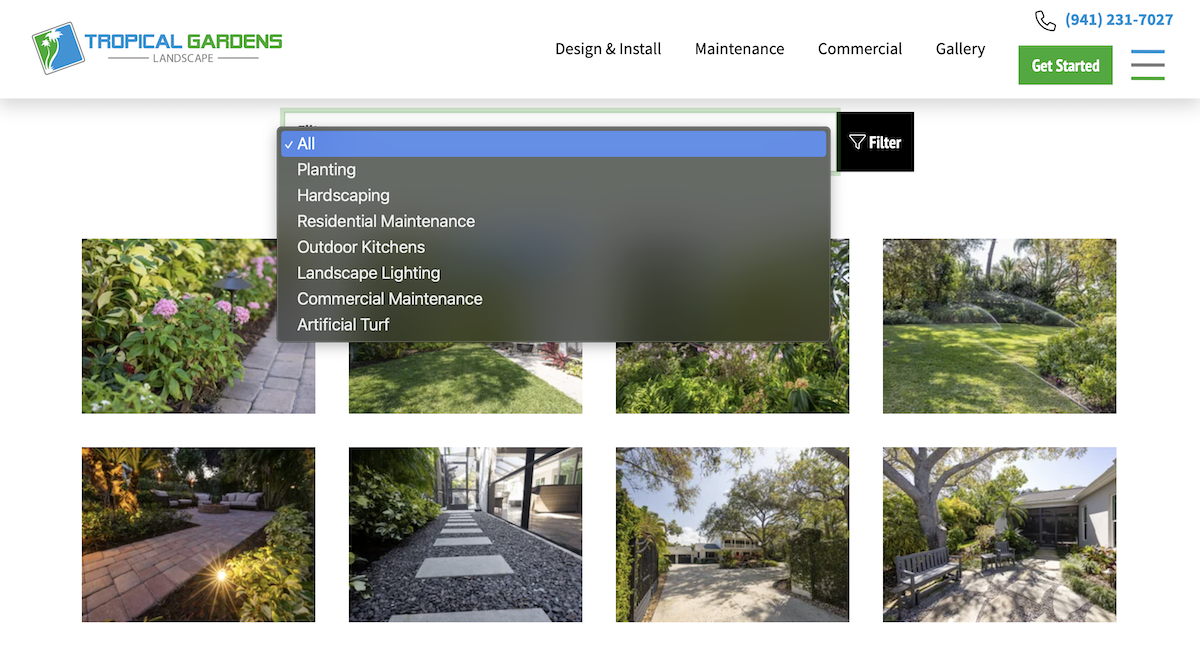 [RELATED READING: How to Present your Landscaping Photos in a Website Image Gallery]
Landscaping Careers and Opportunities
In a world where talent is the golden fleece, the inclusion of a detailed careers page stands as a testament to Tropical Garden's commitment to growth and excellence. It's not just a call for applications but an invitation to be part of a team that transforms ordinary spaces into personal backyard resorts.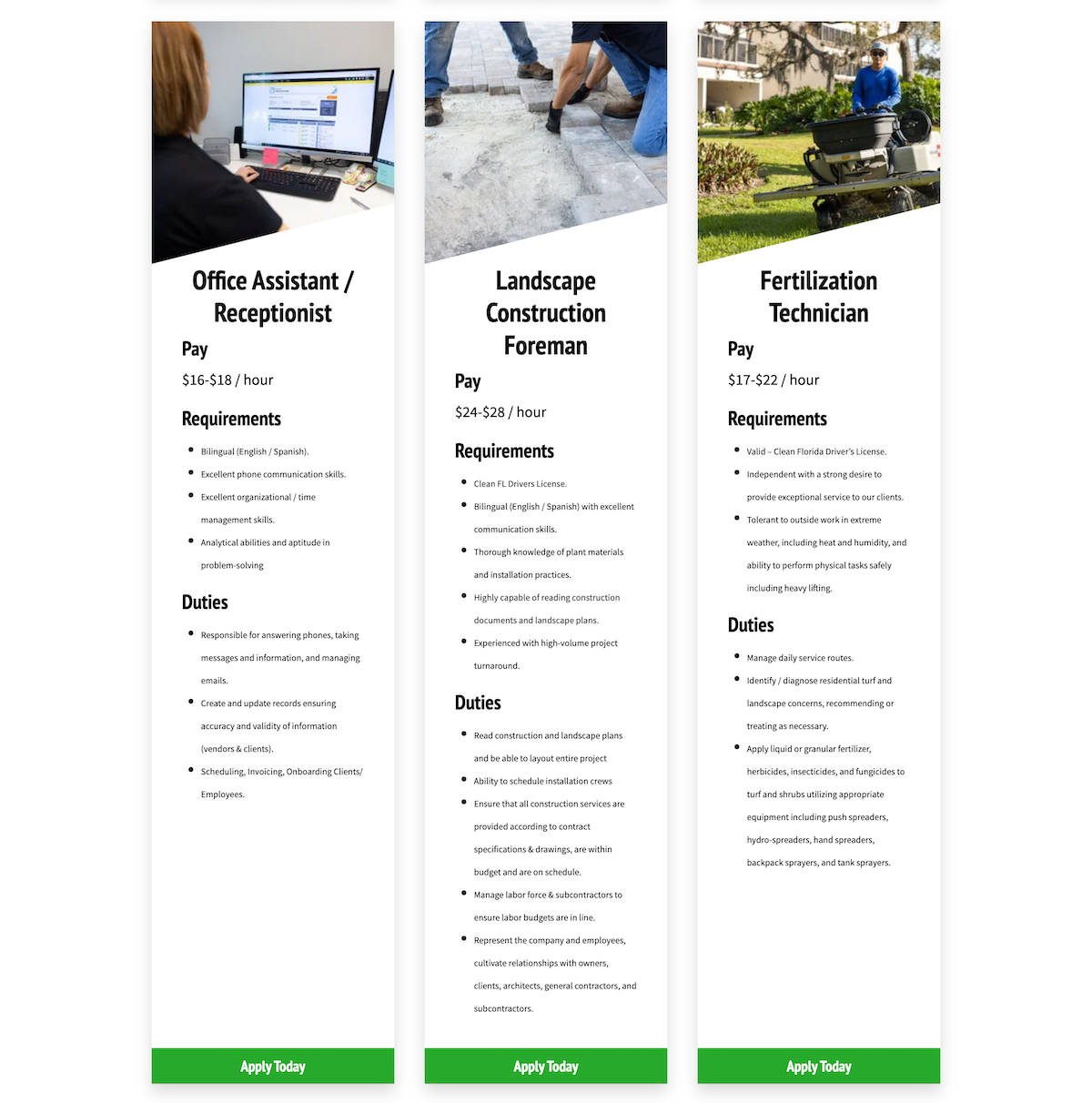 [RELATED READING: 10 Recruiting Must-Halves for Your Landscaping Website]
The Learning Center
The blog, or "Learning Center," isn't just a repository of articles but a knowledge hub where visitors embark on informational journeys. Each article is a blend of insight, expertise, and visual engagement, affirming the website's position as a nexus where learning and discovery are ever-evolving.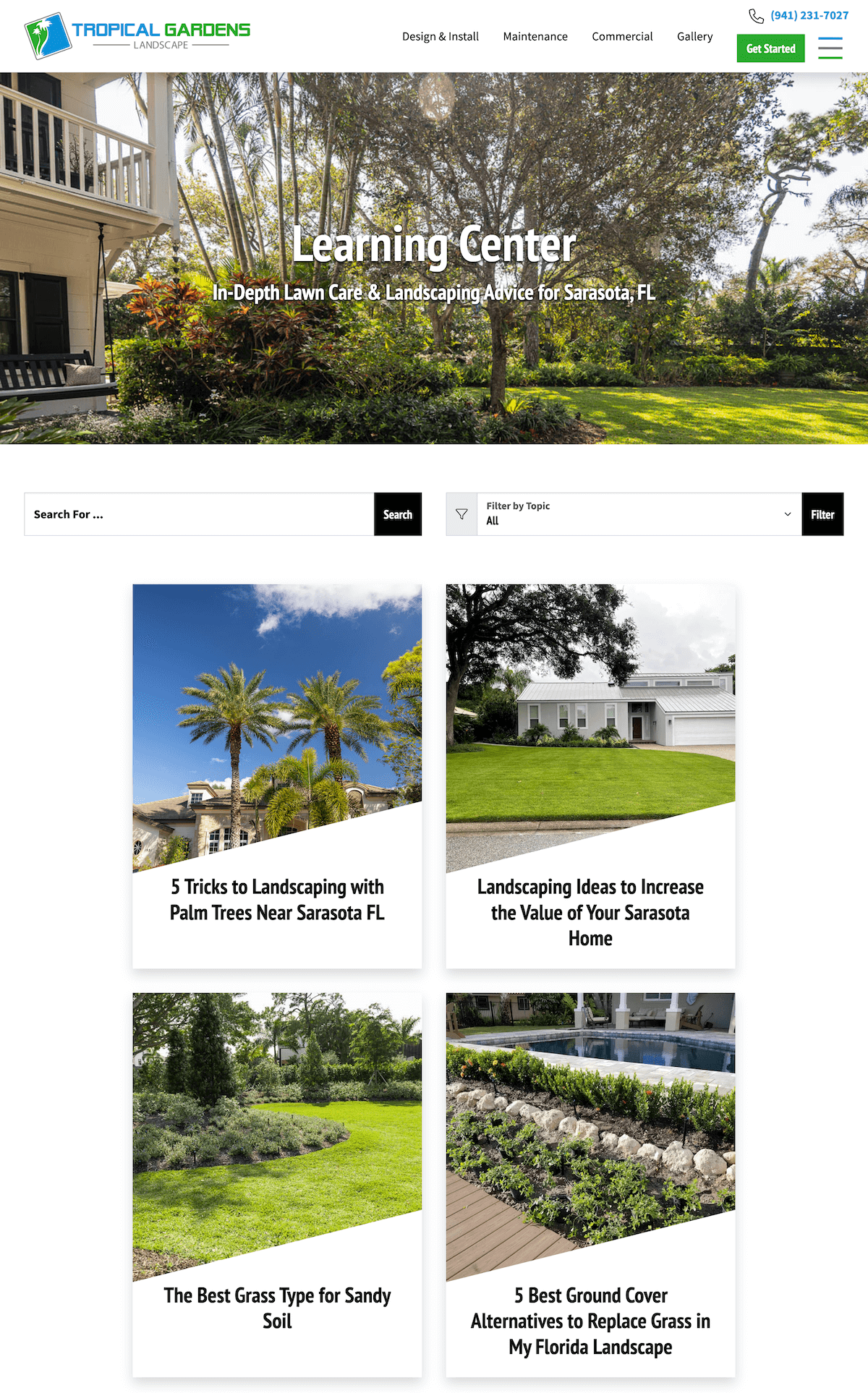 A Continuously-Improving Landscaping Website
The Tropical Gardens Landscape website is more than a digital space. It's a visual, interactive narrative of expertise, artistry, and commitment to excellence. Each design element, content piece, and visual is a thread in a tapestry showcasing a landscaping company that's not just seen but profoundly experienced.
What Ryan Has to Say
"From the very first contact with Landscape Leadership, professionalism and knowledge of both the landscape industry and marketing truly stood out to us. The in-depth thought that goes on behind the scenes, which correlates with industry knowledge makes Landscape Leadership better qualified than the average marketing company we've experienced over the years. From website design and implementation, blogs being written and approved, photos and video production all the way through to the ads being managed, every one of their team members has amazed us. Any business is only as good as its people and they are the true experts in their field!"
We were thrilled to give the same level of detail and creativity to this website that Ryan and his team give to every property they touch. If you'd like to learn more about landscaping websites and their design, subscribe to our blog. And if you're ready to create the best landscaping website in your market, feel free to request a consultation.