On one thing we can all agree: Good help is hard to find. Whether it's field labor, salespeople, or managers, recruiting is one of the toughest parts of running a lawn care or landscaping business.

This frustration often results in restless nights and a general sense of daytime anxiety. Whether you have a full pipeline of sold work or aggressive growth goals, the question of, "Who is going to do all of this work?", may haunt you.

But ask yourself a really important question and be honest… "What's so special about your company?"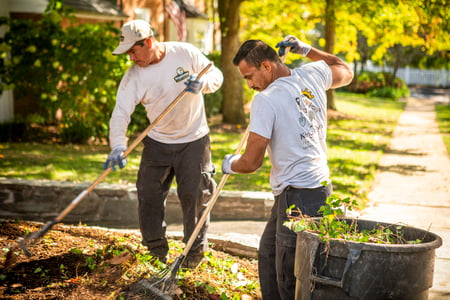 Seriously...one of the reasons recruiting is so difficult is that most lawn and landscape companies aren't truly distinguishing themselves.

Are you just another landscaper or lawn care company? Would anyone be that surprised when comparing you to a competitor or some other company in the construction or service industry?

If you can pull this off, you'll have a steady flow of applicants. Many of them will grow into amazing team members. They'll stay with you for decades. That's the goal.

But how do you get there?
(ACCESS NOW: Your Guide to a Kick-Ass Commercial Landscaping Website)

Over the past decade, we've worked with some incredible lawn care and landscape companies that have turned their websites into recruiting tools that generate hundreds of applicants each year.

Today, I want to go beyond the basics that I typically see on lawn and landscaping websites. Here are 10 must-haves we've implemented to turn our clients' websites into recruiting machines.
1. Robust Career Center
The typical approach is a single "Careers" page with one generic text and a form.

Maybe you've taken the baby step beyond that with an employment page listing the basics of benefits, core values, and positions you're frequently hiring for. While these elements are essential, I have a more advanced suggestion.

Build a robust Career Center that serves as a hub for many of the other features we'll cover in this article. Some of these elements will reside on this main Careers page while others may be linked out to their own pages.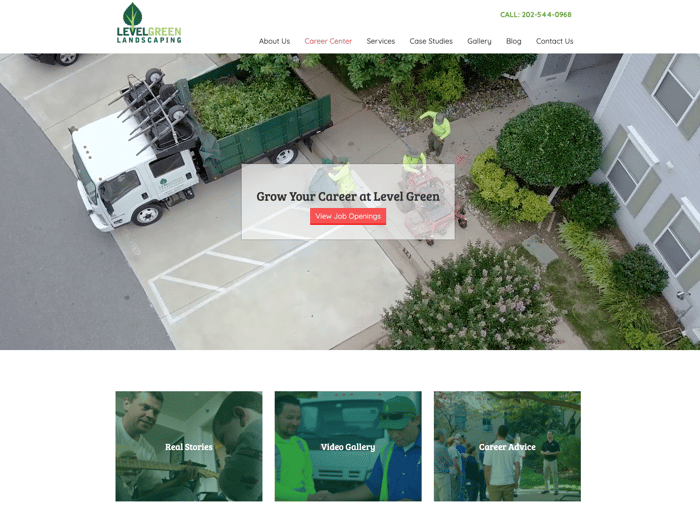 (Check out the Level Green Landscaping Career Center)

Be sure that your website's main navigation and footer have obvious links for easy access.

For the following examples, you'll see that some Career Centers are more advanced than others. That's the beauty of these website assets. You can add to them as time goes on!
2. Professional Photography & Videos
If you're using stock images or poor-quality DIY images, you could be doing your recruiting efforts a grave disservice. Show job seekers the smiling faces of people they will be spending 40-50 hours with each week. This is your opportunity to create excitement and great images and videos can do just that.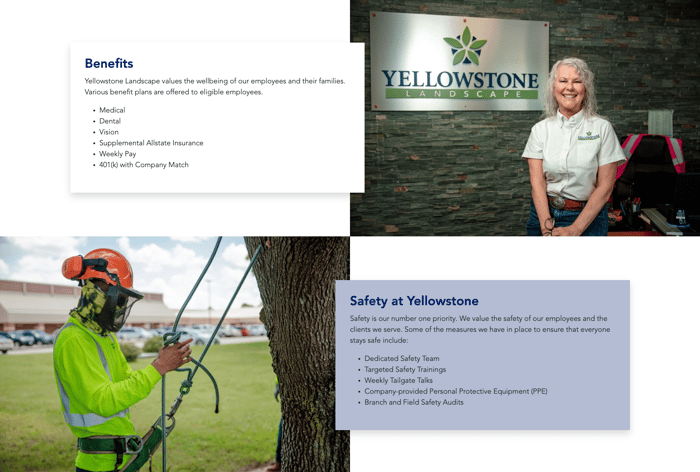 (Check out the Yellowstone Landscape Career Center)

Recruits want to know what the job will look like. Show your team members in action, working together, and interacting with clients. Use these on your Career Center page or other recruiting assets we'll mention in the points to follow.

Professional video is also an amazing way to explain why your team loves working at your lawn care or landscaping company. You can use it to communicate core values, employee satisfaction, or to give details about an open position. Here are a few examples.
Joshua Tree Experts: Career Center Loop Video
As soon as you land on the Joshua Tree Career Center, you will see a loop video that sums up the main reasons why recruits are looking for a new job. We added concise captions to really drive home the points over various clips.


Kingstowne Lawn & Landscape: Team Testimonials Video
The Kingstowne Lawn & Landscape recruiting video focuses on what their team members have to say about why they love working there. Bonus points for showing the diversity of team members and their roles while covering important motivations for job seekers!


Yellowstone Landscape: Careers Video
One of the main fixtures of the Yellowstone Landscape Career Center is a video that features the multiple positions available as well as highlighting what is most important to job seekers. Bonus points for having such a cooperative team so we could create fun shots at the end to make them look like heroes!
Level Green Landscaping: A Day in the Life of a Crew Member Video
Level Green Landscaping has been creating multiple recruiting videos over the years. This is one example of a specific position they hire for. Bonus points for showing women in the industry!
3. Career Path Module
Whether positioned on your central Career Center or other pages, it's always great to show the opportunity for advancement at your lawn or landscaping company. I love how job seekers can get some concise info by clicking on these job titles.


4. Open Position Listings or Pages
The basic approach is to list all of your open positions in one place. However, this can get cluttered if you have many or go into any level of detail. Here are some options to consider.
Kingstowne Lawn & Landscape: Job Position Pages
We created this job position page to give more detail about the position, highlight job features, and show the video in case they skipped over it on the main Career Center page.


Third-Party Recruiting Tools
If you use a third-party recruiting tool, there may be an option to insert the information right on your website to allow job seekers to browse them. Check out how Level Green Landscaping does this for their open positions.




This is how we help direct visitors to the Yellowstone Landscape open positions. This works well if you're unable to embed these postings on your website. It opens the external website in a new browser tab.


5. Applicant Screening Form
This is a matter of preference but could be your best option. A simple screening form will collect basic information and ask some qualifying questions instead of having applicants complete a full application.

Grassperson Lawn & Landscape does a great job of filtering applicants before they send them a full application and set up an interview.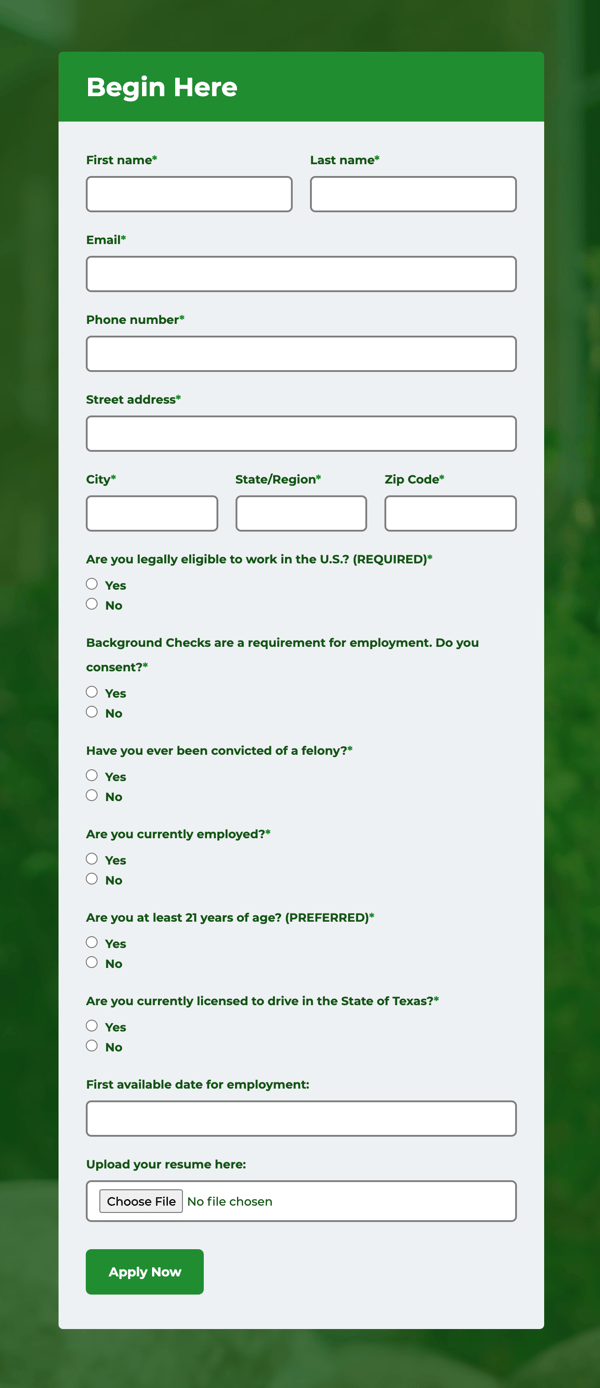 6. Team Member Stories
You can claim you have a great workplace, but job seekers will more easily trust the stories of your team members. Creating profile articles is a great way to communicate how much you appreciate your existing team members while attracting new ones.

It has been a lot of fun to work with Michael Hatcher & Associates over the years to tell these amazing stories. These articles are some of their most-shared posts on LinkedIn.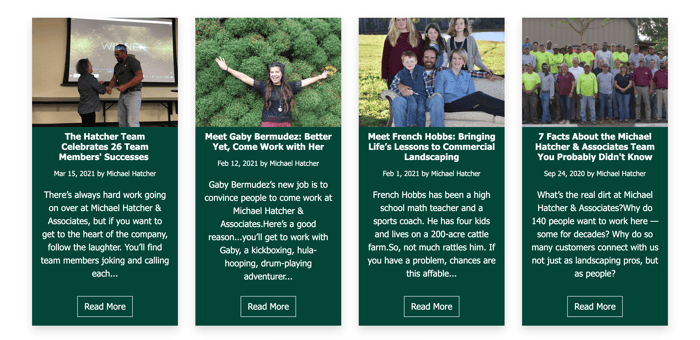 7. Team Member Testimonials
Another great way to communicate job satisfaction is to ask your team members to write a 2-3 sentence testimonial describing what they love most about working at your company. You can add these to your main Careers Center page or if you get enough of them, feature multiple testimonials on their own page. Here are some examples.

(Above is an example of team member testimonial on the Level Green Landscaping Career Center. Below is how this is displayed beside the video on the Kingstowne Lawn & Landscape Career Center)



8. Career Advice Articles
Beyond benefits, pay, and open positions, there are more topics you should be covering in career-focused blog articles on your website. This is a great opportunity to provide in-depth insights on topics such as:
Diversity in the workplace
Training provided
Your position regarding leadership
The meaningful impact from the work you do
Your workplace culture
Compensation models
Transitioning from other industries
Career advancement
How jobs differ at your company vs. competitors
We've worked with Oasis Turf & Tree to share their vision to become one of the best places to work in Cincinnati. It's also been great to cover specific topics such as what appeals to Millennial job seekers.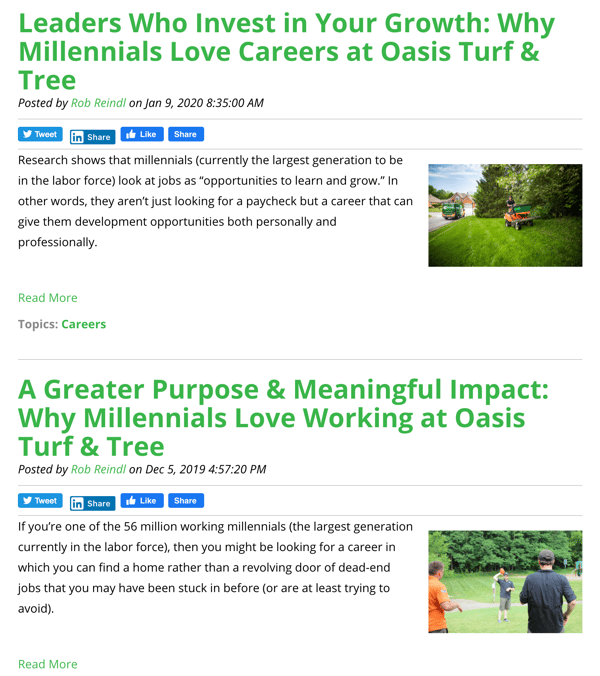 (Check out the Oasis Turf & Tree recruiting blog.)
9. Internships & Management Trainee Programs
One advanced approach Level Green Landscaping has taken is to create paid landscaping internships for people looking to get into the green industry.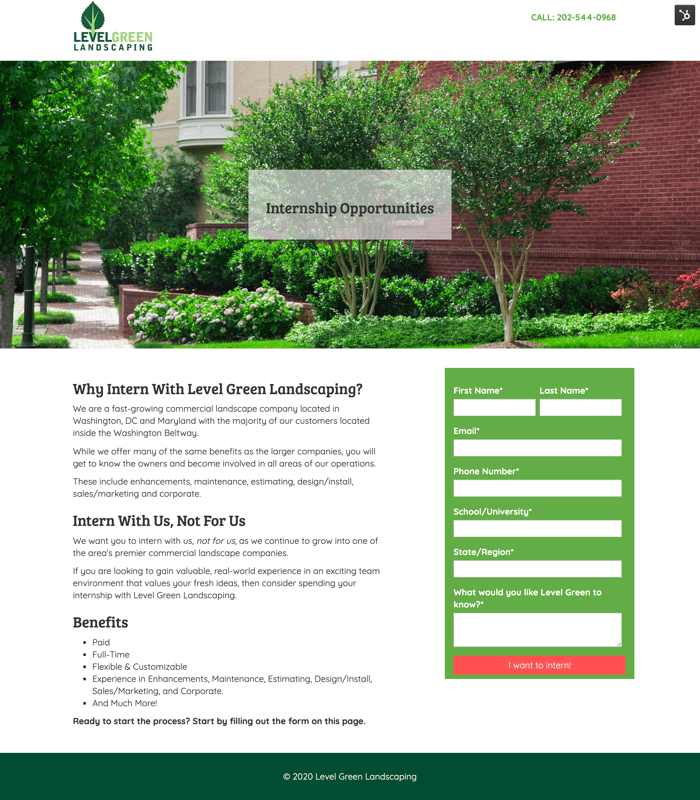 I love how they have opportunities in both field and office positions!

Don't make empty claims of how you like to "promote within". I love how Level Green's Management Trainee Program page explains how they give team members the support to become well-rounded managers and grow within their landscaping career.


10. Spanish Recruiting Content
Whether it's creating a complete Spanish alternative to your Careers Center, job position pages, or a Spanish recruiting video, this material will be something that means a lot to your Hispanic job applicants.

We worked with a professional translation service to go a step beyond Google's automatic translations for Kingstowne Lawn & Landscape's Spanish Careers Center.




For Yellowstone Landscape's Spanish Career Center, we took the English Careers video and had a Spanish-speaking professional voiceover actor read the script. Their bilingual staff also helped us to translate the text for the pages and video captions.


Creating a Winning Green Industry Recruiting Strategy
Imagine a Career Center that your industry peers would drool over. Imagine how meaningful and impressive it could be to prospective team members.

You may be realizing you have a lot of work to do with your digital recruiting strategy. But that also means an opportunity to create a lawn care or landscaping company that becomes an employer of choice with job seekers.

If you do this right, you'll have that steady stream of applicants that turn into your most valuable team players. An added bonus is that they'll probably end up recruiting their friends to come work for you as well.

Ultimately, it's your restless nights and stressful days until you start somewhere. Gather your team, outline some priorities, and start the process of turning your lawn care or landscaping website into a recruiting machine!

At Landscape Leadership, we don't work with companies to improve their culture, but we can help create the recruiting assets you will need to build a strong employer brand. Schedule a meeting with us to learn how we can help your unique situation.
Want more insight like this? Join almost 5,000 other green industry professionals by subscribing to our blog. Subscribe here or just add your email below.