This article was updated to include a bonus video interview with Marcus Sheridan, the author of "They Ask, You Answer". Enjoy these original concepts and additional tips for using content in your sales process.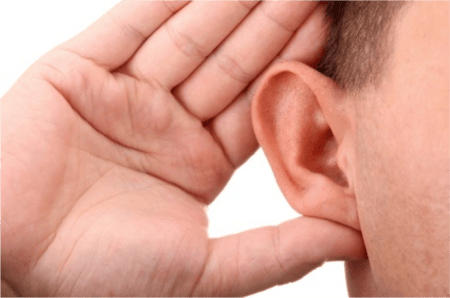 As consumers, we have grown more and more impatient as we search for information online. I'm cursing at a company if I have to wait more than five seconds for their website to load.
We've been conditioned to believe we can find the answer to any question or problem we may have simply by entering a string of words into a search engine. Got a question? Just Google it. We know we'll find the answer somewhere online as long as we look hard enough. That's our expectation today.
A Culture Of Listeners And Teachers
This need and expectation we have to quickly find the answers we're searching for is the essence of inbound marketing: Attracting qualified prospects to you when they are actually searching for an answer to their question or a solution to their problem.
How often do you get asked about the best time to fertilize a lawn? Or when to prune back trees? Or how to get flowers to grow in this shady spot over here?
How many of these questions are answered in a comprehensive way on your website? If you're like most companies, the answer is "not many" or "none at all."
Wait. We know people rely on search engines like Google to find answers to their questions. After all, we do it ourselves. So why do companies overlook or flat-out ignore this reality and not directly address the most frequently asked questions their prospects and customers have in a transparent way on their websites?
If you want to be successful marketing and selling your landscaping and lawn care services today, you need to create a culture of listening and teaching within your company. You need to make a simple choice. Do you want to attract prospects or chase them? To attract more customers you need to start educating your prospects, not send more postcards or bang on more doors.
The most effective way to do this is with content marketing. More specifically, you should have a blog on your website where you address the questions and problems you know your prospects and customers have and are online searching for answers to.
(RELATED READING: How To Develop An Effective Content Marketing Strategy)
Attracting Buyers
The goal is to attract buyers to your website. This requires a very purposeful and deliberate approach to content marketing, creating content that resonates with visitors at various stages of the "buyer's journey."
As we plan the content strategy and develop editorial calendars for our clients at Landscape Leadership, we utilize a simple framework to determine topics in a purposeful way. The goal is to create content (blog posts, case studies, videos, etc.) that will appeal to visitors who are in three basic stages of the buyer's journey: awareness, consideration and intent.
Awareness: Visitors in the awareness stage are just starting on their journey, typically by doing some basic research. For instance, a homeowner with a lawn full of dandelions may be researching the problem with the intent to fix it herself.
Consideration: Visitors in the consideration stage are further into their buying journey. At this point the homeowner mentioned above may now be debating between handling the problem herself or hiring a professional.
Intent: A homeowner in the intent stage will actively research companies and pricing with her eye on hiring a professional in the very near future.
Your content strategy should cover a range of topics in each of these three stages. It should attract visitors at the top of the funnel who are just beginning their research and also attract those folks who are serious about taking action in the near term.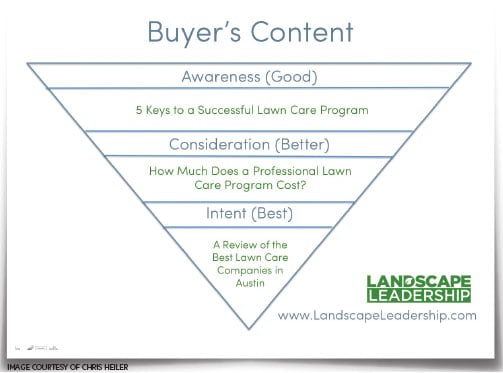 The Big 5
Now let's go a little deeper into how to select topics to write about. There are five big categories that fit this buyer's content framework. These categories are based on how people really search online. Kudos to our friend, Marcus Sheridan, for crafting this framework and the content marketing strategy now known world-wide as "They Ask, You Answer".
Video Interview with Marcus Sheridan
Audio Podcast with Marcus Sheridan
1. How much does it cost?
How do you think visitors on your website feel when they can't find the pricing and cost-related information that they seek? We know people have questions related to pricing. Own the conversation.

I've heard every excuse from business owners as to why they shouldn't address price and cost on their websites. Let me be blunt: They are all BS and don't hold up to the reality of today's marketplace. Remember: The buyer is in control today, not you. Give them the information they seek. Otherwise your competitors will.
Want some proof showing how well this approach can work? Consider River Pools and Spas in Richmond Va. They wrote an article on their blog in 2009 titled "How Much Does a Fiberglass Pool Cost?" This single article, which analyzes the dollars and cents of a pool project – generates hundreds of leads for the company each year and has directly attributed to over $2.5 million in sales.
Not bad, eh? All because they had the guts to address the topic head-on when their competitors were too busy making excuses as to why they shouldn't.
2. What are the problems?
If you've had elective surgery, I would bet that you conducted some extensive research online related to the problems and risks associated with the surgery.
This is what we do as consumers. We want to know the good and bad in everything and be aware of potential problems. It's all a natural part of the buying process. As a business, you need to address potential problems head on. In doing so you build trust and eliminate fear and buyer's remorse.
River Pools tackled some of the issues fiberglass pools can have by penning a blog post titled "The Top 5 Fiberglass Pool Problems and Solutions." This article generates hundreds of leads each year for the company.
Neave Group Outdoor Solutions (Landscape Leadership client) in New York tackled the problems associated with organic lawn care in a blog post titled "The Pros and Cons of Organic Lawn Care for Commercial Properties."
3. Versus and comparisons
Which is best: seeding or sodding a lawn? What's the difference between aeration and dethatching? How does the price compare among concrete, pavers and natural stone?
This is another common way we search for information online. I would bet when you were comparing GPS software or fleet management software for your company this is one way you did your research.
Creating content comparing products, services or techniques is a great way to attract prospects in the awareness stage of the buyer's journey.
Neave Group wrote a blog post, "Gunite Pools vs. Vinyl Liner Pools: What's the Best Type of Inground Pool."
Sebert Landscaping (another client) in Chicago published a post titled "What is the Best Ice Melt Product? Calcium Chloride vs. Sodium Chloride."
Neither of these is a very sexy topic. But they are helpful to your potential customers.
4. The best
We love asking best-based questions online, usually unaware that we are even doing it. What's the best Italian restaurant in Cleveland? What's the best way to dice a tomato? When is the best time to fertilize a lawn?
River Pools has directly attributed over $500,000 in pool sales to a blog post they wrote, "Who are the Best Pool Builders in Richmond Virginia?" in 2012. And they didn't even mention their own name.
We've taken this same approach on the Landscape Leadership blog and have written three best-based articles this year, which have received over 7,000 combined views to date (see the screenshot).
5. Reviews and awards
People like to read reviews online. Take advantage of this habit in your approach to content marketing.
We've done this with our article "The Best Landscaping Blogs of 2014" in which we reviewed our favorite landscaping blogs and created an annual award.
Here are three more examples from our clients:
The essence of inbound marketing is to attract qualified prospects to you when they are actually searching for an answer to their question or a solution to their problem.
Don't underestimate the extraordinary value in creating content on your website that answers questions and solves problems for potential customers.
It's time to create a culture of listeners and teachers in our companies.
---
Want more insight like this? Join 5,000 other landscape professionals who are subscribed to our blog. Add your email below or subscribe on this page.