What constitutes an effective inbound marketing campaign? This is a big question, and one that can open the doors to tremendous business opportunities. Let's take a look at the three indisputable characteristics of an effective and well-regarded inbound marketing campaign.
Educational and helpful
"How-to" blog posts and step-by-step videos, for example, would fit into this type of marketing. The tone of this content borders on the role of consulting and even customer service.Educational or informative marketing provides answers to a question, need or concern that a prospective customer might have. This is the marketing that is most useful when a prospect is in a research mode and trying to obtain specific information to get closer to a decision point.
Neave Pools (client), a swimming pool contractor in Cold Spring New York, consistently publishes "how-to" and other helpful blog posts on their website. The information is not only educational and helpful for the visitor, but it also establishes the company's credibility and thought leadership.
Timely and customized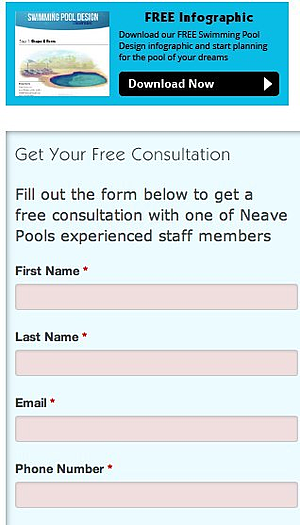 In order for marketing to be truly helpful, however, it needs to be available to you at the right time.
Think about it: If you are facing a certain challenge and are actively searching for a solution, wouldn't you love to find it right in your inbox at the moment you needed it most?
Amazon is the classic example of a website that customizes viewing experiences based on the needs and preferences of its customers.
Neave Pool's website and content appeals to those visitors who are just starting to think about and plan their future pool. Their site and content is also timely for visitors who are further along in the process.
Neave Pools makes sure their information is timely and customized, like any effective inbound marketing campaign, by offering an array of options for people to learn more about them and the pool building process. This includes an extensive collection of web pages outlining their services, an FAQ and also helpful downloadable content like their Swimming Pool Design Guide.
Consistent in language and message
In order to have an effective inbound marketing campaign that people love, you need to consider the experience of the user across their different lifecycle stages: from the first time they encounter your brand, through their interaction with your website and content, to the point of converting into a customer, and their long-term success as one.
By making this movement across different lifecycle stages consistent and fluid, you remove hurdles and encourage your audience to become evangelists for your brand. Neave Pools does a terrific job maintaining their language and message whether it's on Facebook or their blog or in their monthly customer newsletter. They present a consistent voice to prospects and customers.
An effective inbound marketing campaign begins with these three characteristics. But that's just the start! For more nuts and bolts on how to create an effective inbound marketing campaign for your green industry business, be sure to download our free ebook. Grab your copy by clicking the image below.
image credit: