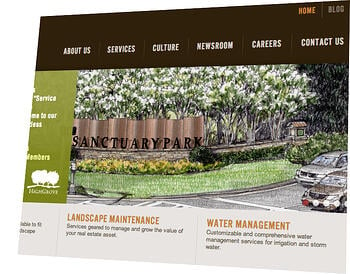 We've viewed and analyzed hundreds of green industry websites here at Landscape Leadership. And we've been involved in the design and development of many.
One of the first steps in the website design (or re-design) process is developing an outline, or sitemap, of your unique website pages.
Think of it as you would chapters in a book--what story are you trying to tell visitors? What are you trying to teach them about your company?
Most green industry companies don't go far enough in telling their story, limiting the number of pages to the basic essentials:
Home page (a book's cover)
About page (an author's bio on the back cover)
Galleries or portfolio page (lots of pretty pictures)
Services and/or products page (could be multiple pages)
Contact page
This minimal approach also leaves the search engines with an incomplete story of your company. Remember, each page of your website can rank in the search engine results pages (SERPs). This is one reason green industry websites with more than 50 pages consistently attract more website visitors and generate more leads.
Complete your story
If your green industry company currently has a bare-bones website, don't worry, you can put a plan in place to build it out over time.
Following are seven pages that you should consider adding to your green industry websites to give visitors the complete story of your business.
Feature your team and staff
I wish more companies, especially the small businesses in our green industry, would feature the company's leadership and staff on their websites. Remember, people want to do business with other real people, not just a business or brand. The same can be said for recruiting top talent. Show job candidates the faces and positions that make up your company.
Go beyond the common "About Us" page and create a "Team" page. GreenEarth Landscape Services (client) has a unique web page dedicated to employees from each of their two office locations in Panama City Beach and Santa Rosa Beach. These pages feature photos and bios of prominent staff members who customers will have contact with. What's stopping you from doing the same?
Feature top leadership
Similar to above, I believe it is important to showcase the top leaders in your company by creating a unique web page for each. Jim McCutcheon (@jimmccutcheonhg), CEO of HighGrove Partners (client) in Atlanta is a good example of this.
There are a few reasons you'll want to consider this (I'll use Jim's page as an example):
This is a single page people can visit for more information about Jim, including media, job candidates, potential partners and clients and even green industry peers.
If someone searches for "Jim McCutcheon", we want them to find the HighGrove website, not his LinkedIn profile. A well-optimized page like this will appear at or near the top of the search results.
Jim writes for industry publications, blogs for HighGrove and is frequently mentioned in the green industry media. His profile page gives other websites a relevant page to link to other than the HighGrove homepage.
Create a newsroom
Adding elements of social proof to green industry websites is important. A page featuring testimonials can help accomplish this, as does a dedicated page for press mentions and company news.
Remember, consumers today are researching and fact finding like never before. How does your green industry website stand out from your competitors? Chances are you offer the same services, at least in the eyes of your potential customers.
Create a "Press" or "Newsroom" page to support and add credibility to the rest of the content on your site. Let your potential customers see what you've been up to recently. Showcase your community activity, company news, awards and any media you've been featured or mentioned in.
You can view our Press page here. And take a look at the Press page on the website of McKay Landscape Lighting (client), a residential landscape lighting company in Omaha.
Highlight your credentials and affiliations
Creating a page that showcases your company's credentials, such as certifications, as well as affiliations like associations you belong to adds more social proof and credibility to your green industry websites. It's all about showcasing your professionalism and standing out from your competitors.
A page like this doesn't have to be difficult to create. Take a look at how HighGrove Partners has done this on their site.
Identify your service area
One of the most common elements we see missing from green industry websites is a description of a company's service area--you know, where the heck they work!
If you're not sprinkling this important information into your website pages already then you should consider adding a unique page for this. Perhaps not all companies will need a dedicated page, but if your company has multiple divisions that may serve different areas this could be very helpful to website visitors and potential customers.
Again, this doesn't have to be complex. Neave Pools (client) handles this pretty well on their Service Areas page.
Highlight career and job opportunities
Just like your website can attract potential customers, it so too can attract top job candidates. If this is a goal then you should have a "Careers" page on your green industry website.
You'll want to do three things with this page:
Tell potential candidates what job opportunities are currently available.
Enable potential candidates to inquire about a position, forward their resume or even fill out an online application.
Highlight your company culture and what makes you different than your competitors.
Take a look at HighGrove Partners' Careers page where they encourage potential candidates to follow HighGrove online (including their CEO) and also include links to company culture-related blog posts.
Let visitors search your green industry websites
Another missing element on many green industry websites is simple search functionality. You should give visitors the ability to search your site for specific terms. This becomes more and more important as your site ages and you continue to add web pages and blog posts to it.
Make navigating and finding information on your site easy for visitors!
Take a look at our dedicated "Search" page where visitors can search for specific terms or browse by topic. We used Google Custom Search to enable this functionality on our site.
With the right pages, your green industry websites can tell visitors the complete story of your unique business. If you're missing any or all of these pages, make a plan to add one page per month or even every other month. This doesn't have to be an overwhelming project to tackle during your busy season.
image credit: HighGrove Partners