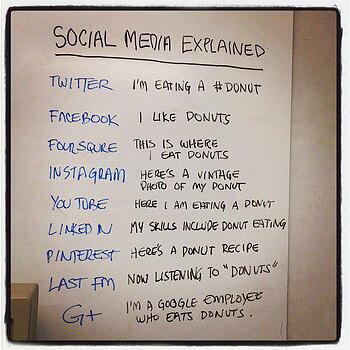 There are a zillion (seems like it anyway) social media tools out there. We've got social networks, blogging platforms, social bookmarking, mobile apps, photo sharing, video sharing, podcasting and on and on (and on...)
But what is most important to us--green industry businesses?
You only have so much time. So you need to know where best to spend it as it relates to social media.
In my opinion, the following 11 social networks and apps are the most important and relevant to green industry businesses.
(Disclaimer: I am not suggesting your business use each of these. Personally, I would rather be run over repeatedly by a skidsteer before implementing all of these in my business.)
Facebook
With over 900 million users world-wide, including over 50% of the U.S. population, Facebook is by far the most relevant social network for individuals and businesses alike.
No other network boasts numbers like these. So if you want to connect and engage with the greatest number of customers, prospects, industry peers and other professional contacts, this is the network for you.
As a business, the best way to use Facebook is to create a "fan page" for your company to serve as a real-time window into your business where you can share timely and useful updates and content.
Google+
Google's relatively new social network--and competitor to Facebook--can be used by green industry businesses in much the same way as Facebook. However, up to this point Google+ lacks the same level of engagement as Facebook and lags behind in total number of active users.
Since your Google+ updates can be indexed by Google Search and your activity can impact search results, it may be worth publishing your company's content (like blog posts) to the social network as a starting point.
LinkedIn
LinkedIn is a social network for professionals where you can connect with your industry peers and other business contacts.
It's not a marketing or publishing platform like Facebook and Twitter. The focus is on networking--especially B2B.
Personally, I've found LinkedIn to be a great tool for reaching out and getting introduced to decision makers and influencers in our industry.
Twitter
I joke that LinkedIn is like networking at a BNI group or Chamber of Commerce. Twitter is like networking at happy hour. Some prefer a conference room while others enjoy the corner bar. Both can be effective.
While I don't think Twitter is necessary for every business or professional, I think it can be the most effective social platform for those who understand how to use it and commit to being an active member of the Twitter community.
Wordpress
Wordpress is a content management system (CMS). It's a blogging platform. Wordpress gives businesses and individuals the ability to quickly and easily publish to the web--and, most importantly, do it themselves. Do-it-yourself content management systems like Wordpress give you control over your content and publishing.
There are other content management systems available (Blogger, for example) but Wordpress is the most popular and, for companies in our industry, the most user-friendly.
Tumblr
Tumblr is another blogging platform--often referred to as a micro-blog--but very different from Wordpress in that the focus is on sharing short-form content like pictures, video and links.
Aside from Facebook, users spend more time on Tumblr and Pinterest than any other social network. Tumblr also skews to a younger demographic (under thirty) which makes it best for large national brands who are trying to attract a younger, trendy audience.
Pinterest
Pinterest is a virtual pinboard where you collect and organize images from across the Web that you find interesting or that inspire you. With a focus on the visual, Pinterest is an ideal network for many businesses in the green industry.
Use Pinterest to organize images of your own work, curate images to inspire your design work and your clients, and even drive traffic back to your website.
Instagram
Instagram was recently acquired by Facebook for $1 billion. So it's an app that you should familiarize yourself with, even if you don't use it personally.
Instagram is a mobile photo sharing app for iPhone and Android devices. You can take photos with your phone, apply a filter, add a description and location, and share the photo on Instagram as well as Facebook and Twitter.
Instagram is a great complement to Twitter and Facebook because you can show your fans and followers, visually, what you're doing in real-time. This is another unique way to show off the interesting work that we do.
YouTube
I've never found YouTube to be useful as a "social" network, but instead as an easy way to upload and share videos online. I simply use it to host videos that I intend to share elsewhere like Facebook or on my blog.
Embedding YouTube videos on your blog or website can give a boost to your search rankings.
And, not to be overlooked, YouTube can be a quality source of content for your Facebook Page. You can embed interesting and helpful YouTube videos, like these from LandscapingNetwork, on your Page.
Flickr
Who knows what the future holds for Flickr. While it still has millions of users it has most definitely taken a back seat to Pinterest and Instagram recently.
Flickr is still a good platform for hosting and organizing your photos online and in the cloud. This gives you the ability to easily share your photos across multiple devices and in numerous ways like via email, Twitter or Facebook. You can also now "pin" Flickr photos to Pinterest.
Foursquare
Foursquare is a mobile location-based social network. Users check in wherever they go, like restaurants and other businesses.
Foursquare is really popular so you should be familiar with it. That said, Unless you have a retail aspect to your business, I wouldn't really worry about it.
It's good for attracting new customers to a bricks-and-mortar establishment like a garden center. It's also a great way to reward your loyal customers and keep them coming back.
Download our FREE infographic, "The 11 Most Important Social Networks & Apps for Green Industry Companies".