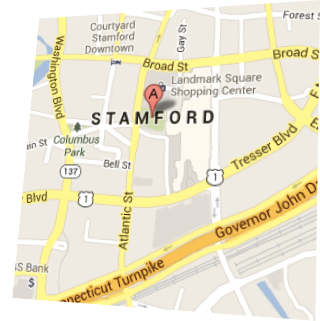 If you are a landscaping company in Stamford, CT you want folks interested in and searching for landscaping services in and around Stamford to find your local landscaping website.
While this may be the most obvious statement I've ever written on this blog, most landscaping websites we see are not well-optimized for local search terms and local keywords.
Optimizing your website (or whatever your business may be) for important and popular local search terms is critical as Google continues to improve its search algorithms to deliver the most relevant results to users showing local intent.
Even if universal keywords are used, for example a homeowner in Stamford, CT searching for "landscaping service", Google sees that query as having "local intent". Because of this, Google wants to deliver search results based on that user's location in Stamford.
Also keep in mind, visitors finding your website from queries with local intent are more qualified to do business with you. This makes your lead gen efforts and sales follow-up process a whole lot more effective.
Do Google a favor
You need to do everything possible to tell Google where your landscaping business is located and where you offer your services. And you need to do it in a very natural and organic way that appeals to readers (aka Human Beings) and not just search engine spiders. Fortunately, this is not difficult to implement on your website. Below are five ways you can add more local search terms and local keywords to your landscaping websites.
Landscaping case studies
We believe the most effective and sustainable way to optimize your website for local search terms, over the long term, is by featuring your local landscaping projects as case studies.
The key is creating and optimizing a unique page for each case study. Sound like a lot of work? Yeah, it is. That's why your competitors aren't doing it. (This is also why that SEO firm you pay $500+/month doesn't do it. But what do they really do anyway?)
You can create a case study for each landscaping service in each primary location. For example, an "outdoor kitchen" case study in "Stamford, CT". Or "landscaping renovation" in "Stamford, CT". See how you combine the universal keywords with geo-specific local search terms?
We recently created a case study for HighGrove Partners (client) optimized for "water management Atlanta". See it here.
Metadata on your website pages
Every page on your website has metadata. Your visitors don't see this but the search engines do. It gives the search engines an overview of what the page is about. A mistake we often see on landscaping websites is that the metadata on every page is the same. Why? Because your website designer either doesn't understand the local search terms for our industry or just got lazy. Most likely both.
There are a few different elements on each page where you can include geo-specific keywords and search terms:
The page URL
The page's headline
The page's title tag
meta description
meta keywords
If you are using Wordpress or HubSpot as your content management system (CMS) these elements can easily be manipulated or updated.
Let's look at the HighGrove "water management Atlanta" case study from above:
URL: http://www.highgrove.net/services/water-management/piedmont-center-buckhead-atlanta
Headline: Spotlight On Piedmont Center, Effective Water Management for a Class A Atlanta Office Park in Buckhead
Title Tag: Piedmont Center: Effective Water Management in Buckhead and Atlanta
Meta Description: As Piedmont Center management pursued a much-needed makeover, HighGrove Partners proposed a unique water management solution for the Atlanta property.
The screenshot below shows how this page appears in search results.

Title and copy of blog posts
Blogging is a great way to optimize for local search terms. If you blog consistently you will have plenty of opportunities to optimize your landscaping websites for these local keywords.
Weed Pro does a great job of this on their Cleveland & Columbus Lawn Care Blog (See how they did that? Sneaky guys :-), as seen in these blog post titles:
Our Top 10 Columbus Lawn Care Tips for Spring
The Best Lawn Care Companies in Cleveland Ohio
Top 10 Lawn Care Tips for Columbus Homeowners
Columbus Lawn Care Focus: 3 Ways to Prevent Weeds
Optimize your photos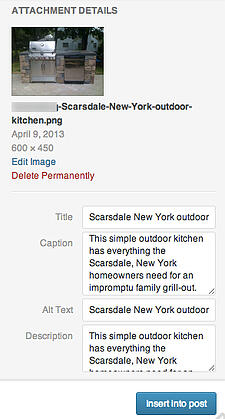 Don't get lazy when adding photos to the pages and blog posts on your landscaping websites. Take the necessary time to optimize these for your important keywords and local search terms. Here are the simple steps involved:
Rename the image file to include your keywords before you upload the image to your website. Ex: outdoor-kitchen-design-construction-stamford-connecticut.jpg
Use these same keywords in the image title and image alt tags.
Work these same keywords into the photo's caption and description
Again, if you use a CMS like Wordpress this is extremely easy to do. The screenshot to the right shows an example from Wordpress' editor tool.
Optimize your service-related pages
A simple way to add more local search terms to your company's website is to list your service areas on multiple pages of your website, usually on your service-related pages. You could also add this information sitewide by adding it to your website's footer, but personally, I think it sounds more natural in the web page's copy.
Below is a snippet of text from the GreenEarth Landscape Services (client) "Residential Irrigation" page. A similar snippet of text like this appears on all of their residential and commercial landscaping service pages. This would be very easy for you to replicate on your site.

Remember, your website needs to do everything possible to tell Google and the other search engines where your landscaping business is located and where you offer your services. Try to carve out two or three hours each month to implement the strategies we outlined above. Your hard work will pay off.