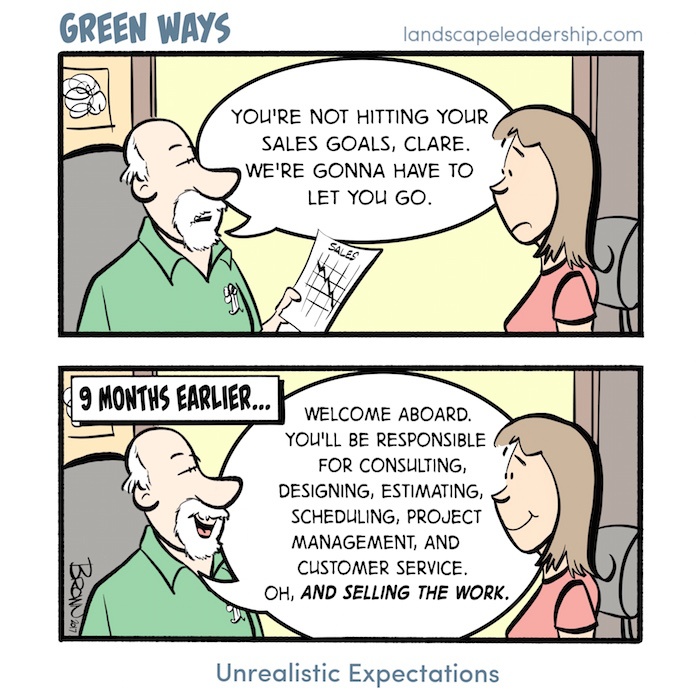 Purchase our entire collection of Green Ways comics on Amazon
Mariano Rivera may be the greatest reliever in major league baseball history. The Yankees didn't pay him to hit home runs or start games on the mound. For 17 seasons they paid him hundreds of millions of dollars to do what he did best: close games, even if that meant pitching only one inning.
Closing, in your line of work, may not be as dramatic as closing out the ninth inning of a world series game, but it is the lifeblood of your business.
Selling should not be "just another" responsibility heaped on top of a job description like a second spoonful of sugar in your coffee.
Our Green Ways comic illustrates this at an absurd level. Unfortunately, in our industry, this is not far from reality.
Because of this approach, too many of you are leaving money on the table.
One can only serve one king
Priority always defaults to current customers.
When an urgent design decision needs to be made on a project site, the site visit becomes priority for your landscape designer. She'll call that new lead back tomorrow. Or... maybe she won't.
Instead of your account manager meeting with a new prospect, he's on-site putting out a fire for a current client.
Here's a dirty little secret I think you already know: Your account managers are inventing fires so they don't have to chase new business!
Opportunity and money is left to spoil on the vine.
Let your designers focus on the creative. Let your account managers focus on client retention and growing existing accounts.
Consider hiring a new business development professional to assist with the following:
Regular, on-going prospecting for new opportunities
Following up on leads and qualifying these prospects on behalf of other team members (designers, account managers, etc.), then...
Handing off sales qualified leads (SQLs) to the designer, account manager, whomever...
Supporting their team members throughout the sales process, especially at closing. This is especially important with residential design/build sales where a lot of money can be left on the table by creative landscape designers who are timid when it comes to asking for more money. (That's not a blanket, stereotyping statement by the way. Please withhold your emails, my designer friends :-)
I'm suggesting a team approach to sales which leverages each individual's particular strengths and traits.
Start-ups and small contractors cannot pull off this type of hire right away. It's something to aspire to which will allow your business to scale without leaving opportunities rotting on the vine. Many of you, as owners, will be burdened with much of this responsibility. But that's not sustainable over the long run.
Your landscape designers and account managers don't want to hear or worry about their "sales pipeline". Many will vomit a little in their mouths with mention of those two words.
Hire a real business development pro who gets off on having a pipeline full of opportunities.
Maybe you'll get off on having happier, higher-performing people. And a fatter wallet.
---
I ripped off the "one king" quote from a really smart guy on LinkedIn. Check out this discussion on LinkedIn that prompted this article. Please add your insight to that discussion.
Want more straight talk? Subscribe to our blog. Just add your email address below.
Contact us to learn more about our sales enablement services for lawn and landscape companies. We can assist with staffing models, sales process design, and CRM implementation and training. In other words, add more dollars to your top and bottom line by tightening up your sales operations.
Purchase our entire collection of Green Ways comics on Amazon