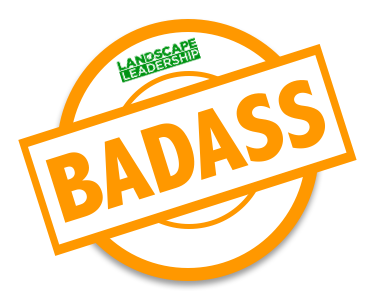 Ranking the top revenue-generating companies in the lawn and landscape industry has become an annual tradition amongst publishers in our industry. Lawn & Landscape was one of the first, releasing their inaugural "Top 100" list back in 1998.
Nearly 20 years later, Lawn & Landscape has again published their Top 100 list as part of their May 2017 issue.
We've had clients of ours appear on these industry lists off and on over the years so we like to pay attention to who's moving up and down, or on and off.
After reviewing this year's list, Chad Diller (Director of Client Success at Landscape Leadership) and I had the idea to grade and rank the websites of these top 100 lawn care and landscaping companies.
So we set out to do just that, with the goal of showing other companies what goes into a high-performing, highly-effective (i.e., Badass) website. The Lawn & Landscape Top 100 list really just served as our first filter.
We hope there are some specific takeaways in this article that you can apply to your company's website.
What Does Badass Mean? Introducing Our Criteria and Grading Process
We chose to use three criteria when ranking the websites of these Lawn & Landscape Top 100 companies:
Website Grader score

Value and usefulness of written content

Quality of visual content
Each was weighted equally. There were other criteria we could have used in addition to these, but we aimed for simplicity, less subjectivity and a focus on, what we think, are the most important traits of a Badass website.
Chad reviewed and graded the landscaping websites based on their written and visual content. He'll share his feedback below. Also, please note, Landscape Leadership has not worked with any of the companies and their websites discussed below.
Let's take a closer look at each of the criteria.
Grade #1: Website Grader Score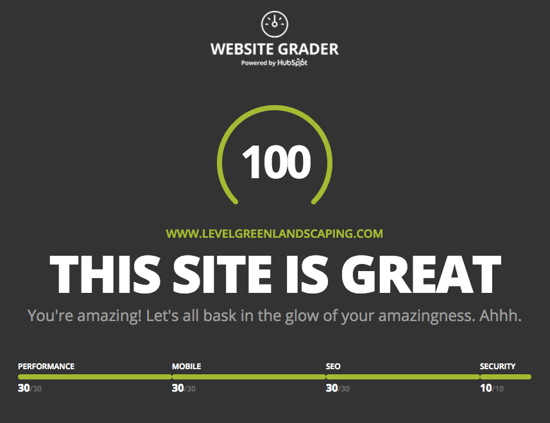 We tried to remove as much subjectivity as possible. We did that by, first, ranking the Lawn & Landscape Top 100 websites based on their Website Grader score.
Website Grader is a free online tool that grades a site against key performance metrics like speed, mobile readiness, SEO, and security.
Any website scoring below an 80 is falling significantly short of our Badass standards, so this score became our minimum threshold.
26 of the 100 websites achieved a Website Grader score of 80 or above.
The average Website Grader score for our entire list was 71%, with 18 websites falling below a score of 60.
Also of significance: While 88% of the websites can be considered mobile-friendly – which certainly was not the case just two or three years ago – only 33% of the websites are currently secured properly with HTTPS and SSL encryption. This is becoming more important not just from a security standpoint but also from an SEO (search engine optimization) perspective.
Only these 26 websites meeting our minimum Website Grader threshold were analyzed and graded according to the next two criteria.
Grade #2: Value and Usefulness of Written Content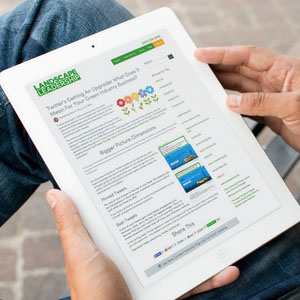 Whereas the Website Grader software fed back scores to us based on its algorithm, our next two criteria and grades introduced more subjectivity into our scoring process.
By now, especially if you've followed us for any length of time, you should understand the vital role written content plays on a Badass website. Nonetheless, let's contrast two different types of written content:
Badass Content:
All about the reader and potential customer

Useful and helpful in answering your prospects questions and addressing their challenges and objections

All of this in an honest, unbiased and transparent way
Weak Content:
All about you

Which is rather dull

And lacks credibility
Chad scored these 26 websites based on this statement:
"The website has a variety of content and resources that are helpful to potential customers."
Up to four points could be earned, based on this scale:
1- Basic web pages with short descriptions
2- Basic web pages along with short, infrequent blog articles
3- The basics with a helpful, insightful blog for potential customers
4- Outstanding mix of helpful, insightful content for potential customers
What we were looking for are websites that not only succinctly describe their services, but also educate potential customers through a variety of content, the most important being consistent blogging. Case studies, video, white papers, e-books and other downloadable long-form content boosted the Badass factor even more.
Of the 26 websites Chad analyzed, only three scored a 4 on our scale, with eight sitting on a score of 1. The average score was 2.1.
Let's give a hearty, Badass fist-bump to these three companies who are doing content right:
Grade #3: Quality of Visual Content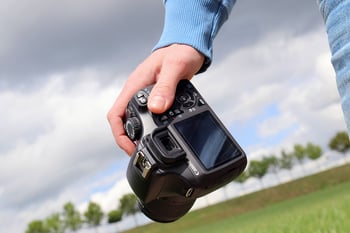 Our 26 finalists fared much better with visual content.
Chad scored these websites based on this statement:
"The website utilizes high-quality, professional images and video."
Again, up to four points could be earned, based on this scale:
1- C'mon… You make millions of $$$! Hire a pro!
2- Meh… you still have work to do.
3- Pretty good, better than most.
4- Great job! You're setting a fine example for the industry.
Time for another comparison…
Badass Visual Content:
High-quality professional photography and video

Of not just your fancy projects, but of your people

And always up-to-date and fresh
Weak Visual Content:
Outdated photography

Taken from your neighbor's daughter's cell phone

Or worse…stock images (side note:

You're all using the same stock images!!

)
Our 26 finalists averaged a score of 3.1, with only one company scoring a 1. These nine companies proved their Badassity by scoring a 4:
Our Top 5 Badass Websites of the Lawn & Landscape Top 100 Companies
After crunching the above numbers in our super-secret spreadsheet, we found there to be five websites that truly separated themselves from the others based on their under-the-hood performance metrics and mix of written and visual content.
Chad explains how each earned their much coveted Badass label.
#5 The Bruce Company of Wisconsin
Combining an impressive garden center with a fully array of other services, The Bruce Co. of Wisconsin does a great job showing off what they offer to customers.
Here's a look at their scores with some of my thoughts:
Website Grader: 2

Written Content: 2.5

Visual Content: 4

Total Score: 8.5 (out of 12 possible points)
Website Grader score: On the technical side, the website scores well. With just a few performance tweaks to make the pages load more quickly and that score will be up in no time.
Written Content: Their blog and many of their service pages offer helpful information for a variety of topics to prospective customers. The website is easy to navigate and offers additional page links to dive in deeper into more details. They've also been blogging about lots of relevant topics starting this year. Keep it up!
Overall the content is fairly good, but I would love to see The Bruce Co. finish off their Q&A page, Plant Encyclopedia, and add just a little more written content to their service pages.
Visual Content: From the moment you land on the website, it's clear that the Bruce Co. values both videos and photos. The images are crisp and clearly taken by a professional in most cases. The only recommendation I would add is to have the ability to advance photo gallery images without opening them in a separate pop-up box. I especially love the How-To Videos!
#4 Trugreen
This lawn care giant has been around long enough to know the ropes and has the resources to give Trugreen one of the best and baddest lawn care websites out there.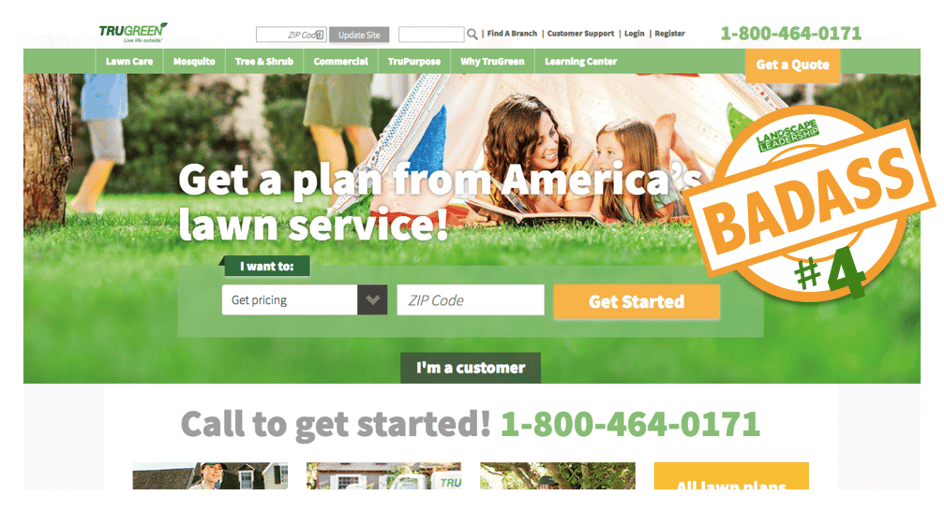 Here's a look at their scores with some of my thoughts:
Website Grader: 2

Written Content: 3

Visual Content: 4

Total Score: 9 (out of 12 possible points)
Website Grade: Trugreen's website is beautiful to look at but some of the site's pages are a bit slow to load, knocking down its Website Grader score just a tad. A few minor technical performance tweaks and that score would definitely rock a Badass score on the grader.
Written Content: I really love how Trugreen uses multiple forms of written content to communicate to their prospective customers. These include their blog articles, customer testimonials, and clear messaging and service descriptions.
Some recommendations to score higher on the written content would be mostly aimed at formatting their blog content so it could be more easily digested. The longer sections of text with little white space on the page or additional images may be intimidating to people who don't want to read a page full of text with one little image. Other than that, well done!
Visual Content: Trugreen is definitely bringing their A-game with visual content. Throughout their site, there is a variety of images using before and after shots, their staff and clients, a ton of videos, and even infographics.
#3 Ryan Lawn & Tree
It's no surprise that this company ended up on the list. A well-known company in our industry for many years, Ryan Lawn & Tree is a force to be reckoned with in the midwest.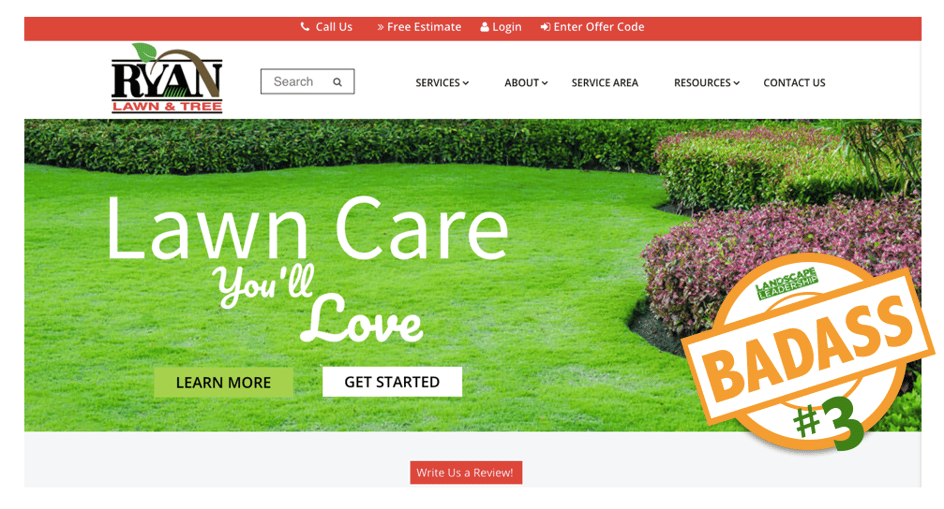 Here's a look at their scores with some of my thoughts:
Website Grader: 3

Written Content: 4

Visual Content: 3

Total Score: 10 (out of 12 possible points)
Website Grade: Other than a few minor technical tweaks to make some of the pages load faster, this website displays its Badassity to the max.
Written Content: Ryan does a great job on their blog, covering useful topics and also going into the right amount of depth. Their service pages also have just the right amount of copy to be useful to a prospective buyer without leaving them starving for more.
Visual Content: There is a big variety among pictures throughout the site, and they complement their written content perfectly. Increasing the size of some of the smaller images and updating others with new professional shots, and adding some professionally-shot video would definitely help the visual content to score higher.
#2 Spring-Green
With many successful years under their belt, Spring-Green joins the best lawn care websites on the Lawn & Landscape Top 100 list.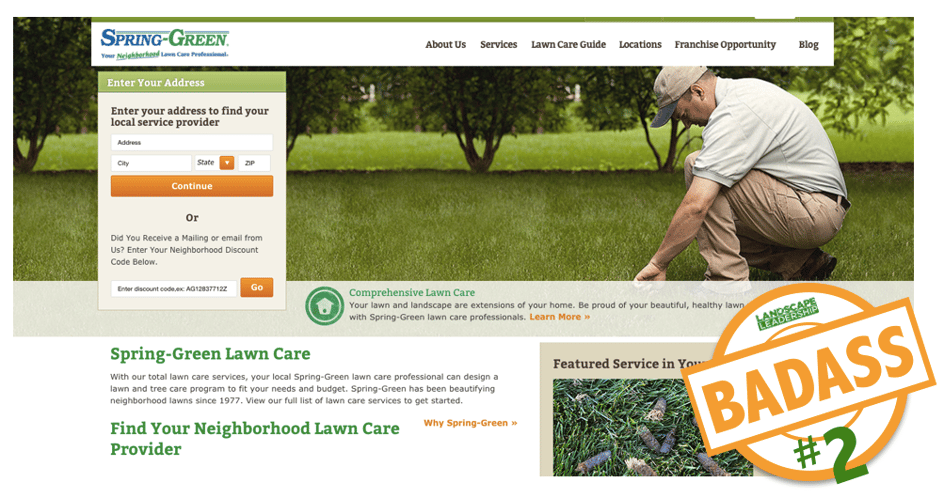 Here's a look at their scores with some of my thoughts:
Website Grader: 3

Written Content: 4

Visual Content: 3.5

Total Score: 10.5 (out of 12 possible points)
Website Grader: Another technically-great website, Spring-Green's site only needs some minor tweaks to speed up a few pages for quicker loading.
Written Content: Serving up an abundance of specific service pages and blog posts rich with useful content gets them a great score. Blog topics are straightforward, often posing questions that prospects will enter directly into a search engine. I also love the innovation of the podcasts with the transcripts as well!
Visual Content: Everyone loves a website with a great balance of images and Spring-Green nails it. I love how they work in images of their team and customers into many of the site's images. Adding in some before and after pictures of lawns, along with some explainer videos would get closer to a perfect score.
#1 Nutri-Lawn
With nearly a perfect website grader score, useful written content, and beautiful visuals, Nutri-Lawn is our pick for the Most Badass Website of the 2017 Lawn & Landscape Top 100 List.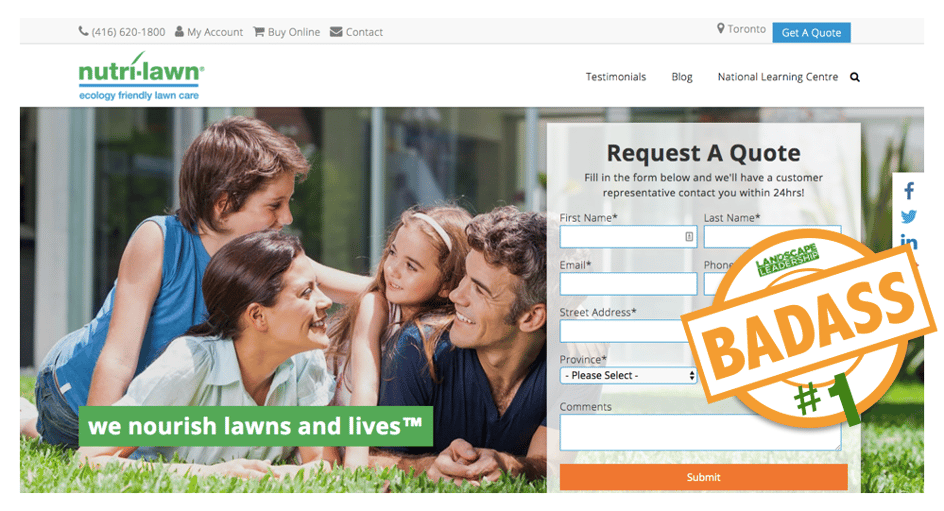 Here's a look at their scores with some of my thoughts:
Website Grader: 3

Written Content: 4

Visual Content: 4

Total Score: 11 (out of 12 possible points)
Website Grader: With the most technical items in their proper place, Nutri-Lawn's site only needs a few minor tweaks to make it just a tad faster on a few pages.
Written Content: Organizing multiple learning resources, this website is an incredible resource for prospective customers to learn about their lawn and its many challenges. Their blog covers cutting-edge topics and gives deep explanations. I was particularly happy to see calls-to-action throughout the site to download e-books, helping the prospect to continue through their buyer's journey.
Visual Content: The site contains beautiful visuals, from pages with multiple images, to team members, to adding rich, colorful photos and videos to market their brand.
Nutri-Lawn's website is the polar opposite of weak content - a truly Badass display of insight!
Wrap Up
And there you have it: The five most Badass websites of Lawn & Landscape's 2017 Top 100 list. Hopefully you are able to learn from this exercise and apply the takeaways to your own website.
If you're ready to blow up your current website and re-build with a higher degree of Badassity like these we've discussed, then it's time you reach out to us. Here are a few recent website re-design projects we've tackled:
Click here to talk to us about your project.
Not ready yet? Then download our helpful guide, "25 Website Must-Haves for Driving Traffic, Leads and Sales". And be sure to subscribe to our blog by adding your email address below. We have over 3,000 landscape professionals just like you who are already subscribed (peer pressure!!).