How to Use a Pro Actor for Authentic Lawn or Landscaping Company Videos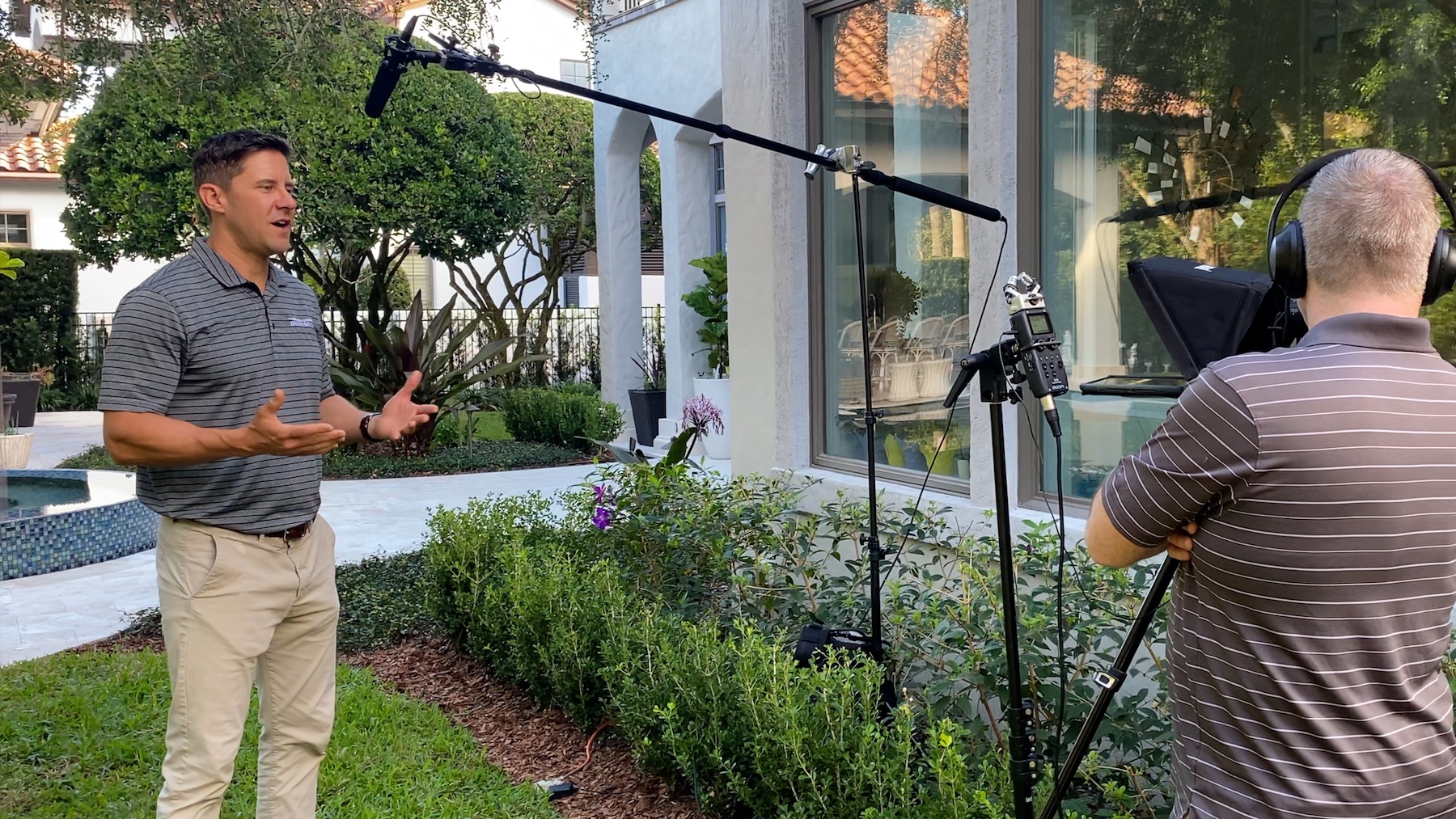 I'm weird. I love being on camera. But I'd bet that's not true of you or your team members.
You're landscaping and lawn care experts who love talking to people (in person). But turn the camera on your stomach churns and you start sweating. Can't someone else just do this for you? Well...yes, that's a great option to consider.
At Landscape Leadership, we've produced hundreds of videos for lawn care and landscaping companies over the years. Some green industry pros just needed a little bit of coaching, organization, and a detailed plan to become video superstars.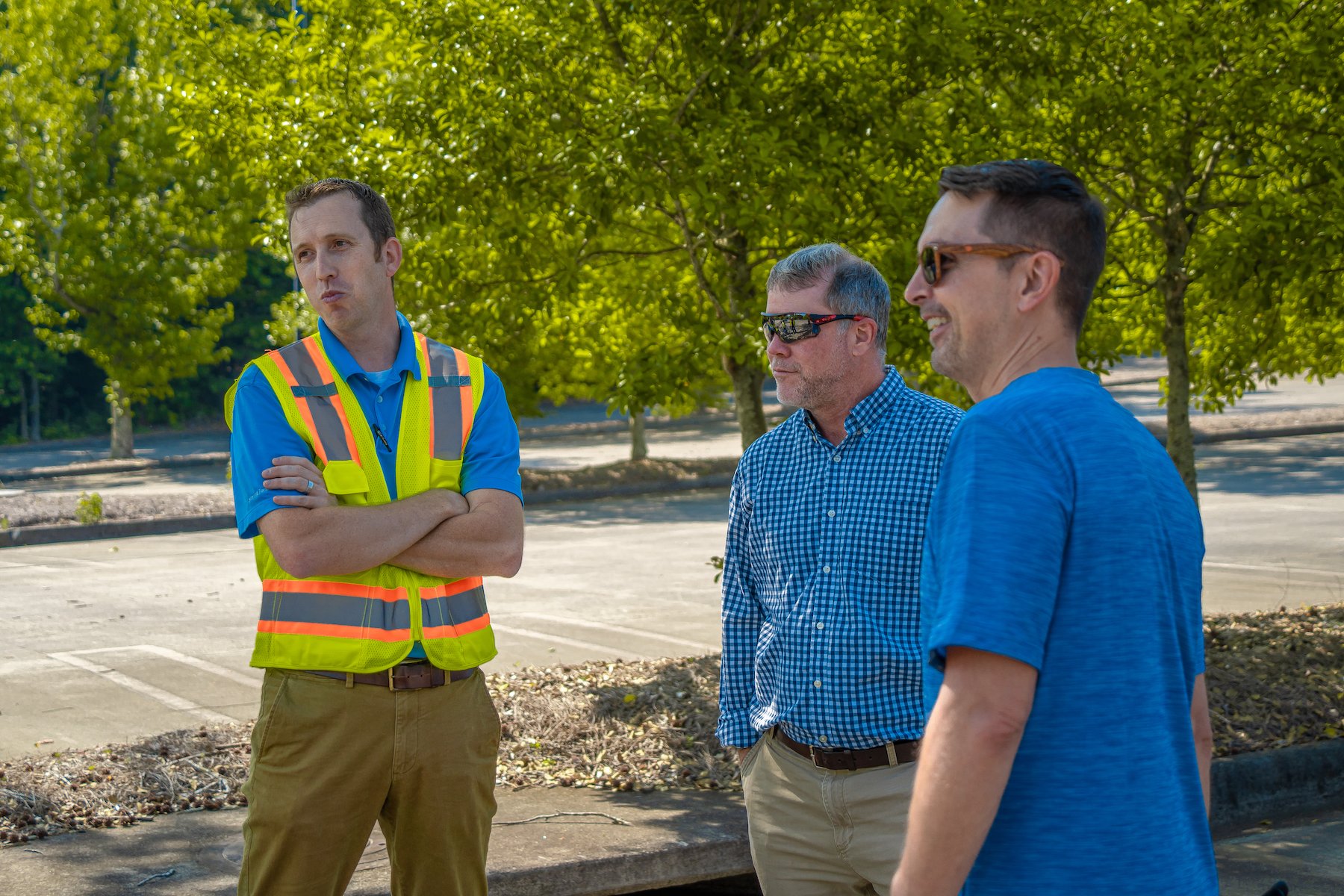 However, others still wanted to use a spokesperson for various reasons. If this is an option you'd like to consider, I have some insider tips for you. This insight will help you create authentic lawn care or landscaping company videos without having them look corny and phony. And, I'll be sure to throw in some real-life video examples as usual.
Sourcing Professional Spokesperson Actors
I have to admit, this is tough and I've learned a lot along the way. There are a few ways you can go with this from hiring a casting agency to doing the scouting yourself.

We typically travel to our lawn care and landscaping clients' locations for shoots. To find a local actor, I often search on Facebook for "actors [state]" and join a few groups. Then, I post an acting job that includes:
Scope of project (number of videos, shoot time/date)
Examples of similar videos
Desired actor demographics
Pay for role
That we don't want to work with an agency/union
Request for acting reel and links to prior work
Your contact details
Brace yourself though…you can get a lot of messages. Create a reply template to send that includes a link to a script for one of your videos. Ask them to send an audition to you via email with an audition deadline.
Elaine is an actor we found on a D.C. Area Actors Facebook group. She had some news broadcasting experience. We thought she did an excellent job adapting her style to a "gal next door"! Check out more examples in Kingstowne Lawn & Landscape's video gallery.
Sorting Through Auditions & Hiring Your Actor
Some auditions will be absolutely terrible while others can show potential. Be careful to not be too judgmental with an initial recording including bad lighting and background noise. A great video production company will remedy those issues. Choose the actor who you feel does the best job and believably looks like they could be a member of your team.
Inform your actor that you'd like to hire them. Schedule a video meeting and go over the project details and answer any questions they may have. Let them know you'll promptly pay them after your shoot and that more details will be coming. If you feel a contract is warranted, you can get one drawn up by your attorney.
Be sure to confirm the shoot date and time multiple times leading up to your shoot.
JC is an actor we found in an Orlando FL Actors Facebook group. He had appeared in some videos for Lowe's and we thought he came across like he actually worked at Ground Source Landscaping. Check out more of his videos on their video gallery.
Creating Video Scripts
Try not to overcomplicate the process. You can create a lot of videos without having your actor move around with props and complex action sequences.
When I write scripts, I imagine what I hear before what I see. Your spokesperson is audible during the entire video but you don't need to see them at all times. And let's face it, a talking head is boring. Your audience wants to see examples of what you're discussing. Here's what I mean.
BOLD LINE = ACTOR ON CAMERA
NON-BOLDED LINE = ACTOR'S VOICE ONLY
[Footage suggestions for when you just hear the actor]
Here's a partial script example:
LET'S FACE IT, CREATING VIDEOS FOR YOUR COMPANY IS INTIMIDATING.
WRITING SCRIPTS, CHOOSING LOCATIONS, AND OTHER DETAILS ARE A LOT TO PLAN.
[Person typing on a keyboard, adding map pins on computer screen, person sighing and touching forehead]
TODAY, I'M GOING TO GIVE YOU TIPS TO PULL THIS OFF WITHOUT SO MUCH STRESS.
Look over that script again. Imagine the actor saying that first and third line on camera, hearing the voice and visualizing the shots shown during the second line.
These scripts are all about little pieces. This makes it much easier to record. Just have an actor deliver one line until it's perfect, then move on to the next.
Use a Teleprompter
Load up your actor's scripts into a teleprompter. Many of these devices work with a tablet PC that projects the script onto a piece of glass directly in front of the camera lens. It's invisible to the camera, but the actor can look directly into the prompter and camera to cheat off this electronic cue card.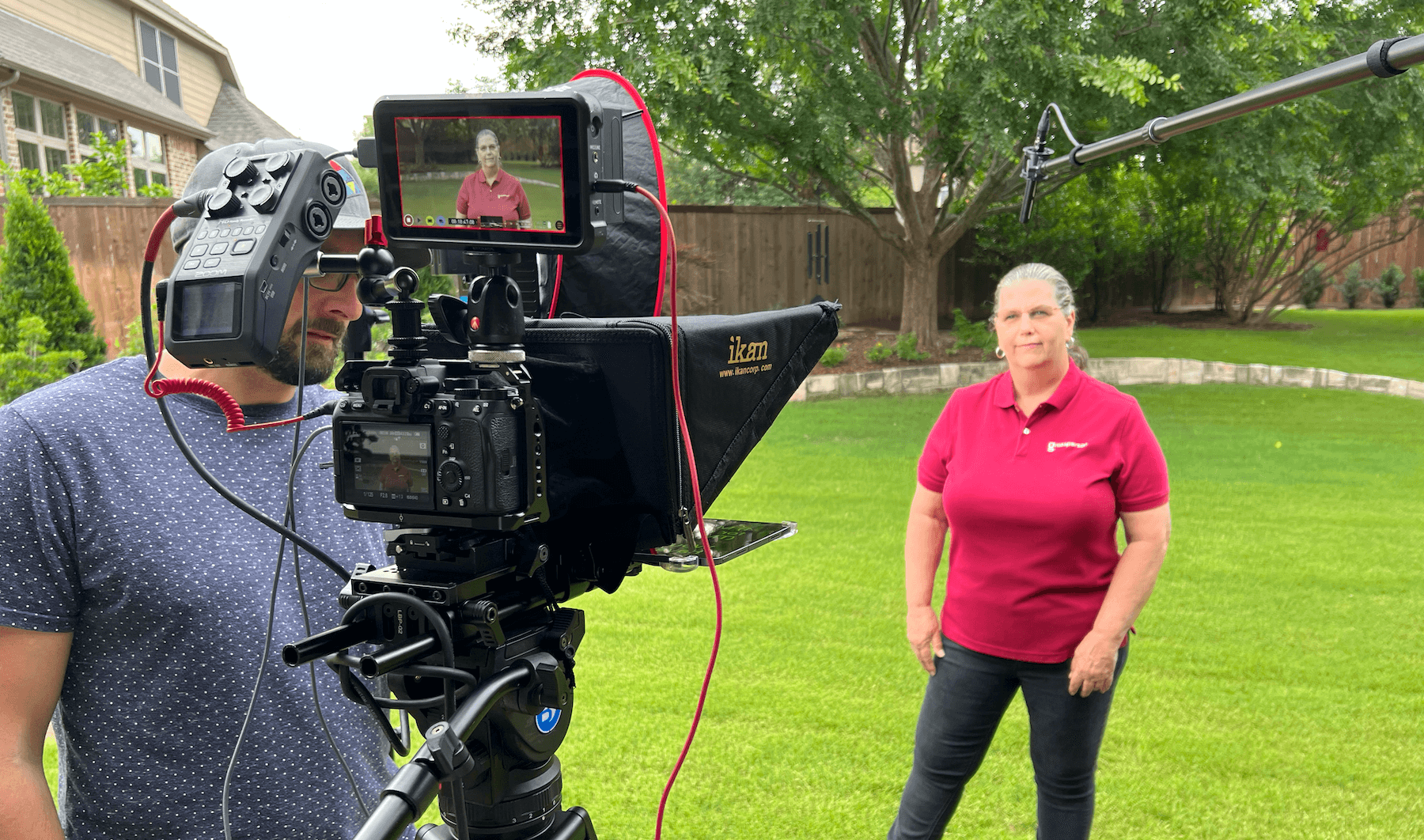 You may have to play around with your teleprompter software to adjust the speed of the script scrolling and text size but this works like a charm.
[RELATED READING: Camera Shy? Here are 11 Tips for Lawn & Landscaping Explainer Videos]
Select a Spokesperson Location
Try to not overcomplicate this process either. I prefer an outdoor environment with a nice background. Move around for some variety but it's totally fine to have the spokesperson in the same spot for all of your videos.
Be sure to give careful consideration to lighting and background noise. You have less control outdoors but I still find it's the best option. Worst case, you can shoot indoors, preferably if you can see some greenery through a window.
B-Roll Footage Locations
A-roll is the term video people use to refer to the spokesperson on camera. As you lay out the scripts as I outlined above, you'll come up with a big list of "B-roll" footage you'll need.
I try to organize these by locations, people involved, and features. If you're shooting multiple videos, this background footage could take hours, if not days, to record. Always aim for 3-4x the footage than what you think you'll need.
Remember, this B-roll footage is used to cover all of the cuts between the script lines. The more of it you have, the easier it is to create videos that appear seamless.
Wardrobe & Props
Buy your actor a new company shirt with your logo. Be sure to purchase for the right size/gender. Pants should be business casual and complement the shirt nicely. Don't forget to let your actor know what kind of shoes they should wear.
For most of these videos, we don't have the actor use any props. But there are some times when a simple prop can add a fun element to the video. Just don't overcomplicate things unless you've allotted more shooting time.
Gary was a great choice due to some of his comedic acting experience. We had some snarky, fun scripts with lines that he delivered effortlessly. Check out more videos featuring him in Kingstowne Lawn & Landscape's video gallery.
Gary was a great choice due to some of his comedic acting experience. We had some snarky, fun scripts with lines that he delivered effortlessly. Check out more videos featuring him in Kingstowne Lawn & Landscape's video gallery.
A Winning Lawn Care & Landscaping Video Marketing Strategy
Creating lawn care or landscaping videos doesn't have to cause you or your team anxiety. It can actually be a fun experience whether you're the on-camera talent or you hire a pro actor.
However, we recognize that pulling together a successful lawn care or landscaping video shoot can be a big undertaking. This is where it may help to hire the right video production company like Landscape Leadership to plan out all of the details from start to finish.
If you like practical insights like this, be sure to subscribe to our blog. And, if you'd like to learn more about a comprehensive marketing strategy that includes video production, reach out to request a consultation.