Ahhhhhh, sales. For some, it's a cringe-worthy word, while others thrive on the thrill of the chase. Let's face it: Selling in a business to business (B2B) environment is not for the faint of heart. It's tough!
B2B sales requires a different skill set than selling to Mr. and Mrs. Jones at the end of the cul-de-sac. In B2B sales you're dealing with multiple influencers and decision makers in an organization, many of which will come and go over time taking their allegiance to you and your company along with them. You deal with shrinking budgets but higher expectations. And if you don't deliver your competitors are waiting outside the door ready to pounce.
Yeah, B2B sales can kinda suck.
But, with the right tools -- like the five we'll discuss in this post -- I think we can help make selling suck just a little bit less.
This is certainly not an exhaustive list of sales tools and resources. I wanted to focus this post on highlighting tools that would be easy to implement and enable you to use your time more effectively. Hopefully one or two of these will prove valuable to you and your sales process.
TimeTrade
You know what really sucks? Trying to schedule sales appointments -- or any kind of meeting -- via email. Back and forth, back and forth... It's a time waster.
And, really, you don't understand exactly how much time you've been wasting with the email back-and-forth until you start using a tool like TimeTrade, which is super-simple online appointment scheduling software. As they say on their website, "Start spending more of your time selling and less of the day calling, chasing, and waiting." Amen to that!
TimeTrade has plans for individuals as well as sales teams. You tell TimeTrade when you're available for meetings and the software creates these meeting time blocks in your calendar (works with Google Calendar, Outlook and iCal). When you or someone else requests a meeting, simply send the person a link to your TimeTrade calendar so they can pick an available time that is convenient for them. Once they select the time, the meeting is automatically added to your calendar and you both receive a notification via email. Boom! Done! Appointment set!
Here's what an email notification from TimeTrade looks like: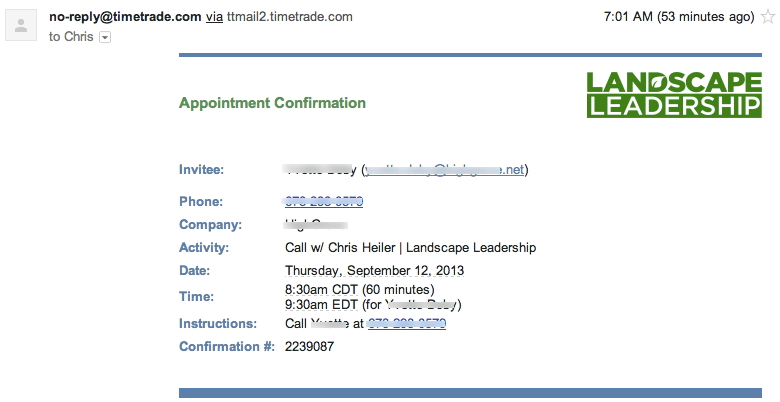 GotoMeeting
You know what sucks even more than wasting time scheduling appointments? Driving to those appointments!
Let's be real: Meeting face-to-face is still important in sales, but, especially with B2B sales, there are many occasions when meeting online can be more effective and productive for both parties. And unlike with consumers, most businesses have some experience with online meeting and conferencing software like GotoMeeting. So it's not like you're going to "blow their minds" by suggesting you meet online at some point during the sales process.
Online conferencing software like GotoMeeting works great internally as well. If you have a difficult time getting your key people and sales staff in the same room together this virtual solution can work quite well.
Rapportive
Rapportive is a nifty "social discovery" plugin for Gmail that shows you everything about your contacts right inside your inbox. You can immediately see what people look like, where they're based, and what they do. Rapportive also shows you which social networks your contacts are active on, including LinkedIn, and allows you to connect with the contact right from your inbox.
Rapportive is an easy way to build your LinkedIn professional network without having to actually visit the LinkedIn website. (Read this article to learn more about how to use LinkedIn for prospecting and research.)
If you use Outlook you may want to try a similar plugin like Xobni for Outlook.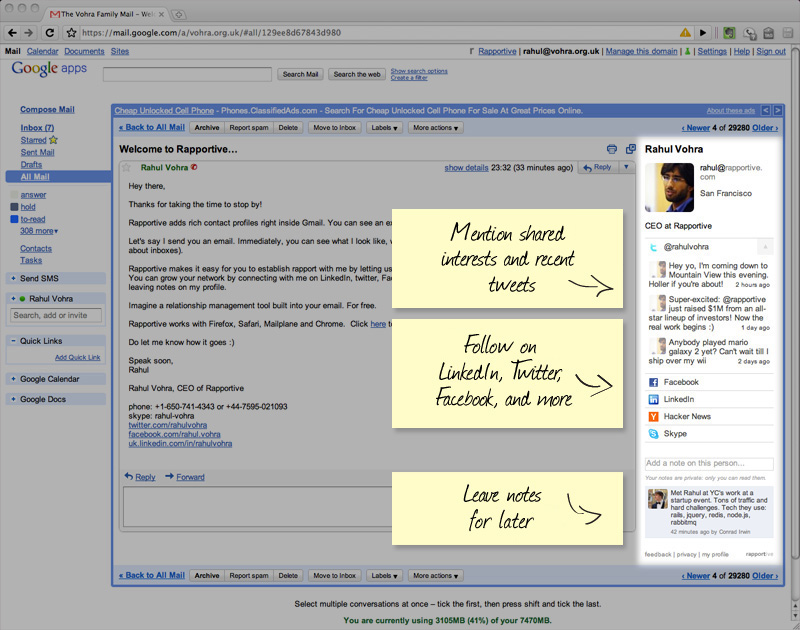 Signals by HubSpot
This new product from the good folks at HubSpot will blow your mind.
Signals allows you to track email opens and clicks from within Gmail, Outlook or Salesforce. Let's say you send a proposal to a property manager via email. With Signals you'll receive a notification within your email client when your recipient opens your email. It will also track click-throughs in your email. This gives sales people context and real-time intelligence to determine the next steps in the sales process.
Signals doesn't stop there. You can also receive real-time alerts when your contacts interact on LinkedIn. Within LinkedIn, mark specific connections as "VIPs" and thereafter you will be alerted by Signals when these VIPs interact on the social network. Mark your most important clients and prospects as VIPs then jump into conversations in real-time when appropriate.
Finally, if you're using HubSpot's all-in-one marketing software, Signals will deliver real-time lead revisit notifications when contacts return to your website after a period of absence. And, you'll know what pages they're looking at. This intelligence allows you to follow up at opportune moments. You'll know when to pick up the phone and call on a prospect based on real activity instead of guesswork.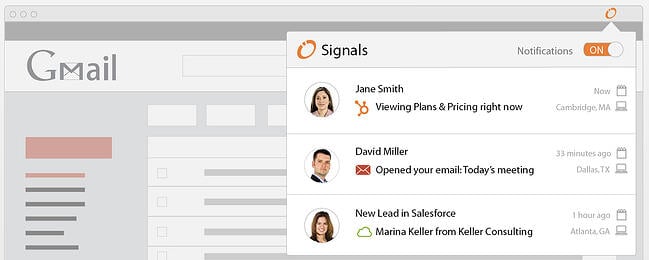 Social Inbox by HubSpot
Social media can be a terrific B2B sales tool if used properly. Social is a great way to keep in touch and stay top-of-mind with your customers and prospects in an unobtrusive way. I don't think sales people would argue that, however, it can be very difficult and overwhelming with all the noise and b.s. flowing through our social streams.
Sales people -- being a pragmatic bunch -- need to be able to focus on the people and conversations that really matter. HubSpot's new Social Inbox tool helps with this. From HubSpot:
"Amid all of the noise on social media, some messages are just more important than others. HubSpot turns down the fire hose by plugging social media into a powerful contact database, enabling you to create highly targeted segments of leads and customers."
Bottom line: Sales people can closely monitor the social activity of their most important contacts like prospects, leads and customers and tune out everything else. That definitely doesn't suck.
You'll need a HubSpot license to use the Social Inbox tool. Though not as automated as HubSpot's tool, Hootsuite can be a good alternative by creating unique lists and streams to monitor your most important contacts.
If you have any B2B sales tools or tips you want to share, feel free to add them to the comments below. We'd love to learn more about what you're doing.