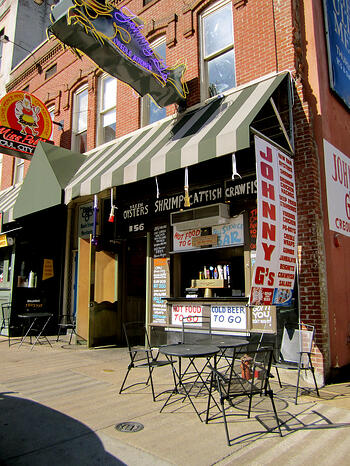 According to Matt McGee (@mattmcgee) from SearchEngineLand, although the local search landscape has changed pretty significantly, the fundamental elements of ranking well in Google's local search results haven't strayed dramatically from past years.
In June, David Mihm released his annual Local Search Ranking Factors report that includes contributions from more than 40 of the top local search marketers from around the world.
The report analyzes various local search ranking factors and measures the impact these factors have on how a company's Google Places page ranks in Google's local search results. In essence, what is more important for higher rankings: The total number of reviews your business has or the quality of your reviews? Among other questions, this is what the report aims to answer.
The top local search ranking factors
Here are the top five factors impacting your Google Places local search ranking:
#1 - Physical address in city of search
It will be more difficult to rank for "Atlanta garden center" or "landscaper in Atlanta" if your business is actually located in Decatur.
#2 - Proper category associations
When you submit your business and website to Google Places (now called Google+ Local) you have an opportunity to select your "category" of business. Be sure to select the category which best reflects what your business does.
#3 - Proximity of address to centroid
Businesses located closer to the center of the city have an advantage in local search rankings.
#4 - Domain authority of website
Many factors impact your domain's authority--number and quality of inbound links, age of your website, your site's content, etc.
#5 - Quantity of structured citations
This refers to all of the local business directories where your company is listed. Your company information needs to be consistent from each listing to the next ("consistency" ranked #11 in the report). Quality of the directory is also a strong factor (ranked #8 in the report). Download our free Local Business Directories Worksheet which lists the 20 most important directories where you need to submit your business.
Five other factors that stood out to us
Here are five other important local search ranking factors that stood out to us in the report:
#7 - Quantity of native Google Places reviews
As many have assumed, the number of reviews by Google Places users is a major factor in your local search rankings.
#12 - Individually owner-verified Google Places page
If you haven't claimed your Google Places page, do it today!
#14 - Quality/authority of inbound links to domain
As always, inbound links play a critical role in your ability to rank in local search results. As it relates to your Google Places page, the quality and authority of inbound links to your website has a big impact on how your page ranks in local search results.
#16 - Quantity of inbound links to domain from locally-relevant domains
Going a step further with inbound links, the report reveals that the quantity of inbound links to your website--from locally-relevant domains--also has an impact. This makes a lot of sense because we're talking about local search results here. Generating inbound links from local vendors, suppliers, business partners and other local community organizations should play a key role in your SEO and inbound marketing strategy.
#19 - Page authority of landing page specified in Google Places
Your Google Places page should point back to your website's home page. Your home page will have higher "page authority" than any other page on your site, typically. Don't link back to your "services" page or "contact us" page. Play it safe and link back to your home page.
The impact of Google+ on local search
The impact of social signals from Google+, such as number of +1s and number of shares on Google+, were minimal (#57 and #61 respectively). However, we expect the impact of social signals, especially those from Google+, to play a larger role in local search rankings in the future. After all, Google+ is just barely one year old. On top of that, Google is in the process of rebranding Google Places as Google+ Local. Your company's activity on Google+ will be a factor. Count on it!
image source: La Citta Vita
Download our FREE Local Business Directory Worksheet today! Our worksheet lists the 20 most important local business directories that your business should be listed on. Get it today and boost your local search rankings!