10 Glaring Landscaping & Lawn Care Website Mistakes I Regularly See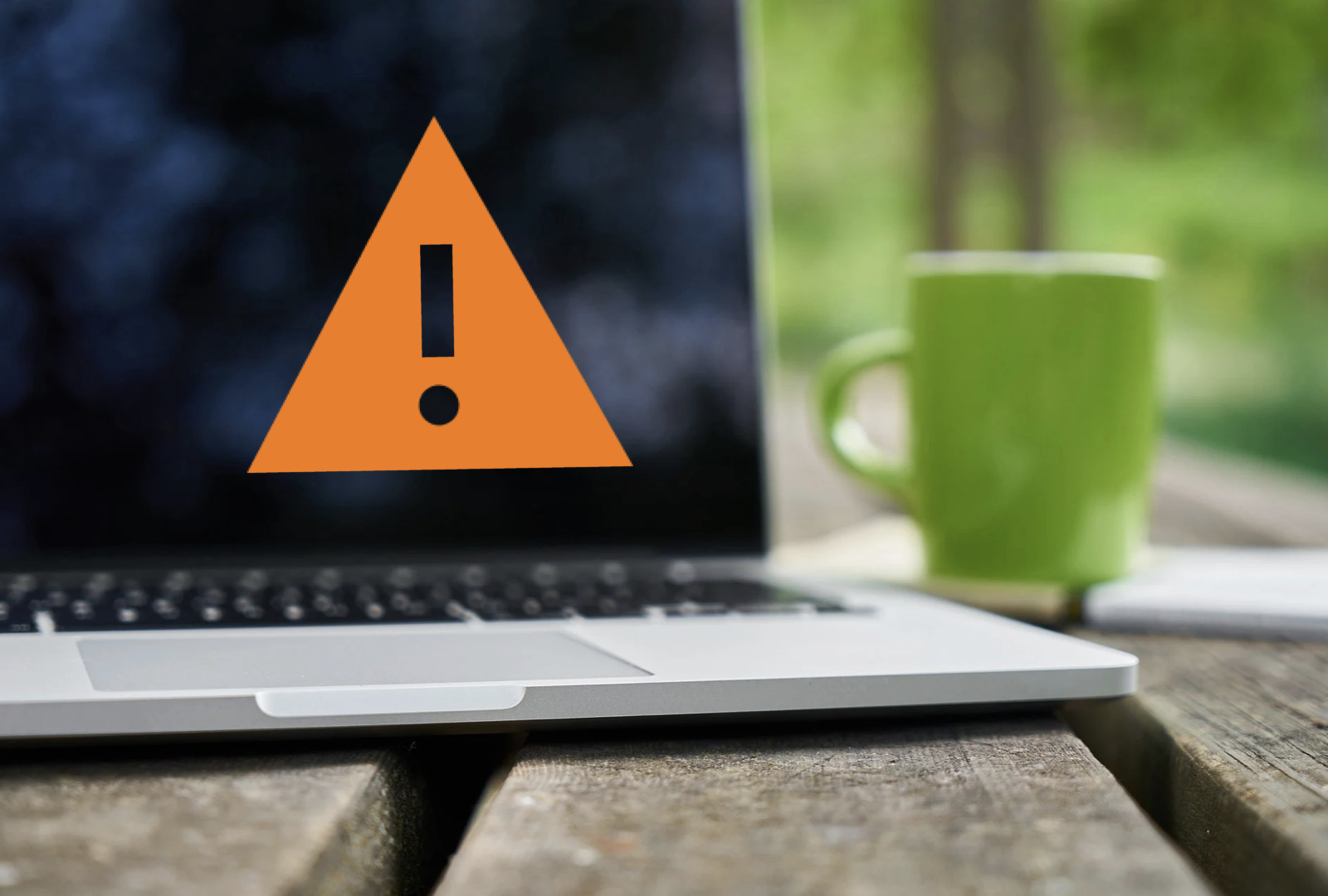 What's wrong with your landscaping or lawn care website? Well, first, let me explain my perspective with one clear statement.
"Prescription without diagnosis is malpractice." This is why we don't just give quotes for new websites. First, we diagnose.
I personally spend about eight to ten hours digging into each prospective client's website. And that often unearths 10 common threads.
So let's dig in and see if you're facing the same challenges. And yes, I'm going to offer suggestions based on solutions we've personally used to fix these problems.
1. Bad Website Headers
Your website's header (the very top on each page) is like the entrance to a backyard. If it's messy and the path is unclear, people will think twice before entering any further.
Overwhelming Menu Navigation
Imagine opening the gate to your backyard only to find an unorganized maze. Do you want visitors to leave in frustration? I would guess not.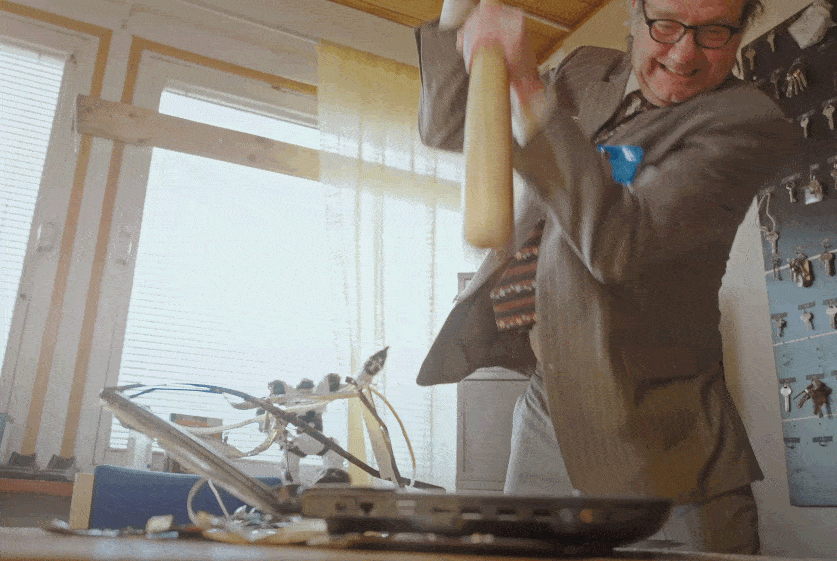 Yet, I often see landscaping and lawn care websites with ten or more "labels" across the top with exponentially more choices in dropdown menus.
When I think of a great website I envision a few initial choices. Taking a step down each of these paths has a clear next step.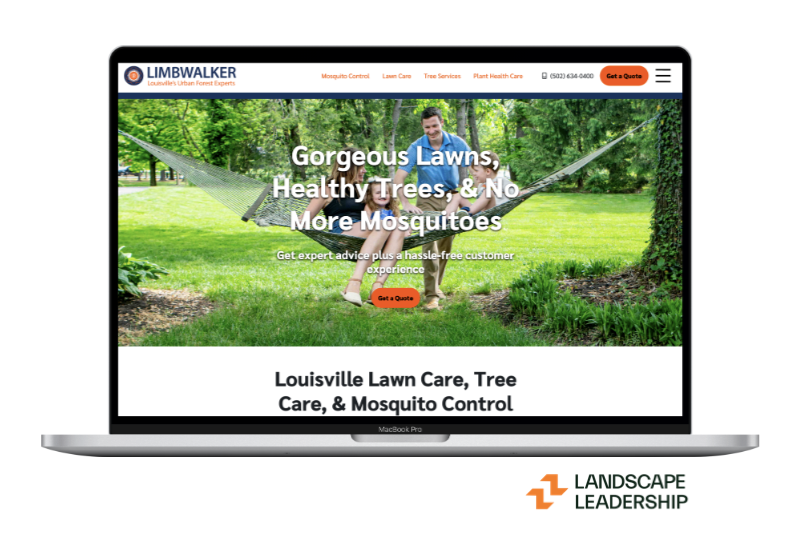 Above is the website header we created for Limbwalker Tree Service. Notice how we only highlight the 4 main services they provide.
Non-Sticky Headers & Menus
Scroll and it's gone! I can't tell you how many times I have seen this.
An anchored menu can be home base, guiding visitors smoothly. At any moment and on any page, they can find the menu and take sensible next steps. This is especially important on a small screen of a mobile device.
Below is the mobile menu on Ground Source Landscaping's website. Notice how it hugs the top of the screen as you scroll and how you can dive in deeper into the menu if you wish (click the play icon to watch the video).
2. Poor Positioning
Positioning is:
What you do
Who you do it for
How you do it differently
Yet, I often find that many companies are not clear enough on their landscaping or lawn care websites.
Absent Client Personas
Whether you're targeting homeowners or commercial property managers, shout it out. If you serve several different types of clients, there should be a distinct path for each of them.
Yet I often find many landscaping and lawn care websites expect their visitor to magically imagine they fit into their ideal client profile.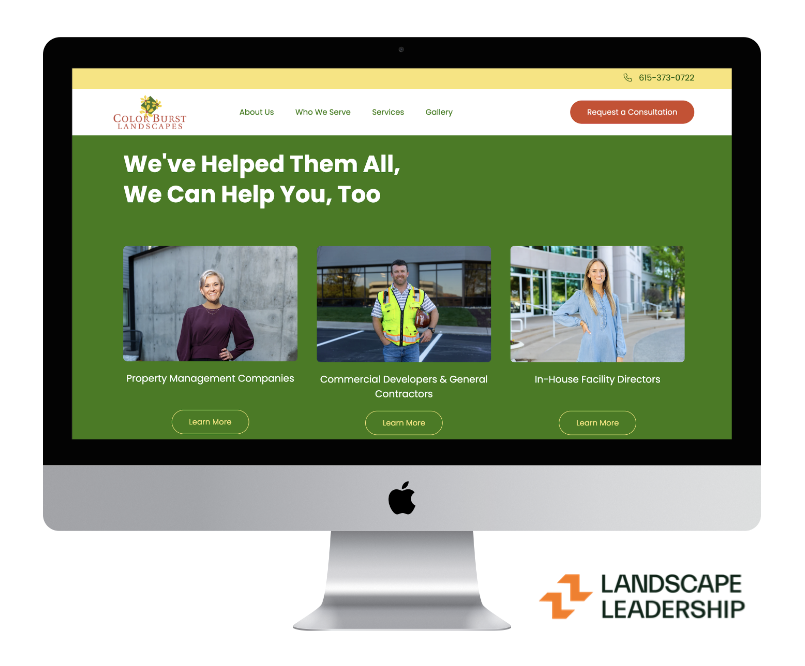 Above is an example of how we clearly called out the 3 main client personas on the Color Burst Landscapes website.
Ambiguous Geography
Define your turf! Avoid confusion. The text and visuals should clearly reinforce your geographic service area. You can even illustrate this with a map.
It's pretty common for me to have to venture to the "Contact Us" page or website footer to learn where a company is located. Imagine how a website visitor feels.
Memphis, Memphis, Memphis! Watch the video below to see how this geographic area gets driven home on the Mid-South Night Lights website.
Pricing Information
Ah…the mysterious price. It's really rare that I see any landscaping or lawn care company even remotely discussing this on their website.
Now I get it. You need to get information before you can provide pricing. But pricing is also a reflection of your company's positioning.
If you have a stated minimum level of engagement, be transparent about it. If you have example pricing, put it on an easily found page. Offer some sort of guidance or framework for pricing. Otherwise, your prospective client will go somewhere else to do their research (possibly your competitor's website).
Below is an example of one of the various pricing pages on the Joshua Tree Experts website where they give some example pricing of what their programs include and start at. Watch the video to see how it works.
3. Bad Images
With such a visual industry, it's shocking to me how often I see terrible images on landscaping or lawn care websites. A picture is worth a thousand words. But what kind of words would they be when a prospective client sees your photos?
Dreadful DIY Photos
Bad lighting? Messy, incomplete work sites? Those photos should be composted, not posted.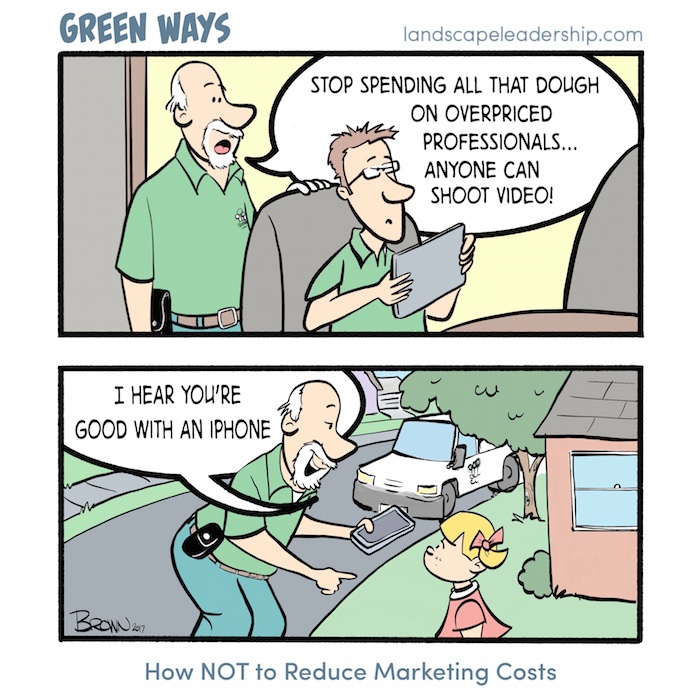 If you're trying to convince a prospective client to spend hundreds or thousands of dollars, DIY photos are not going to cut it with so much competition out there.
Cheesy Stock Photos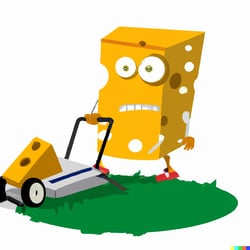 I often see the same stock images being used. Some are just cringe-worthy with a model in bib overalls (no one in our industry wears these), holding tools that look like they came from the local dollar store.
Or, there are absolutely no team members in the photos. Talk about a website devoid of personality. Let your prospects see your happy team at work!
Me, Myself & I Syndrome
Then there's the inverse of this last problem, the landscaping and lawn care websites full of truck pictures and exclusively team members in images.
Your company and team are great, but what about showcasing those smiling customers of yours? Your prospective client wants to see people just like them that you've helped.
4. Uncompelling Messaging
Your content should be a cool drink of water on a summer day. If not, it's just hot air. It should be full of empathy for your client and their deep problems or aspirations. Yet, I often see the same mistakes.
Brag Parade
Boasting without basis is just marketing noise. Lose the industry jargon and the unfounded claims about being a "5-Star Company", "best", "premier", and "unparalleled".

Emotionless Text
Connect, don't just inform. Address real needs and desires. Talk about how your client feels.
This may be a stretch for you but a good writer can get the info across while connecting on a deeper level with your landscaping or lawn care website visitor.
Text Imbalance
People hate being greeted with long paragraphs of text droning on and on.
Likewise, there needs to be some level of explanation. This is why it's so vital to have a lot of great professional images on your website to break up the text. Tell better stories with visuals.
5. Lack of Social Proof
Who says your company is so great? No…really…who is saying it?
Client reviews and testimonials are the lifeblood of trust. Depriving your landscaping or lawn care website of them is a big mistake that is unfortunately too common.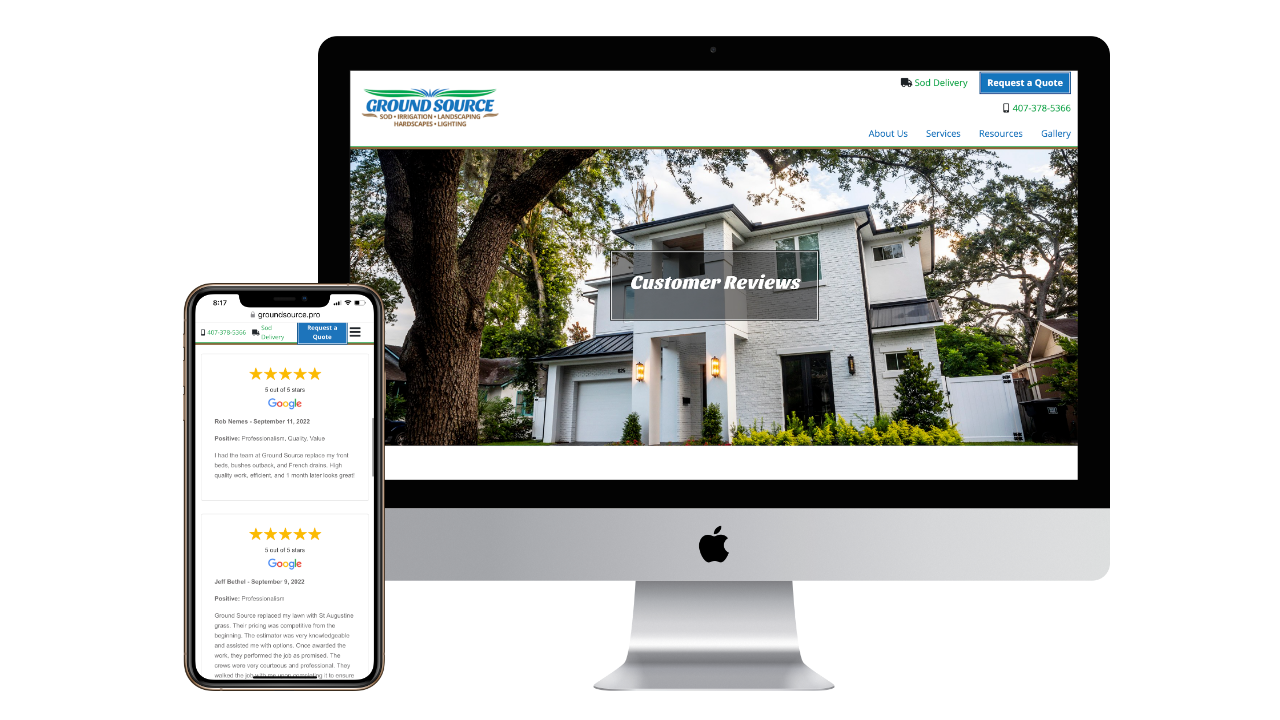 Hidden or Absent Testimonials
I'm constantly amazed at finding out a company has dozens of online reviews and emails from happy clients yet they're nowhere to be found on landscaping or lawn care websites. Or if they are present, they're pretty hard to find.
Let your satisfied clients shout your praises and pump up the volume.
Missing Case Studies
People love stories. Let your clients tell them in either a written case study, video, or both. Yet I find most landscaping and lawn care websites have no such resources.
We've helped Level Green Landscaping tell many client stories in their video gallery and in written case studies. Check out one of these examples below.
6. Innefective Lead Conversion
Your landscaping or lawn care website's goal is to turn a visitor into a qualified lead. Traffic is important, but let's keep in mind that 1-5% of a website's visits should be converted in this manner.
That's not typically what I see. Instead, many company owners can't even tell me how many leads they get from their websites. Or if they can, the numbers are pretty unimpressive.
Option Overload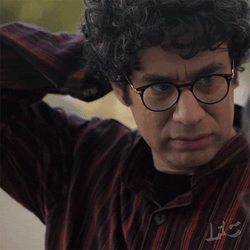 Stick to the best: a call tracking phone number and a simple web form.
I frequently see a website visitor trying to spin the wheel of connection by choosing from A) chat with us, B) text us, C) call us, and D) fill out the form.
MIA Call-to-Action
There should be a clear button in the sticky header of your website and also placed occasionally throughout your pages. This should indicate the next step in your sales process such as "Get a Quote" or "Request Consultation".
Yet, I often see a minuscule "Contact Us" label on the menu of landscaping and lawn care websites. That's just not enough. Get a big ol' button up there!
The Missing Phone Number
It's 2023, people! If your trackable phone number isn't clickable in the header, you're literally hanging up on potential business.
7. Slow, Cumbersome Website Templates
A slow website is a dead website. In this day and age, you need to remove any potential frustration from a visitor. Yet, I often bang my own desk while looking at landscaping and lawn care websites.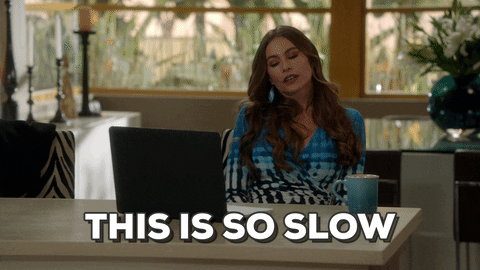 Image Issues
Bulky images are speed killers. Trim 'em down. Images should be just under 1 MB. This will make website pages load more quickly. It may take some time to resize and compress images, but I promise it's worth it to your visitor (and Google likes this, too).
Plugin Overload
Too many plugins can strangle your site's speed. This is one of the reasons we often steer companies away from WordPress to a more complete system like the HubSpot CMS. Instead of 20 plugins running, it's one tool working as it should.
Mobile Unfriendly
In the age of smartphones, this is a cardinal sin. I would say this is getting slightly better. I only see a couple of landscaping or lawn care websites each year without a mobile-responsive design.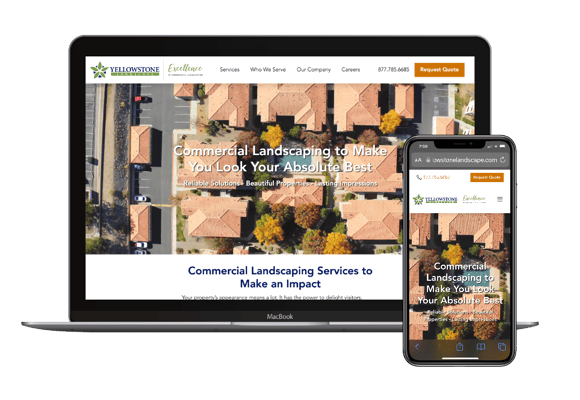 However, just because it's technically mobile-compliant, doesn't mean it's great on a smartphone. I often find buttons are too small to click and the text is hard to read. (Then again, I have also just recently started having to use reading glasses).
8. Bad SEO
Good SEO is fertilizer for your website. And trust me, many landscaping and lawn care websites are undernourished or it looks like someone spilled a bag on the front yard.
[VIDEO SERIES: SEO for Lawn Care & Landscaping Companies]
Keyword Catastrophes
Natural is the name of the game. Forced keywords stand out like red mulch (eww). I know we all want to rank in search results but please remember there are people coming to these websites.
Missing SEO Elements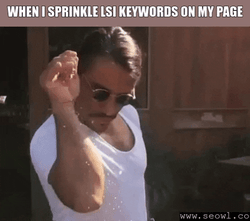 There are plenty of places to go full-on, straight-up SEO optimization. Your keywords should be in your page names, URLs, and pages' "meta descriptions".
When you get to the page copy, use natural keyword inclusion in some of the headings and tactfully throughout the words on the page.
Blogging Blunders
Most landscaping or lawn care websites I see fall into the following categories:
No blog at all
Microblogging (articles are way too short)
Poor blogging for SEO (great discussions but don't use keywords well)
Thoughtless blogging (writing meaningless drivel, often forced with keywords)
Blogging is the secret sauce for long-tail keyword ranking. Remember, there are local people out there searching for, "How much does an outdoor kitchen cost?" Give them a great experience getting answers.
9. Minimal Local Website Visits
Local is where the heart is. If locals aren't visiting, it's a wake-up call that your landscaping or lawn care website is falling flat.
Low Local Traffic
I commonly see a measly 100-200 local visits per month. Instead, a great landscaping or lawn care website could get 10-20x this!
It's sad to have to tell a company owner that out of his 10k monthly visits he only had 200 of them in his local area. And remember, with only 1-5% of those visits becoming leads, that means 2-5 leads in a month. You'll likely need more than that.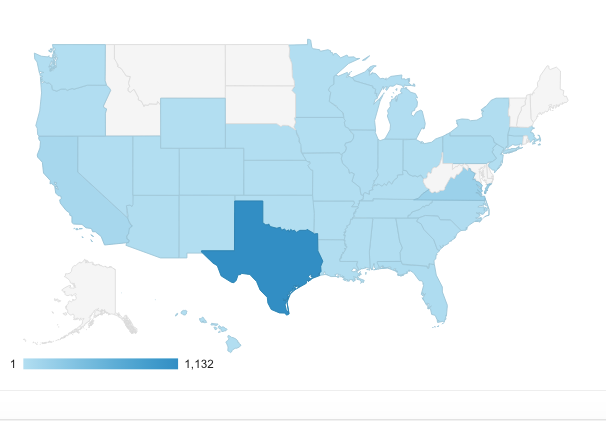 [RELATED READING: What Percent of Website Traffic Should Be Local - This is What We Found]
Local SEO Slip-Ups
I often see that landscaping and lawn care websites focus on what they do in their keyword strategy but ignore their geographic area.
Use locally-optimized keywords in your on-page SEO strategy and throughout in-depth blog articles.
Plus, never underestimate the power of Google reviews. It's a good local SEO ranking signal to Google when you consistently get 5-star reviews over time.
10. Useless, Expensive Advertising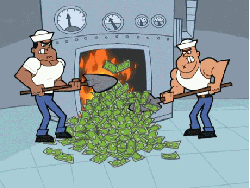 It's also very common for me to see a company spending lots of money on Google Ads, mailers, and Facebook ads that result in a poor ROI.
Google Ads and mailers can generate leads (sometimes mediocre with Facebook) but most often I've witnessed a big, gaping hole in a company's wallet. It's not a matter of the what (the advertising medium) but the how of how it's executed.
[RELATED READING: 16 Lawn Care Lead Generation Strategies - Ranked Best to Worst]
Poor Digital Ad Management
If your strategy is "set and forget", you're burning money. When I see another marketing agency doing this for a prospective client, it gets me pretty hot under the collar.

You'd be shocked to know just how often agencies charge a management fee for doing little to no work each month on ad campaigns.
Vanity Metrics
Impressions and clicks feel good, but where are the leads? Some landscaping and lawn care advertising is just a necessity for defending your company's position in the market. But don't lose sight of the end results you're after.
Advertising Overdependence
I do believe that most companies should utilize some form of advertising in their landscaping or lawn care marketing strategy. But organic search traffic is the gold mine. Don't just rely on paid ads and mailers as I see many companies doing.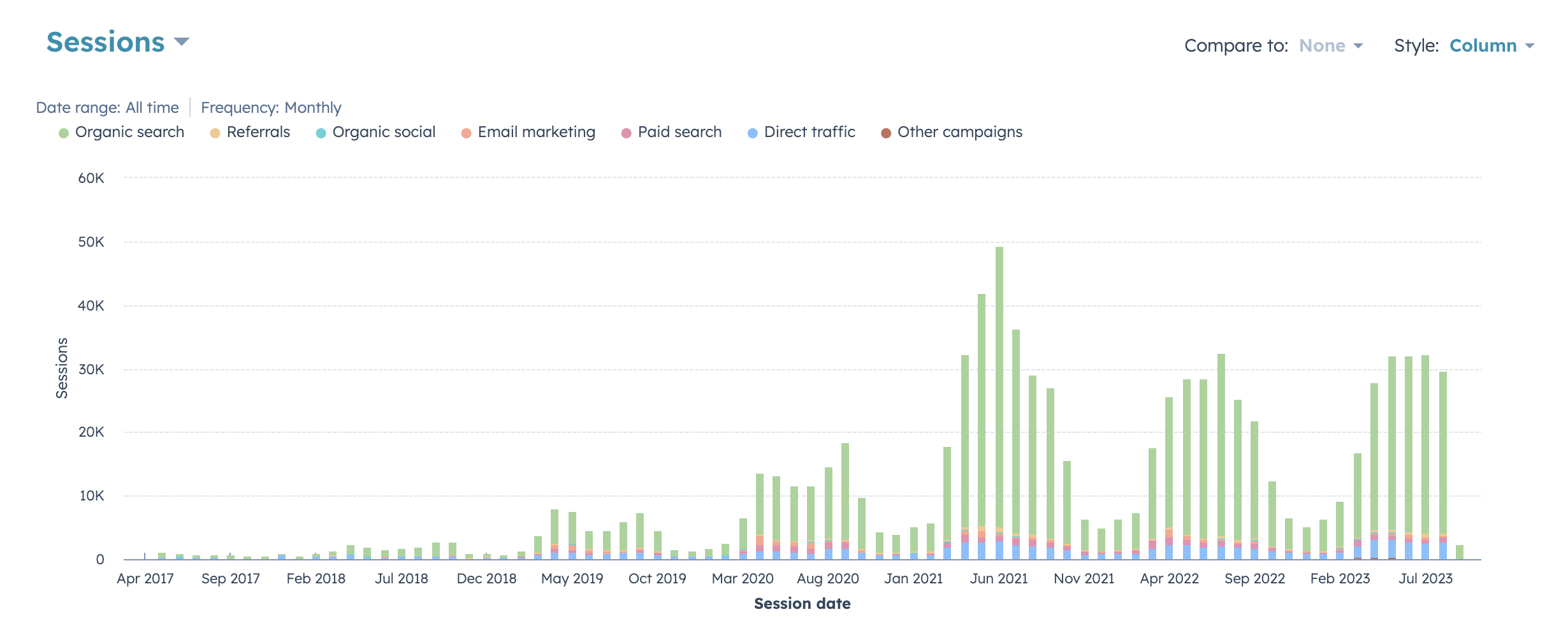 Your biggest goal for your landscaping or lawn care website should be to grow local, organic website traffic consistently over time.
From the Worst to the Best Landscaping or Lawn Care Website
Fixing these landscaping or lawn care website problems takes work, but it's not impossible. It just takes an insightful approach to diagnosing the severity of your problems and coming up with a strategy to create a website that provides long-term, sustained health and growth.
If you'd like to learn more about how we may be able to help you, request a consultation. And for more tips to create a better landscaping or lawn care website, be sure to subscribe to our blog.