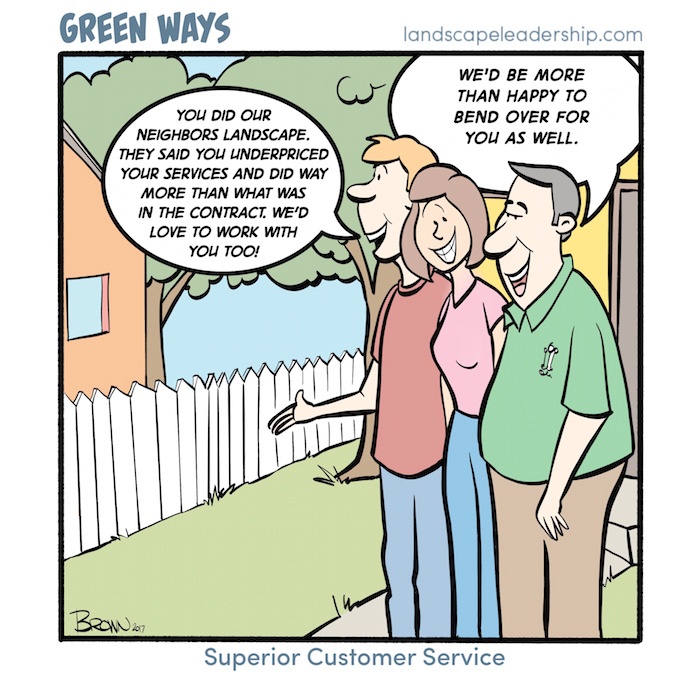 Purchase our entire collection of Green Ways comics on Amazon
Here's a topic I've been thinking a lot about after talking and visiting with dozens of lawn and landscape companies over the past two months:
Why do you choose to offer so many services to so many people?
It is a choice. And, it's a choice that belongs to you, the creator and owner of your enterprise.
You don't act like it's a choice you have much say in. Instead, you let customers and employees make these critical decisions for you. It appears that you've surrendered control, feeling obligated to say "yes" to everybody and everything.
I've heard your justification:
"Our customers want us to be their one-stop-shop for everything."
"We have the equipment… we're not gonna let it sit in the yard."
"(Insert EMPLOYEE) is really skilled at (insert TALENT)."
"I don't want to box myself in... especially if the economy turns south."
"We like variety… I'm not sure how our employees would feel about doing less."
"We don't like saying 'no' to our customers."
I get it. I've heard just about every perspective on this in my twenty-something years in the green industry. But...
This lazy, un-challenged thinking has been passed around our industry like Stormy Daniels at a White House happy hour and is one reason your services are perceived as a commodity.
How you position yourself (i.e.- what you do and who you do it for) is not up to your customers. It's not up to your employees. It's on you, the creator.
That said, I don't feel like business owners give this much consideration. There's more, "Sure, we'll do that!" and not enough, "Hmm... should we do that?".
You stop asking questions. You stop challenging industry norms. This is when you become Just Another Landscaper.
When you offer no expertise to your customer you become interchangeable; replaceable. There's another "generalist" one Google search away offering "full-service", but at a lower price.
A business owner admitted to me recently that he is scared to say "no" to his prospects and customers. That's because he's currently Just Another Landscaper chasing everything that comes through the door. But, that's about to change, because he's going to find his focus and establish a lucrative positioning for his company and himself.
To quote David Baker, this gentleman is about to make his business his bitch.
I recommend the same courageous choice for all of you.
Purchase our entire collection of Green Ways comics on Amazon