I know. It's hard to resist.
You're having a conversation with a prospective client and they mention they're interviewing two of your competitors.
You think, "This is going to be easy". You know you're better.
Before you open your mouth and share this thought with your prospect... best to check yourself.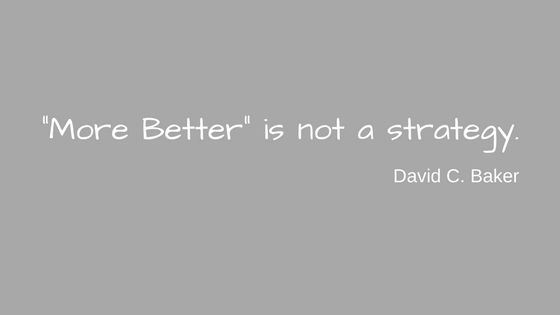 From The Business of Expertise by David C. Baker
Let's agree to stop talking about "quality" and how your company is "more better". I know you want to stand out from competitors. But this isn't how you do it.
I'm referring not only to sales conversations but also on your website and other marketing.
There are legitimate reasons to withhold your declaration, such as:
Consumers aren't qualified to understand what "quality" and "better" look like. C'mon, there's a reason dyed mulch exists. Am I right?
"Quality" and "better" are purely subjective.
Even though most consumers don't know what "quality" looks like, they still expect it. More frustrating and perplexing than that is the fact...
Consumers don't want to pay for "quality". You know who I'm referring to: property managers, HOA boards, etc. etc.
Consumers don't get excited about moderate improvements because most people just don't care (tip of the hat to Ryan Holiday for this one). In fact, most are perfectly happy accepting mediocrity. For example, a "better" lawn care program will not be a compelling enough reason for a homeowner to switch service providers if they are content with what they already have.
Do you know of any company who stands for "low quality"? A competitive advantage centered on "quality" or being "better" falls on deaf ears because no one – ever – takes the opposite position.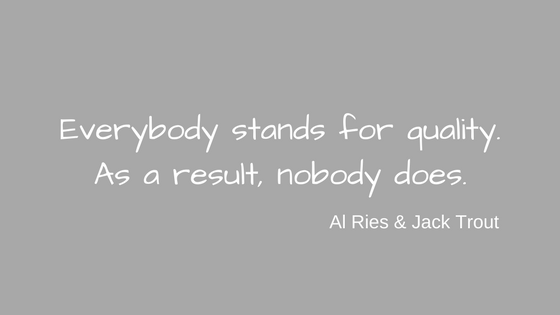 From The 22 Immutable Laws of Marketing by Al Ries and Jack Trout
"High quality" is not a solution.
Sell quality later in the details (the paving, size of plant material, furniture and accessories, etc.), not upfront as your supposed competitive advantage.
No company has hired us because we're better than another marketing agency. They have know idea whether or not we're "better". Companies hire us because we're different.
How you differentiate yourself from competitors is your competitive advantage. This is what your prospective customers care about. This is how you avoid becoming Just Another Landscaper.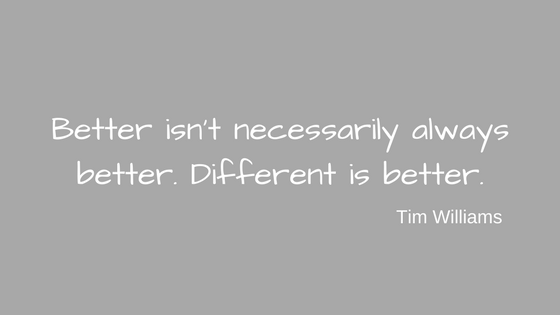 From Positioning for Professionals by Tim Williams
Next time someone asks you, "What makes your company different?" I don't want to hear, "The quality of our work."
If that's your default response then you will need to reevaluate your company's positioning. You haven't differentiated yourself enough in your own mind, or in the mind of your prospects and customers.
If you're seeking a more compelling answer to this question, then consider hiring us to evaluate your company's positioning strategy (or lack thereof) as part of our Total Marketing Review. Our third-party objectivity will bring a fresh perspective. Learn more by scheduling a meeting with us here.
We're closing in on 4,000 blog subscribers. If you haven't subscribed yet, you can do so here, or just add your email address below.