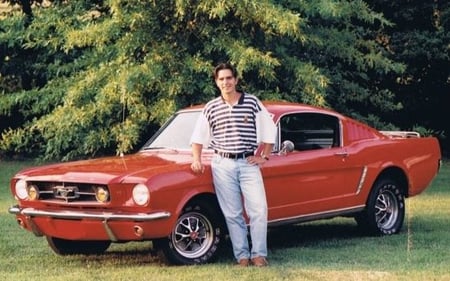 I have always loved cars. First, there was the surprise ride in a Porsche 911 Turbo on my 13th birthday, driven by the local dealer at about 160 mph on a local highway. Then there was my mom's 1981 Corvette with the Pete Jackson gear drive, humming and thumping when it picked me up from school.
At 16, I got my own first car, a 1965 Mustang Fastback. And last summer, another dream came true when I got behind the wheel at the NASCAR Experience in Dover, DE.
The sleek clean lines of a flashy car, the screech of tires and rumbling engines, the pump of adrenaline. It's no wonder I ended up as an inbound marketing professional…
Wait… What??
What do these sweet rides have to do with inbound marketing? More than you think.
How Inbound Marketing is Like Winning a Race
I have to admit, I stole this analogy from Chris Heiler, our CEO. The more I think about it, the more truth it seems to reveal about successful inbound marketing strategies for landscaping, lawn care and tree service companies.
Stay on the edge of your seat throughout the following twists and turns, and you'll see how marketing a landscaping business is not only like winning a race, but how it can leave your competitors in the dust.
The Analogy
Your company's website is the flashy car, marketing automation software, like HubSpot, is the engine, and your marketing agency is the skilled driver. When all three components are optimized, your chances of winning are maximized.
Your Website, A.K.A the Car
The website, like the outer appearance of a flashy car, is the first thing prospective and active customers see. It's the outside shell of marketing a landscaping business.
It's not all about aesthetics, but also about being able to function properly.
This is an important component, but not the only key to winning a race. While a sleek, functional website is crucial, no one would ever win a race by just parking a pretty car on the starting line.
(RECOMMENDED READING: 12 Essential Ideas to Implement on Your Landscaping Website's Homepage)
Sales & Marketing Software, A.K.A. the Engine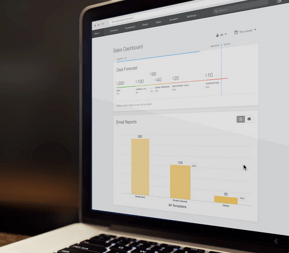 Even if all of the other components appear in working order, there needs to be something providing power to your website (the car).
Just like an engine, the activity within your website needs monitored and adjusted for maximum horsepower. This is done with sales and marketing software, like HubSpot (full disclosure: Landscape Leadership is a HubSpot partner agency and uses the software with all of our clients).
When frequently analyzed and fine tuned for maximum performance, the output is increased and power is unleashed. But, the website (car) and the sales and marketing software (engine) aren't the only two keys to winning. Someone with the right skills needs to drive.
(RECOMMENDED READING: 10 Reasons HubSpot is Perfect for a Lawn Care and Landscaping Business)
The Agency, A.K.A. the Driver
With a fully-functioning website (car), and powerful marketing software (engine), the agency becomes the skilled driver behind the wheel.
A skilled driver (agency) knows the car (website) inside and out along with it's controls and limits. They know how to use the powerful engine under the hood (marketing software) to speed past competition and take advantage of each opportunity to pull ahead.
(RECOMMENDED READING: Your Expert Guide to Hiring & Working With an Inbound Marketing Agency)
Put Up or Shut Up
Now that I've took you for the pacing lap, let's step on the gas and see where this metaphor can take us.
Polish Your Lawn Care or Landscaping Website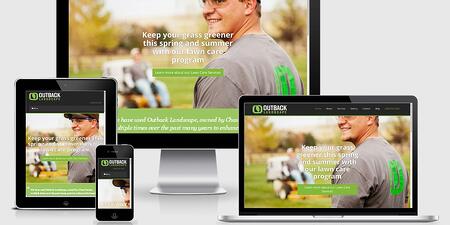 Beautiful websites are attractive just like cars. If you had somewhere to go and wanted to get their quickly, you're bound to pick the flashiest car in a line-up. You may take a walk around some of the options in the line and realize some seem to have obvious flaws.
Some appear to not be in good working order or look like no one has maintained them in years. They seem difficult to operate and they quickly get passed over for a sleeker model that appears to be a wiser choice.
This same thing happens when a prospective customer lands on your website and it appears rusted, flat, and in disrepair.
Fine Tune Your Sales & Marketing Software and Listen to it Roar
It's also about what's under the hood! Any engine won't do. In order to win a race, it's important to have marketing automation software that can help your website hit top speed when it counts.
Like I said, my first car was a 1965 Mustang Fastback. Pretty sweet car, huh? While it got me where it needed to go and in style, it did so with a straight-six cylinder engine. It had some power, but was no match for its 289 or 302 cubic inch counterparts. And if squared off with a Mach 1 with a 429 Super Cobra Jet, forget it...I would look like I was riding a bicycle.
You may have some complicated Google Analytics reports, a few Constant Contact email templates and some good guesses about what your website can do, but it may take you a lot longer to get where you need to go (ie- new customers!).
Drivers, on Your Mark, Get Set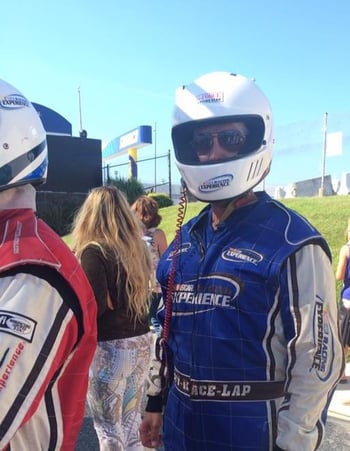 Remember how I also said I got the chance to drive at a NASCAR Experience? Wow, what a rush. But before I even got the chance to squeeze into that tiny window, I had to sit in a class for about an hour to learn how to operate the car and about what its engine could do.
Once on the track, some of the other drivers couldn't even find third gear. Some drove around the track like they were out for a Sunday drive in the country. For a few of us, we actually got up to about 135-140 mph while passing each other.
The whole time, my coach perched up in a tall tower, was talking through the intercom in my ear and monitoring the speed, RPMs, and position of my car. I followed all of his valuable instructions and scored what I thought was a success. However, I was no NASCAR driver.
Only 135 mph?! I felt like I was going at least 175! And passing one car in my 5 minute ride? Well that may have been good enough for me, but it certainly wouldn't make Dale Earnhardt Jr. shake in his racing boots. Those guys have way more skill than I do, and I'd be dreaming if I thought I had the experience to beat out the competition they are facing.
To me, the driver is the deciding factor on who wins a race. Take equal cars (websites) with high-powered engines (marketing software) and put two drivers (you vs. an experienced agency) behind the wheel and you will see very different results.
Your Company, Your Race Team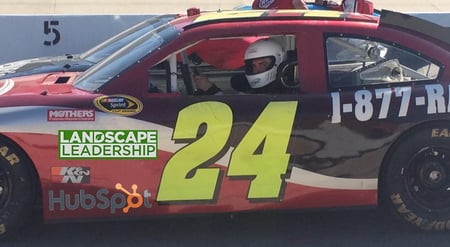 Think about marketing a landscaping business or other green industry company like owning a race team.
It's your job to make sure your car (website) is as near to perfect as you can.
You need to invest in a powerful engine (marketing automation software) that will be dependable and deliver results.
And, you need experience in the driver's seat with a proven track record of winning.
I can see that checkered flag waving now. Can you?
Subscribe to our blog for more great tips to super-charge the marketing for your landscaping, lawn care or tree service company. Ready to upgrade your race team? Get in touch!