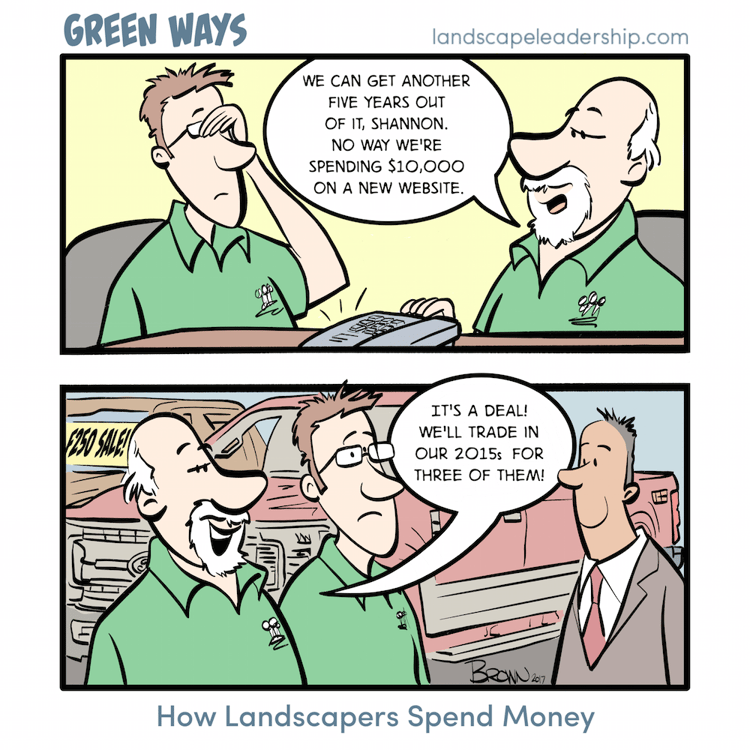 Purchase our entire collection of Green Ways comics on Amazon
Jake Greenbelt is a marketing guy. He understands why spending money on marketing is essential; in this case, on a website re-build.
His father, Archie, on the other hand, does not see it the same way.
Archie will spend money on new vehicles and equipment, wrap those vehicles in full-color graphics and expect them to be washed every single day at the shop.
For Archie, this is a tangible investment. He sees his beautiful fleet roll out of the shop each morning, into their community streets. He's proud of the image Greenbelt Outdoor Services has built over the years.
To Archie, a website – and inbound marketing in general – doesn't have that same feel. After all, he can't sit behind the wheel of a website or grease the gears of a blog.
So, we end up with Archie explaining to their marketing agency that they are not the least bit interested in investing more of their dollars in their company website. All while Jake sits by, frustrated with his father, as usual.
Your website is the "virtual" front door and first impression of your company for hundreds, even thousands, of prospects. It is every bit as important as your fleet of vehicles and other equipment.
It demands the same level of investment. Not more neglect.
---
Get all of our comics and new articles delivered straight to your inbox. Subscribe here or add your email below.
Ohhhh yeahhh... we build websites for green industry companies like you. If you're ready to blow up your current website and start over, get in touch.