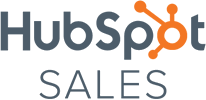 If you've spent any time looking at software options promising to help your lawn or landscaping business, you know there's a lot out there. While some business management software options might include a CRM and sales tools, there are reasons that HubSpot continues to reign superior—and is a tool that we particularly love (For the sake of being transparent, Landscape Leadership is a HubSpot Solutions Partner).

Most notably, their FREE (yes, as in "no-cost-to-you") CRM and sales tools are quite substantial and highly useful—and, again, free.

This can make it an incredible asset for start-up companies to legacy companies, alike. After all, whether you're brand-new to the green industry or not, we know that many lawn and landscaping companies have yet to transition from the Excel spreadsheets and Outlook programs they've been using to keep track of client data (maybe for many years).

Making a change like this can seem daunting (and potentially very expensive).

But we've seen that the clients we've worked with who have signed up with HubSpot have found it to be a streamlined switch and definitely worth all the capabilities they've gained access to at no cost. While there are premium upgrades available, the capabilities that are available at no charge really are robust.

That's why we're talking about our favorite free HubSpot CRM and sales tools. But first, let us quickly answer the question of What is CRM Software in case you're just getting started. If you're already familiar with CRM, you can skip ahead to our favorite free tools.
What is CRM Software and Why Do I Need It?
If you're just getting started with CRM (customer relationship management) software, then you might want to check out this article that we already wrote on it. But to give you a quick summary, CRM software is a category of software that is designed to assist with managing prospect and customer data and communication while also automating sales tracking, reporting, and forecasting.

Even if you don't call it CRM, you're probably already doing it perhaps in an Excel spreadsheet or through Outlook. But as companies grow, the need for a more robust CRM solution can be a differentiator that allows you to leap ahead of the competition. While there are lots of options for CRM systems, we truly believe that HubSpot offers some of the best features, many of which are free.

Let's dive into some of our favorites.
Essential Components of a CRM included in HubSpot for Free
We're going to dive into some of the more advanced HubSpot features that are also free, but let's start with the essential components that must be included in any CRM system.
Contact Management
This tool allows you to easily manage your contacts and data. One of our favorite aspects of HubSpot is how customizable it can be and this is true even for something as seemingly basic as contact management.

For instance, you can create contact notes that will remain connected to that client name. If there is something that you want to make sure you or other sales team members remember when contacting that client, you can add that information.
Company Management
You are also able to store records for every company in your database and view all company details and communication in a single location.

This is important for B2B commercial landscape companies that have multiple property management companies, commercial properties, and property managers to keep track of.

After all, you might have multiple contacts associated with one company (such as board members for an HOA). If someone wants to look at the data from a company perspective, they can also see the individual contacts associated with it.

This even includes breaking it out into umbrella companies that might own individual companies. Because it's so customizable, you can choose a big-picture view or filter it down.
Deals
A "Deal" is HubSpot terminology for sales opportunities. With this feature, you can store, manage, track, and report on your various Deals (i.e.- your sales pipeline).

Again, this is highly customizable. Say, for instance, a landscape maintenance client wants to add an enhancement job. You would create a Deal for that and then determine who within your company would be associated with that Deal.

This feature then allows you to work the Deal through stages in a Deal Pipeline (a visual representation of where things stand from the sales process all the way through production).

You can also pull customized reports, for instance, just looking at what's past overdue. It can all be done simply by applying filters to extract data easily.
Tasks
You can store, track, manage, and report on any "Tasks" associated with a Contact or even a Deal.

A Task is a "to do" or reminder that you can assign to yourself or another team member (such as "follow up with client re. change order").


Within a Task, you can even attach notes or documents that you or a team member might need to refer to. These can be made to be part of a Deal and allow you to better manage everything in your sales pipeline—ensuring that you're staying on top of everything that needs to be done.
The Most Useful Advanced Features
There are many tools that go beyond the basics in HubSpot. Below we've rounded up a list of some of the advanced features that we believe are the most useful.
Gmail and Outlook Integration
With this integration, you're able to easily sync emails to your CRM to maintain a record of communication between you and your most important contacts.

This integration with Gmail and Outlook is not only useful for syncing emails, but also for accessing your calendar.

You can also view and add contacts to your HubSpot CRM without leaving your inbox.

For these reasons, this may be one of the most underappreciated yet useful features in the free HubSpot CRM.
Email Tracking and Notifications
Email tracking is part of the Gmail and Outlook integration mentioned above. From your email account (or within the HubSpot CRM), you are able to track which emails have been opened and when allowing you to be more productive in following up with contacts. This is particularly useful for sales reps who have a lot of back and forth answering client questions and following up on proposals.

In terms of notifications, there's a lot of different ways to look at this information and you can customize it in a way that works best for you. For some clients, you may want to be notified of everything that they do, and for others, you might only be concerned about certain emails. There's a high level of customization based upon what your needs are.
Contact Website Activity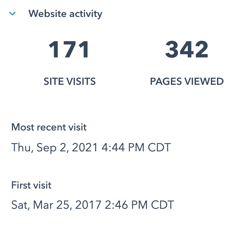 This tool allows you to gain insight into what an individual contact is doing on your website. This includes page views, form submissions, time on site, and more.

You can also receive notifications when a contact is visiting your website. Imagine getting a notification in real-time when a prospect that you thought went dark on you is now on your website's About page. Time to pick up the phone and follow up!
Email Templates
Within the free HubSpot CRM, you are able to create a limited number of email templates free of charge.

This comes in handy when sending the same email over and over to clients or prospects. Whether it's in regard to a property visit, a proposal follow-up, or some other type of email that you often send to a number of contacts, these templates can be a major timesaver for sales reps.
Canned Snippets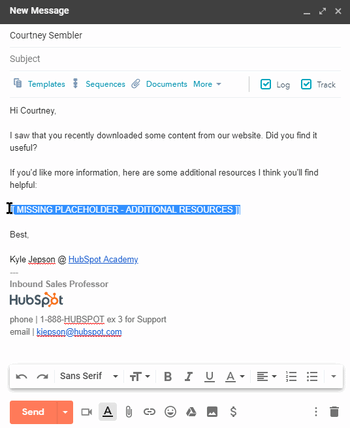 This is another feature for saving time on repetitive communication. With Canned Snippets, you are able to create a bank of reusable answers for prospects' most frequently asked questions. These can be quickly added to live chats or emails to help save you time and get your prospects the information they're looking for quickly.
Meeting Scheduling
This feature allows you to share a link with customers letting them see when you are available and book meetings with you. This cuts out the back-and-forth involved in sharing calendars.

Once again, this is highly customizable. Depending upon what type of client it is, you can prioritize your calendar (making certain meeting types only available on certain days). You can also add custom rules such as buffer times between meetings, depending upon what type it is.
The image above shows how easily you can add canned snippets and your meeting link into an email.
Live Chat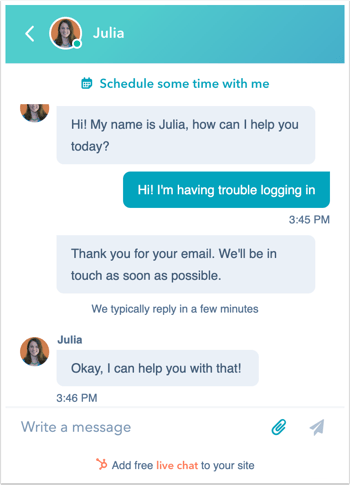 This is an incredibly important tool these days as your prospects want answers right away. And most of the time, they don't want to pick up the phone to get them! This is especially true when selling services with short sales cycles like lawn care. If you can engage your prospect immediately, you have the advantage over your competitors. That means the probability of closing the sale will increase significantly.

HubSpot's CRM offers this functionality for free (and frankly, you can't beat that!).

It's extremely easy to set up, add to your website, and manage throughout the day with your existing administrative staff. There is even a conversation tool in which you can view the message thread and tag other team members to pull them into the live chat. As with all of HubSpot's other tools, it can be highly customized for your needs.
Quotes
HubSpot also gives you the ability to create custom Quotes (i.e.- proposals) quickly and easily using proposal templates. This free tool also allows for digital signatures so that you can close deals and move things forward swiftly.

This is a must-have if you want to make your proposal process more professional and streamlined.
HubSpot Mobile App (and HubSpot Mobile Keyboard)
It's also helpful that HubSpot has a free mobile app that anyone can have access to. If you're out in the field and you need access to your contacts, you can access it quickly and easily through the app.

The app also allows you to access your Deals and Tasks and it has a business card scanner tool built-in so that if you're handed a card, you can create a new contact on the go.

There is also a HubSpot Mobile Keyboard that you can install with pre-programmed language that you like to use while texting. For instance, you can text a customer from the Keyboard and if there is something that you tend to use in a lot of texts, you can create a "snippet" or shortcut for it. It's just another way to make life easier for your on-the-go sales reps.
Making the Most of HubSpot CRM Tools
We have found that many of our clients are frustrated with the lack of customization in a CRM system that they might already be using. Whether it's their own cobbled-together system of using spreadsheets and Outlook or Quickbooks or it's even something that they paid for, clients have expressed that they felt their CRM falls short or has weaknesses that need to be addressed.

With access to so many great features for free, it's really one of those situations where you don't have much to lose. Whether you don't currently have a CRM, you have a standalone CRM you are paying for, or you are using the CRM component of your all-in-one business software (but feel it is falling short), you might find it's worth giving HubSpot's free tools a shot, risk-free. This is not a free trial as many software systems boast. These are tools that are always free.

For full disclosure, many of our clients who started using HubSpot for free have since upgraded to add even more valuable tools and functionality or overcome limits (such as how many email templates and proposals they can create). But the free version is a really great place to start and grow into for no (or minimal) investment. Having worked with so many clients who have used it (and being users ourselves), we think it's a wise move.
Get started with HubSpot's free tools here.