Have you noticed your reach on your company's Facebook page nosedive over the past several months? Trust us, it's not just your page and updates failing to reach your hard-earned fans.
Chances are your "organic reach" — the total number of people you can reach for free on Facebook by posting to your Page — has been on a sharp decline like that of the majority of Facebook pages.
This drop is no accident, as previously acknowledged by Facebook.
Digital consultancy Social@Ogilvy has expertly charted the freefall:
In 2012, Facebook famously restricted organic reach of content published from brand pages to about 16 percent. In December 2013, another round of changes reduced it even more.

By February 2014, according to a Social@Ogilvy analysis of more than 100 brand pages, organic reach hovered at 6 percent, a decline of 49 percent from peak levels in October. For large pages with more than 500,000 Likes, organic reach hit 2 percent in February. And Facebook sources were unofficially advising community managers to expect it to approach zero in the foreseeable future.


Organic reach of the content brands publish in Facebook is destined to hit zero. It's only a matter of time.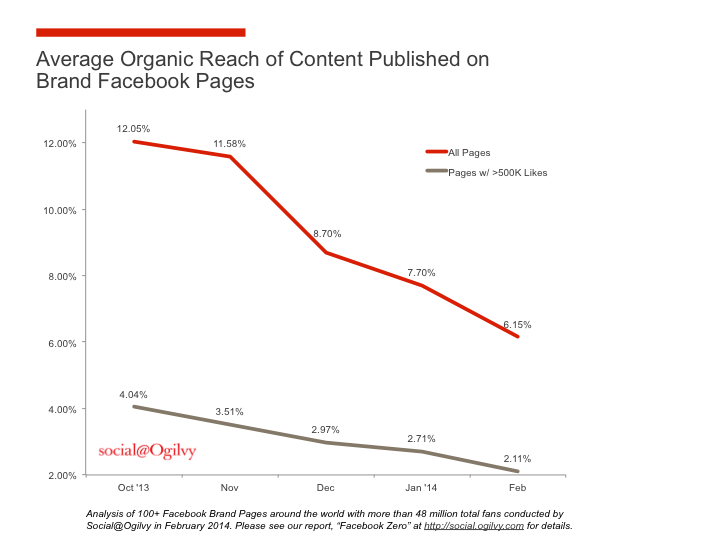 "Organic reach is destined to hit zero." Did you catch that?
Is it time to "pay to play" on Facebook?
In an interview with Lawn & Landscape magazine last year, Associate Editor Brian Horn asked me, "Is Facebook essentially forcing companies to pay in order to reach their fans?" Here was my response:
Facebook is really forcing companies to do two things to reach fans consistently: Participate and pay. You need both. One without the other will not allow your updates to reach a high percentage of fans.
Facebook still wants your business to participate by sharing updates and interacting with your fans on a regular basis. That won't change. But rely solely on the organic approach like this and, as suggested by Social@Ogilvy's research, your page is destined to reach an average of less than 15 percent of your fans. Hardly worth your time, right?
If you want to soldier on and fight the good Facebook fight, then you'd better open your wallet. That's the game, folks.
The graph below illustrates the dramatic rise in Facebook advertising revenue per user since 2009.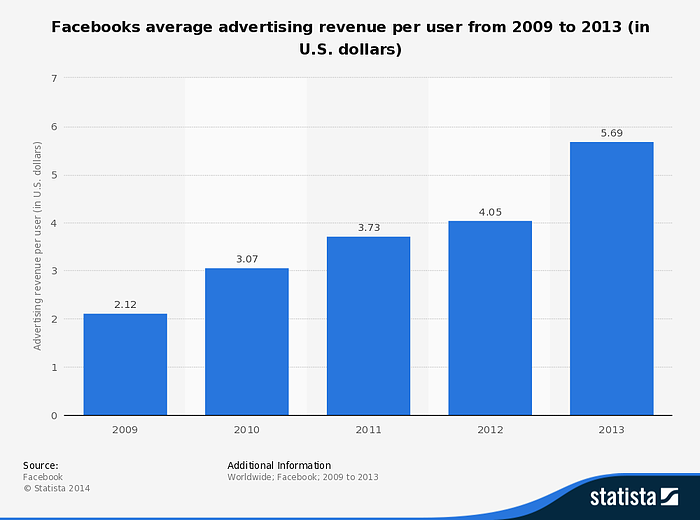 Is advertising on Facebook actually worth the cost? Does it really work?
"Is it worth it?" Brian asked in the interview, referring to Facebook's advertising platform. I say it is, but you need to have a clearly defined goal for each Facebook advertising campaign — and a way to measure the results.
Before deciding to pad Facebook's pockets, you'd better have these first two things figured out.
If you're a green industry company like a landscape contractor, lawn care operator or even a garden center or grower, why should you consider advertising on Facebook? There are really two reasons:
To reach more of your current Facebook fans in order to increase interaction and engagement and even drive more sales.
To reach more Facebook users — who are not currently following you — in order to increase your number of fans, generate more leads and/or make more sales.
Don't try to tackle all of the above with a single Facebook advertising campaign. Pick one concrete goal and focus your efforts (and budget) on accomplishing it.
Accurately measuring the results of your campaign is extremely important. Some campaigns will deliver exactly what you're looking for while some will fail miserably. You must distinguish the winners from the losers based on real data.
Along with Facebook's own reporting tool (Facebook Insights), Google Analytics and marketing software like HubSpot can provide you with the insight and data you need to asess the effectiveness of your Facebook advertising campaigns. We'll put these tools to good use later in this article when we dive into the Neave Pools case study.
Facebook advertising options
When it comes to advertising on Facebook, your goals will determine the type of Facebook ads you purchase. For instance, if your goal is to simply reach more of your fans on a more consistent basis then promoted posts are most likely your best bet. If you want to reach Facebook users who are unfamiliar with your business, News Feed ads (once referred to as Sponsored Stories) and sidebar ads might make more sense.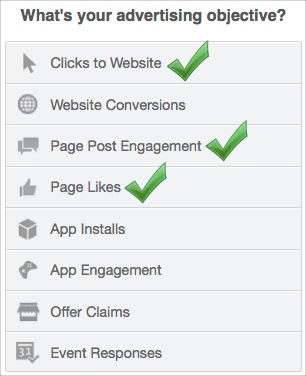 When advertising on Facebook you begin a campaign by choosing the most appropriate "objective" that aligns with your ultimate business goals. Per Facebook, the advertising objectives you can choose from are:
Clicks to Website: Get people to visit your website.

Website Conversions: Promote specific conversions for your website.

Page Post Engagement: Promote your Page posts.

Page Likes: Get Page likes to grow your audience and build your brand.

App Installs: Get people to install your mobile or desktop app.

App Engagement: Get people to use your desktop app.

Offer Claims: Create offers for people to redeem in your store.

Event Responses: Increase attendance at your event.
Because we work mostly with service companies in the green industry, we typically select the objectives related to website clicks, page post engagement and page likes (as shown in the adjacent graphic).
Based on your stated objective, Facebook will suggest which type of ad campaign to initiate.
Let's now take a look at the different Facebook ad formats and placements. I like to break these into two categories, beginning with promoted posts.
Promoted posts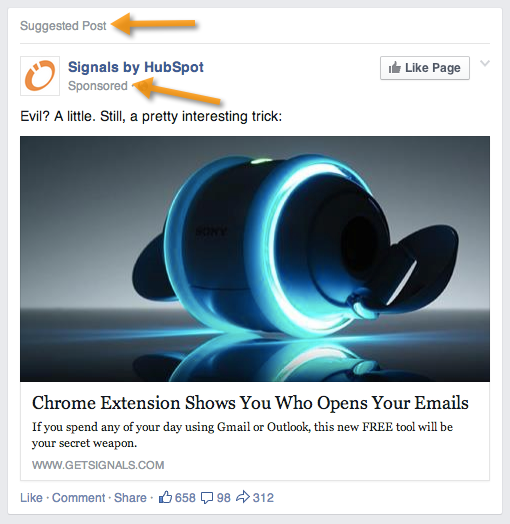 Promoted, or boosted, posts appear higher in the News Feed, so there's a better chance your audience will see them.
Promoted posts are labeled Sponsored. These ads will not appear in the right column of Facebook.
With this type of ad, you're essentially paying to "boost" an individual update in order to reach a higher percentage of your followers (and their friends, if you so choose). You can also target a custom audience with your promoted posts instead of targeting your fans.
Promoted posts are most useful when you want to ensure a large percentage of your followers actually see an important update in their News Feed, say a recent blog post you shared.
Remember, on average, less than 15 percent of your followers will see an update you share on your page. Paying a small amount ($20 to $60, typically) can ensure you reach 70+ percent of your audience.
News Feed and right column ads
Facebook ads can appear in the News Feed or in the right column of any page on the site or in search results. When you're creating ads you have an opportunity to select the placement: desktop News Feed (shown in adjacent image), mobile News Feed or right column.
We typically only place ads in the News Feed, on both desktop and mobile. We haven't found placing ads in the right column to be effective. In fact, in a recent client campaign with the objective to increase page likes, ads placed in the mobile News Feed outperformed desktop News Feed ads and right column ads by a wide margin (based on cost per new "like").
This was meant to be only a brief overview of your advertising options on Facebook. To learn more and get started with Facebook ads I suggest visiting Facebook's Help Center.
Neave Pools: A Facebook advertising case study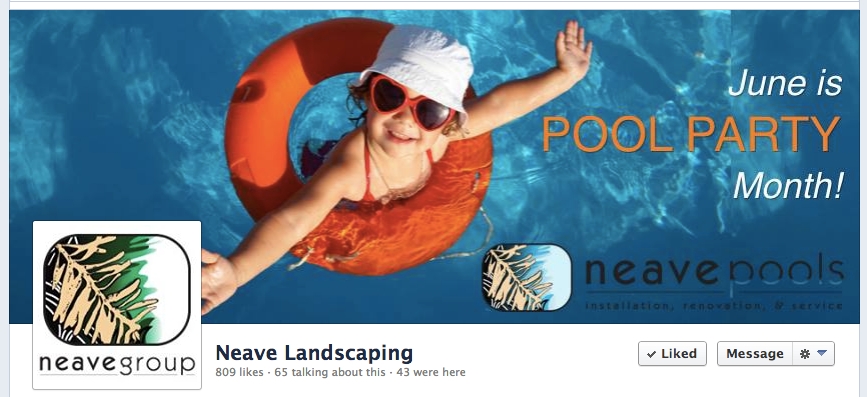 Neave Group Outdoor Solutions is a second generation, full-service landscape contractor serving the Hudson River Valley region in New York and into Connecticut. Through the years they've added services as they've grown, including a swimming pool design and construction division, Neave Pools.
As the region began gearing up for summer fun in early 2013, Landscape Leadership and Neave Group wanted to call more attention to Neave's swimming pool services via multiple marketing channels, mostly online.
We developed a fun theme that would serve as our anchor for a month long marketing campaign. We referred to June as "Pool Party Month."
The intent was twofold:
Educate and inspire Neave's audience.
Increase traffic to the new NeavePools.com website and generate pool-related leads
The campaign's strategy called for: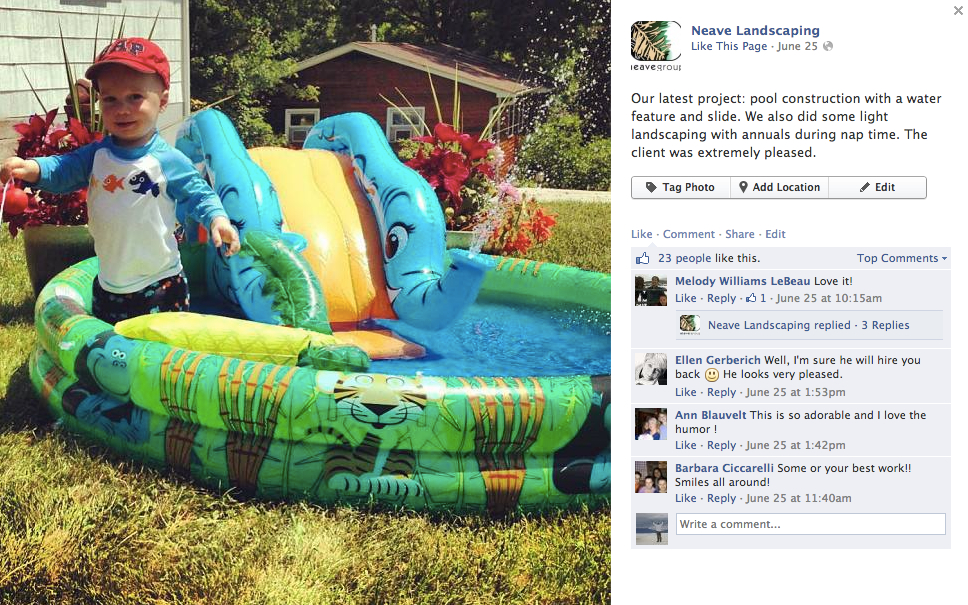 Facebook's role in the "Pool Party" campaign
With this unique campaign we wanted to mix an organic approach with some paid promotion in the form of Facebook ads.
The total Facebook advertising spend was $714.29, with $599.89 going towards Sponsored Story ads and the remaining $114.40 going to promoted posts, mostly "boosting" the blog posts we shared on Neave's page.
The majority of the ad spend went to promoting the pool design infographic and design guide we created. Keep in mind one of our objectives as stated above: to generate pool-related leads. This lead gen content and landing pages served as the entry point for those Facebook users who may be interested in adding a swimming pool to their backyards.
Results from the Facebook ad campaign
So how did the Facebook ads perform? Let's take a look at some final numbers from the campaign:
Total Facebook "reach" was 93,026. Facebook refers to reach as "The nuber of people your ad was served to". We don't put as much stock in Facebook reach when evaluating campaigns as we do other metrics.
1,290 website visits came directly from Facebook in the month of June. April and May combined for a total of 377 visits from Facebook to give you some context.
60 new contacts/leads were generated directly from Facebook in June. These are the folks who downloaded either the swimming pool infographic or design guide. 14 of the contacts downloaded both the infographic and design guide.
The screenshot below shows the daily visits, in June 2013, to Neave's website directly from Facebook. The majority of ad spend was in the first two to three weeks of June.

Digging a little deeper we found:
Of the 60 new contacts generated from Facebook, we classified 38 as Marketing Qualified Leads (MQLs).
The visit-to-lead rate was an outstanding 4.7% in June (the average conversion rate usually hovers around 1.5% in our industry).
The cost per lead (CPL) from Facebook came in at $11.90.
There appeared to us to be five opportunities — contacts seeking estimates/proposals — gained from the 60 new contacts generated from Facebook in June. That would be a cost of $142.56 per opportunity. When you're talking about projects involving swimming pool design and construction, there are some big numbers involved. Projects priced at more than $100,000 are not uncommon. In my book, the cost of $142.56 per opportunity is pretty damn good.
Wrap up
So, do Facebook ads actually work? Yes, they certainly can, but as I've outlined above you need to be clear on your objective at the outset and prepared and able to measure the results. If the organic reach of your Facebook Page is declining like most businesses' are, perhaps now is the time to begin experimenting with Facebook's advertising platform.
If you have questions or want to share your experiences and insight about Facebook ads, jump into the comments below. If you want to reach out to us about our services you can give us a ring at (800) 681-9169 or fill out our handy contact form.
If you found this article to be insightful, go ahead and subscribe to our blog. You may also be interested in our FREE Facebook content and editorial planning template. You can download it here.