Have you noticed how many landscape contractors are getting into commercial landscape maintenance? How about others now offering lawn care to their customers?
Maybe some of your competitors have made the move. How about you?
Based on the dozens and dozens of conversations I've had with contractors since the start of the new year, I would guess you're considering the same.
Let's explore why many lawn and landscape companies chase diversification, beginning with the justification I hear most:
"We need a better balance between residential and commercial work and design/build and maintenance work to buffer against downturns in the economy."
Other reasoning includes:
"Our customers want/expect a contractor who can do everything for them."
"We're already on the property, why not provide more services?"
"We're already servicing homes in the area, why not commercial properties?"
"After we build a project, our maintenance services keep us in front of the customer- otherwise they forget about us."
"It's easier and more cost effective to grow an existing account by adding services compared to acquiring a new customer."
These are just a few off the top of my head. You've heard them all.
The not-so-obvious culture clash you're facing
Is this diversification a sound strategy for sustainable growth and profitability?
Well, that depends, of course.
First, I don't see many companies pursuing diversification as a "strategy". It's more like an "accident": One day a customer asks you to do something you've never done and the next you're a lawn care company. This reactive approach leads to a dismal bottom line. And a helluva lot of stress.
Diversification is most effective when it supports and complements your core offering. An example would be a residential lawn care company who offers mosquito control and perimeter pest control.
The battle between production and creativity
I've always been amused by how the creative folks and operations people in our industry view each other. Let's just say it's often with little mutual respect. I was a designer for many years and well aware of the comments being dropped behind my back.
Diversification brings with it a culture clash between "production" and "creativity" that can, at a minimum, weaken your core offering and bottom line profit. Worst case? It can divide your business, sending you in a tailspin into the side of a mountain.
Okay, that was a weird metaphor...
Here's the point: Every company leans toward either production or creativity. It's one way or the other. Your culture can't straddle the line between both.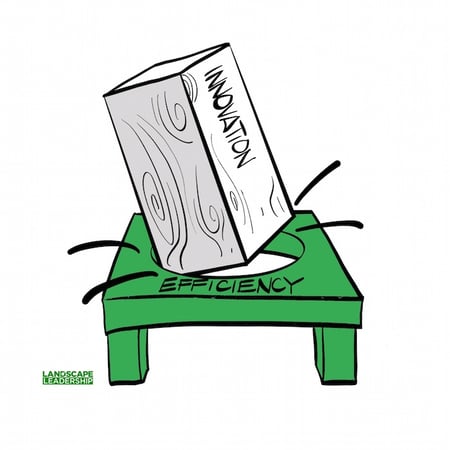 Profitability in a production-based model – like commercial maintenance or lawn care – is built on maximizing efficiencies and reducing costs. Then scaling up (i.e.- profits through volume).
A culture of creativity is focused on maximizing innovation (and profitability within that context).
Creativity is not compatible with production because innovation is highly inefficient.
Creativity and innovation is messy business. With that comes high levels of risk compared to production-based services like lawn care. If you've ever lost your ass on a $100k+ landscape project you know what I'm talking about.
I'm not here to argue that one is better than the other. Only that you lean one way or the other and, because of that, you need to choose your path to growth and profits wisely. Not haphazardly.
---
In Part II of this article I'm going to speak more directly to how this culture clash impacts companies pursuing commercial landscape maintenance work. Make sure you are subscribed to our blog to get that article. Just add your email address in the form below.