It's been a tough couple of weeks for all of us in the lawn and landscape industry. As I've been talking to dozens of industry peers and clients, one question has been asked repeatedly: "What are you hearing from other companies?"
I thought I would share their candid feedback with all of you.
So Much Respect for Our Clients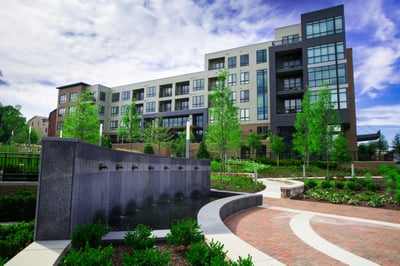 One of the things I love most about our clients is how brilliant they are. People I get to talk to regularly are:
Owners who built a $5M - $20M company from nothing and survived and thrived through scary times in the past.
Operations managers fielding calls and trying to reassure customers they're taking every precaution
Middle management trying to keep their team from panicking, while staying safe and staying productive
Hard-working salespeople having tough conversations every day
I am honored to be your industry peer and have mad respect for how you are all handling this. If you read these comments and they give you hope, ideas, or just understand that you're not alone, every keystroke was worth it.
Here's the word on the street (or lawn) from our clients.
Commercial Landscaping Companies
Michael Hatcher - President
"We have had several clients that are requesting our preparedness plans and also a few that are suspending outside vendors. Only one commercial maintenance client has asked that we stop services for the next two weeks and that was a restaurant. We certainly want to continue to do business as usual but want to take every preventative measure to protect or greatest asset. Our people and our clients are what makes our business."
"I told our team that I have 34 years of experience piloting this Company (airplane) and have been through some rough weather before. I've been in the storms of the recessions in 1982, 1991, made it made it through the uncertainties following 9/11/2001, and the devastating financial times of the Great Recession in 2008- 2009. I have lead an incredible team of people over those years and WE built a company with a STRONG reputation for Getting the Job Done with integrity and quality."
"We are headed into a storm and no doubt things may get a little turbulent, but I will continue to fly us straight and level. I've got some good radar and other instruments that will help us navigate over, around or through whatever is on the horizon…. So rest assured this will be a good flight, find your seat, hang on and enjoy the ride."
Joseph Barnes - Marketing Director
"For us, it's about trying to be one of the few little bits of normalcy in the lives of our customers right now. We're taking all the recommended precautions to keep our teams safe, and we want our customers to know that we're committed to serving them through good times and bad. We all know the economic impact will be severe, but right now it's about making sure that our customers know that they have a partner who will work with them, and that we will all get through this together."
Jay Martin - Owner/President
"We're actually busier than even expected. With the H2B program in jeopardy, we are seeing larger competitors that rely heavily on this who have walked away from contracts with new home builders. They know they won't be able to service these contracts so builders are looking elsewhere. Fortunately, this means lots of new opportunities for us!"
Michael Mayberry - CTO
"We are doing whatever we can to reduce the spread of this virus and have taken a lot of precautionary steps to make sure we deliver on that promise. We're going to continue to operate as normal as possible while complying with our locally-mandated guidelines. We know this will take a significant toll on our industry. Many clients are going to forgo non-critical enhancements this year and some may pull back on what they spend. Some of our clients in certain industries are going to be hit hard by this situation. The good news is the grass will keep growing and properties will always need to be maintained."
Landscape Design/Build Contractors
Joe Mouad - Owner
"So far we are very busy with sold work and very busy bidding new work. While every year we do a ton of bids and everyone signs at once when taxes are returned, we shall wait to see what happens. But guys are already working overtime. I'm not sure how long consumer confidence will hold up but we will have to wait and see. The calendar for our estimators is booked, so that's a positive note."
Jarod Hynson - President
"We are fully staffed on the plus side. I think we will feel this in late summer. My peer group seems to be optimistic despite the circumstances. Our cash situation is strong but overhead is enormous. Currently, we had a large client add change orders of $40-$60k. Customers still want to meet on properties but just adapt with social distancing. Americans, can't NOT spend money…eventually people will want to spend their money. We're still continuing with currently-planned marketing efforts."
Residential Lawn Care & Maintenance
Rob Reindl - Owner
"Surprisingly, everything has been going okay despite the circumstances. We are doing everything we can electronically to keep everyone safe. I think our aggressive growth goals are out the window at this point but we remain optimistic because people are still buying! We already sold 100 new customers this week!"
Adam Zellner - VP of Sales
"I've been trying to remain positive and meditating. Everyone is in the same boat. If I don't have a good attitude, nothing is going to be good. I feel like it's going to bounce back. People are going to start spending time outside and they will be focused more on that. I think we're going to be surprised. Maybe "spring" will actually be in different months this year. We're pushing some campaigns (such as calling cancels) back until slightly later. Worrying about bleeding customers and panicking is the wrong thing to do. We're going to get them back. Our customers aren't people that can't afford $400. We even still have people pre-paying for thousands of dollars!"
Krisjan Berzins - President
"We've shifted our landscape install team to help complete as much maintenance work as possible. We'll see what changes in Virginia in the days and weeks to come but we're taking the needed precautions to keep everyone safe. We've taken a few cancellations but with thousands of customers, this hasn't been severe yet."
"For so long we've been talking about topics like innovation, technology, and antiquated ways of doing business. This tragedy is going to to move those discussions to the forefront. Our industry is going to have to radically change to better protect our workers and this may be an added benefit of developing new tools and procedures."
Joey Steele - Lawn Care Manager
"So far, we haven't heard much from our customer base. We've gotten a lot of response on direct mail and digital ads we've placed so that's great!"
Kevin Buck - CEO
"I guess the good side is more people are home and finding time to talk about their lawn which equals sales. This virus, of course, has been a topic of conversation by many. However, we are trying to plan for "what if" scenarios and expecting we could have an interesting spring/summer. We are trying to be positive and make the best moves we can but I would be untruthful if I didn't say we are a little concerned about the financial impact on our team and business."
Jack Moore - President/CEO
"Customer input has been limited, phones have gone mostly silent, some existing clients continue to approve additional services, and we have seen a few approvals from new clients that are signing up for services. We have had 2-3 people suspend service or postpone certain services. I suspect we will see much more of that activity. We have closed our office for the next 15 days and everyone but myself is now working remotely. Our field crews continue to operate and we instituted staggered start times to place distance between groups. This will be a day-to-day scenario for the coming future."
Scott Emerson - Owner
"Our base with the exception of some elderly don't seem too affected by the virus. Some cancels have come in, citing financial worries due to it. Other than practicing good hygiene and social distancing, we have tried to maintain a sense of normalcy. Luckily in our industry we can still accomplish our work without direct personal contact."
In This Together
As I requested feedback over the period of just a few days, it seems the tide keeps changing, particularly on a state-by-state basis. These are scary times we are in where things can change so rapidly.
Wherever you are, our thoughts and prayers are with your companies, your customers, and your teams. Stay safe. Stay strong. We're in this together.
Image Source: Level Green Landscaping