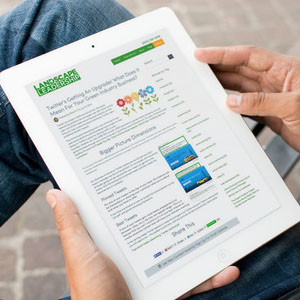 We've pulled together some recent and very relevant research related to blogging for you. If you're a company in the lawn and landscape industry who has a blog or is interested in starting one, you need to pay close attention to these findings.
When it comes to blogging effectively, we've mentioned in the past that it is not the what (blogging itself) but the how (strategy and execution) that will generate positive results for your company. So keeping up with trends and best practices is very important.
Focus on quality
There was a time when quantity and frequency of new articles published to your blog seemed to trump the quality of that content. It was not unusual for a poorly written, 500-word article to rank on the first page of Google for an important search phrase.
Times have changed with more companies now putting much more effort into content marketing. Even the lawn and landscape industry is getting more competitive when it comes to getting eyeballs on your website's content.
Today, quality trumps quantity and frequency in the battle for eyeballs. This means you need to continue to get better at blogging.
Here are some key findings from Orbit Media's third annual survey of 1000+ bloggers:
The length of the average blog post is up 19%… about 1,050 words.
Short blog posts are on the decline: The percentage of posts that are 500 words or less is half what it was two years ago.
Long posts are on the rise: The percentage of posts that are 2,000+ words long has doubled every year.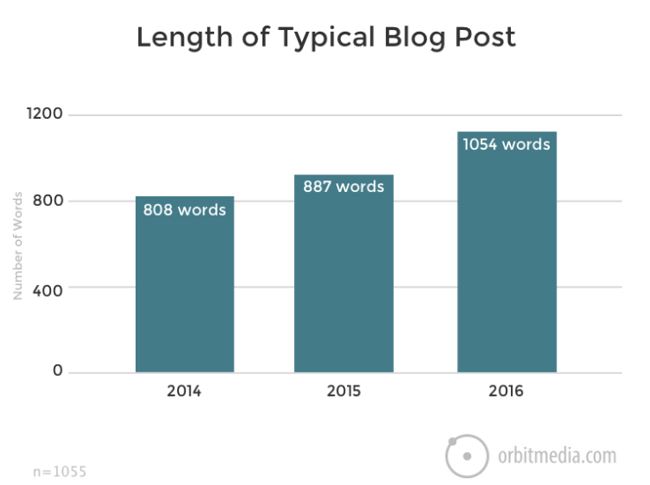 While the average blog post is now about 1,050 words, Orbit Media claims the ideal length for a search optimized blog post is 1,500 words.
According to a recent MOZ analysis of over one million blog posts, long form content of over 1,000 words consistently receives more shares and links than shorter form content.
If you want your blog articles to rank on page one of search results, the evidence is clear: You need to step up your game and put in the hard work. That means longer blog posts.
(RELATED READING: 5 Reasons Your Salespeople Need to Start Blogging)
Investing in your blog
Why put all this increased effort into a company blog? My simple answer: If done well, your blog will attract new visitors (prospects who don't even know you exist) and generate new sales qualified leads month after month.
At HubSpot's recent Inbound conference in Boston, their blogging team shared some valuable research related to this from their own very successful blog.
One takeaway had to do with the age of blog posts and how that impacted views and leads from the blog. Here's what HubSpot found:
76% of views were from old blog posts (not published during the current month).
92% of leads were coming from these old posts, not the most recently published articles.
The screenshot below shows the top 10 most viewed articles on the Landscape Leadership blog this month to date. Notice the publish date. None of these articles were published within the last year. Two were published almost seven years ago!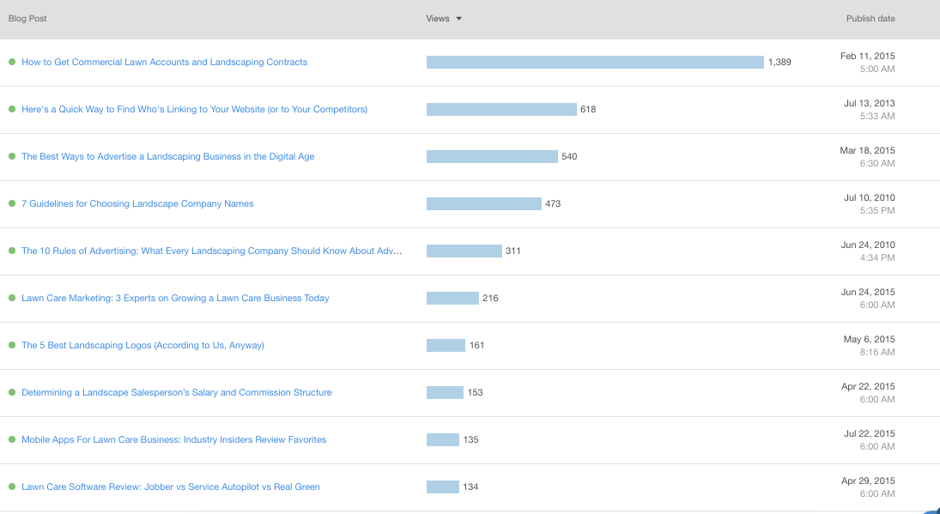 As it relates to generating leads from our blog, of the 16 leads directly attributed to our blog this month to date, only two converted on articles that were published within the last four months, none in the past month.
This is why I refer to blogging as investing as opposed to spending (post cards, print advertising, pay-per-click advertising, etc.). Your hard work and diligence pays off long into the future, not always immediately, as these figures clearly illustrate.
HubSpot also found that only a small number of blog posts generate the majority of leads. They point to these findings:
77% of Hubspot's leads come from 100 blog posts (they have thousands of blog posts).
81% of Hubspot's blog posts create 0 monthly leads.
Think about that for a second. Eight out of every 10 blog posts they write and publish don't generate a single new lead.
This is not surprising though. We see this played out on the Landscape Leadership blog as well as on our clients' blogs.
Not every blog post is a "big hit". In fact, a very small percentage are. But, you need the at-bats in order to hit the eventual home runs.
The screenshot below shows the top 10 blog posts on our site that have led to the most conversions all time. More than 90% of subscribers and new leads come through these 10 blog posts. These are our "home runs" to date. But we're always swinging for more.

View your blog more like an investment account than an ATM machine. Your rewards will be greater over time. For example, if you need more lawn care leads right now to meet your monthly goals, publishing a new blog post about lawn care last week most likely isn't going to help. It's not an instant payout.
If you have a blog for your green industry company, keep putting in the effort. The payoff will come with time, as these findings suggest.
Stay up to date with trends like this by subscribing to our blog. We have over 2,000 green industry professionals subscribed to our blog now! Subscribe here or add your email address below. And be sure to grab our handy checklist, "10 Steps to Writing a Great Blog Post".