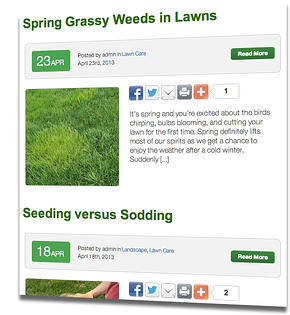 Regular blogging is the most effective way to increase website traffic and generate qualified leads from your landscaping website. According to Lawn & Landscape's 2012 Social Media Survey, only 27% of respondents claimed to have a blog. When I informally survey audiences at green industry events I speak at, typically only 5 to 10 percent of attendees have a blog. Of this, very few landscaping companies actually blog on a regular basis (at least once per week).
According to HubSpot's State of Inbound Marketing Report, companies that blog have 55% more website visitors than those who don't. And, business to consumer (B2C) companies that blog generate 88% more leads per month than those who do not (67% more for B2B companies).
Our website is a perfect case in point. In July and August of 2012 this website generated 82 leads each month. In the following four months September through December the site generated 35 leads each month. Why the sharp decline in leads? Easy: We published 25 blog posts in July and August combined and only 10 posts the next four months combined.
Blogging matters. Consistent blogging matters more.
Lessons from five excellent landscaping blogs
If you are ready to give your website traffic and number of inbound leads a boost through blogging, look to these five companies and landscaping blogs for inspiration:
Susan Cohan Gardens
http://www.susancohangardens.com/blog/
I point to Susan Cohan (@susancohan) as someone who has used blogging to build a strong personal brand on a local level as well as industry-wide. Susan is a fabulous landscape designer in New Jersey and has been blogging since 2007.
Susan has been a model of consistency through the years. From 2008 through 2012, Susan averaged 104 blog posts per year. That's one blog post every three to four days for four years! That's truly outstanding.
What I've always appreciated about Susan is that she does not shy away from sharing her candid insights and opinions on a variety of topics. I think this variety and genuineness is what makes her so endearing to her readers.
Key point: Don't be afraid to share your unique point of view. And do it often!
Weed Pro and Tomlinson Bomberger
http://tomlinsonbomberger.com/our-blog/
Weed Pro, a Cleveland, Ohio based lawn care company has been tearing it up since starting their blog in early 2012, averaging about two blog posts per week.
I appreciate the fact that Weed Pro is very pragmatic as it relates to their landscaping blog. They obviously have a well thought out plan that revolves around optimizing their website for the search engines. Each blog post is optimized for popular keyword phrases related to lawn care as well as specific to their Cleveland and Columbus markets.
Weed Pro's lawn care topics are also very timely. I don't see many landscaping and lawn care companies stay ahead of their sales cycle like Weed Pro when it comes to choosing blog topics. The landscaping blog of Tomlinson Bomberger is right on par with Weed Pro (they've been blogging for about three years).
This combination of consistency, timeliness, local relevance and keyword optimization draws in visitors at a steady clip. And Weed Pro's use of highly visual call-to-actions (CTAs) in each blog post ensures for a steady stream of leads.
Key point: Be pragmatic. And be timely with your topics.
GoiTalk
GoiTalk is the online voice of popular property measurement software GoiLawn and GoiPave.
Though they haven't been blogging long--since April of 2012--they clearly have a well thought out plan in place. Many companies (especially B2B) are too self-promotional in their blogging. What I appreciate most about GoiTalk is that they take the opposite approach by being a valuable source of green industry business information for their lawn care and landscaping readers. Their tagline says it all: Profitable ideas, insights and information for contractors.
I also appreciate how GoiTalk includes "voices" outside of their company by inviting green industry experts as guest writers. This makes their content more valuable to readers while at the same time earning their blog more exposure.
Key point: Encourage others inside and outside your company to write for your blog.
HighGrove Partners
http://www.highgrove.net/blog (disclosure: HighGrove is a client of Landscape Leadership)
HighGrove Partners, led by CEO Jim McCutcheon (@jimmccutcheonhg), is a very successful landscape management company in Atlanta, Georgia and a Lawn & Landscape magazine Top 100 Contractor.
Many successful CEOs and business owners hide behind a curtain of secrecy, unwilling to share candid insights and experiences with their green industry peers. McCutcheon takes the opposite approach, regularly sharing his insight and showcasing the unique HighGrove culture via their landscaping blog.
This fresh take on company transparency and sharing is what we appreciate most.
Key point: Give your leaders a platform to share their unique and candid views.
Note: This article originally appeared in the May issue of Lawn & Landscape magazine. Image credit: Tomlinson Bomberger landscaping blog