Did you happen to catch the most recent issue of Lawn & Landscape magazine? The June 2012 cover story was "DIY SEO".
It was great to see the topic of search marketing grace the cover of a major green industry publication. And Lawn & Landscape did a great job outlining their "three month SEO plan" as well as highlighting a few search-savvy green industry companies. (We were most happy to see our client, Neave Group Outdoor Solutions, as a featured case study.)
Let's go a step further
I want to piggy-back on what Lawn & Landscape served up and dish out a little dessert for you. I want to give you some real numbers and context. I want you to really understand exactly what it is that impacts your search engine rankings more than anything else.
It's important to note that this isn't my theory or opinion.
For the past six years, SEOmoz has compiled the aggregated opinions of dozens of the world's best and brightest search marketers (or, SEO geeks) into a biennial report. The 2011 edition of the Search Engine Ranking Factors sheds light on what is truly most important as it relates to search engine optimization.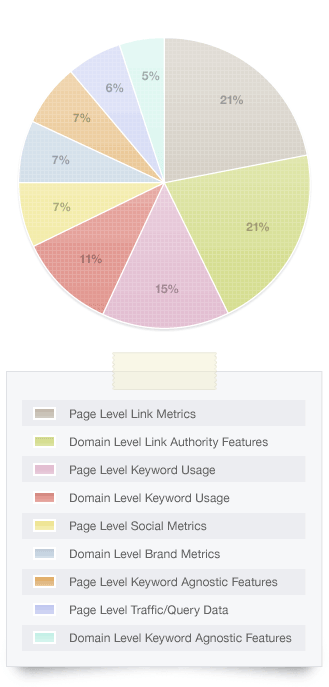 I want to highlight three big takeaways from the report. (refer to the chart to the right.)
#1: Inbound links are gold
The experts concluded that of all factors, inbound links impact rankings the most--42 percent of impact, in fact.
Companies need to get their heads wrapped around this. There is a huge opportunity here to separate yourself from your competition. Or to fall behind.
Getting valuable inbound links to your site comes down to creating remarkable and meaningful content on a regular basis. It's hard work.
And not all links are created equal. Don't fool yourself thinking that your 10 page static website is going to get a boost in the rankings by exchanging links with your local vendors and their 10 page static websites. Google wants to see your site getting inbound links from influencers and authoritative sites.
The only way to get quality links is to create quality content that people want to share.
#2: Keywords are still important
Keyword usage contributes to 26 percent of the rankings impact.
You can optimize your website for all your most important keywords but if you're not creating original content on a regular basis and earning inbound links from credible sites then Google will ignore you.
That said, if you're creating oodles of content on a regular basis yet not optimizing your content for specific keyword phrases then you're falling short.
#3: Social media does matter
Social media contributes to seven percent of the rankings impact.
Paul Roetzer, in his book, "The Marketing Agency Blueprint", and citing this same SEOmoz report, writes, "The SEO experts agree that Twitter is the most important social network in regard to its impact on search engine algorithms, specifically the authority of a user tweeting links and the quantity of tweets to a page."
Your business needs to understand where it needs to be hanging out online. Twitter may just be the place.
Facebook shares, Google +1s and votes on sites like Digg and Reddit all play a role in the search algorithms.
Expect the impact of social media on search engine rankings to grow from here on out. Google and Bing are both using social signals in their rankings now and this will only increase in time.
Do you know where your company's website ranks in search rankings? Do you know which keywords you rank highest for? Do you know how many inbound links you have and who exactly is linking to you? Do you want to know how you compare to your competitors? Let us show you! Apply for a FREE Inbound Marketing Assessment from Landscape Leadership and we'll show you all of this and more.