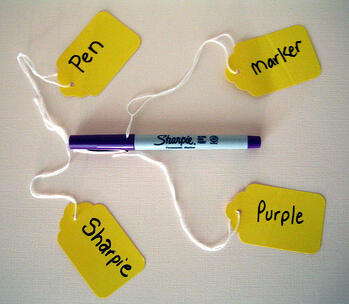 WARNING: We're going to get into some serious geek-talk.
If you want to attract more business from your inbound marketing efforts then you'll need to channel your inner-geek for the next few minutes.
What are we talking about? Keywords! You know, the string of words you use to search for something online.
Why are these so important? Because hundreds, maybe even thousands, of potential customers are searching for your products and services online using very specific keyword phrases.
Do you know what these exact words are? You should. If you know the most popular keywords prospects are using to find your services then you can optimize your online presence around them.
Bottom line: Use the right keywords and more people will find you.
This article will outline exactly where you want to use your keywords, along with some general guidelines for how to use them effectively.
Using keywords on your website and blog
Using the right keywords on your website is a critical factor in appearing high in search engine results. Most green industry company websites I review tend to get this wrong.
Here are some basic guidelines to keep in mind:
Try to use the exact keyword phrase, not variations of it.
Optimize a web page or blog post for only one keyword phrase. If you try to optimize for two or more phrases it will sound very unnatural to readers.
Avoid "keyword stuffing". Google doesn't like it nor do readers.
Optimize your static company website (which has fewer pages) for your top five to ten "trophy keywords". Use your blog to target the less popular (long tail) keyword phrases.
If you are a blogger, don't focus too much attention on optimizing every single post for a specific keyword phrase. It is very difficult to do. We can't think of anything that would kill one's desire to blog quicker than this.
Here's where you want to use your keywords on your website and blog:
Your site's domain name
If you can include one of your trophy keywords in your domain name, great, if not, don't worry about it. You will always have an opportunity to include your keywords in each web page's unique URL. Some content management systems (CMS), like Wordpress, give you the ability to customize your URLs. This is a great opportunity to slip a keyword phrase into the web page's URL.
Your site's meta data
Here's where we get geeky--so hold on.
There is certain "meta data" included in your site's source code that basically tells search engines, like Google and Bing, what your site is all about.
Concern yourself with these three pieces of meta data relevant to keywords:
Title of your site- Place your most important keyword phrase into your website's title first, then add your company name.
Keywords- List five to ten of your most important keyword phrases. List your top three first.
Description- Describe your website in full sentences using your top three keywords, in order as listed above. Keep this to under 200 characters (not words).
If you're comfortable editing your site's source code yourself, go for it, otherwise seek help from a professional.
The content on each page
You will need to optimize the content on each page of your website for one keyword phrase. Aim for a "keyword density" of three to five percent. Different search engines tend to favor different density.
This means for every 100 words on your page or in your blog post, use your keyword phrase three to five times.
Here are some tips for reaching the proper keyword density:
Use your keyword phrase in the title--preferably in the beginning. Your page's title is what appears on the search engine results page (SERP).
Use your keyword phrase in the sub-title (if you have one).
Use your keyword phrase in sub-headings.
Use your keyword phrase numerous times throughout your copy, including in the first 20 to 30 words.
Use images on your page and include your keyword phrase in the "alt" tags.
Using keywords in social media
As real time search becomes more popular and reliable it will be even more important to use your keywords in your social media marketing efforts to complement your website or blog.
Here's how to do it:
Social media profiles
Sprinkle in your top keywords into your social media profiles on sites like LinkedIn, Facebook and YouTube. Search engines like Google "crawl" and index the content on these sites. YouTube ranks only behind Google for number of monthly searches.
Status updates and posts
When you post a status update to Twitter it is almost immediately indexed and ranked by search engines. So, it only makes sense to use your keywords when updating your status on sites like Twitter and Facebook.
That said, don't over do it. The easiest way to do this is by using a keyword phrase in your latest blog post's title and then posting it to Twitter, Google+ and wherever else you may be hanging out.
Sharing media
When you upload images to photo sharing sites like Flickr or videos to YouTube, you have the ability to add keywords in multiple locations including the title, description and tags.
If you do this properly your images and videos can appear in the top 10 of search results very quickly.

With so many consumers actively searching for your products and services online, it literally pays to understand the basics of keywords. This starts with keyword research--how to find your most popular keywords. Then, of course, you need to understand where to use them and how to use them effectively.
This may be a little geeky for some of us green industry folks but knowing how to use keywords in everything you do online will drive more business to your door.
image source: cambodia4kidsorg
Download our FREE e-book, "How to Enhance Your Internet Marketing with Social Media", to better understand how your business can more effectively use social media as part of your inbound marketing strategy.