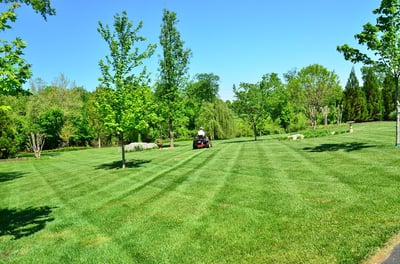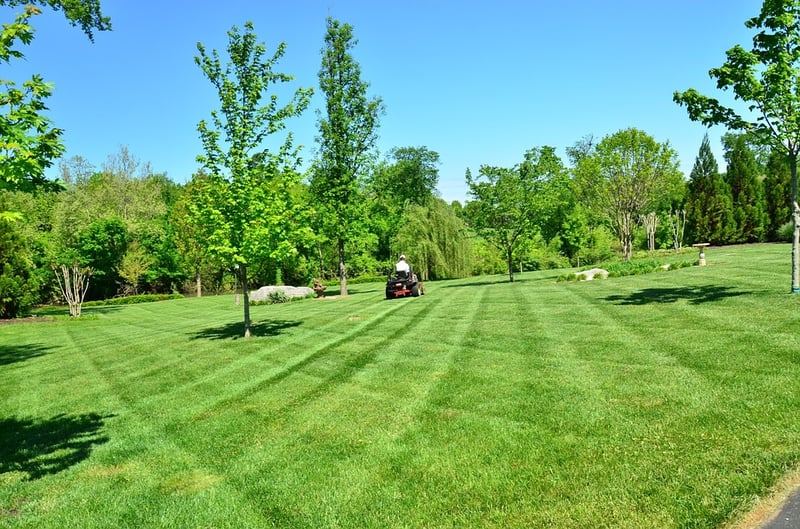 When you're marketing your lawn care and landscaping business, search engine optimization (SEO) is a critical piece of your inbound marketing efforts. For many landscaping contractors, getting your website to rank in Google seems like a daunting task – especially when Google is constantly changing their search algorithm.
The good news is that with the right SEO tips and techniques, optimizing your lawn care and landscaping website isn't as difficult as it seems. What's most important is that you optimize your site for the right keywords and take the time to do it correctly.
Here are six on-page SEO tips to help your lawn care and landscaping website rank in Google:
1. Find The Right Keywords For Your Brand
SEO is based on keywords. For people to find your content in the SERPs, you need to optimize it for keywords related to your lawn care and landscaping business. To find the right keywords for your brand, start out by doing keyword research. Here are a few ways to do this:
Make a list of your business's core services and offerings

Add relevant keywords for each service (use Google if you need help)

Research similar keywords by typing a term into Google and looking at the related search terms at the bottom

Think of

long-tail phrases

related to these keywords

Crawl competitor websites with a tool like

Screaming Frog

to see what keywords they're using to optimize their site

See how your competitors are ranking for keywords by using a tool like

SEMRush

,

HubSpot

or

Google Keyword Planner


2. Make Sure Each Page Is About One Topic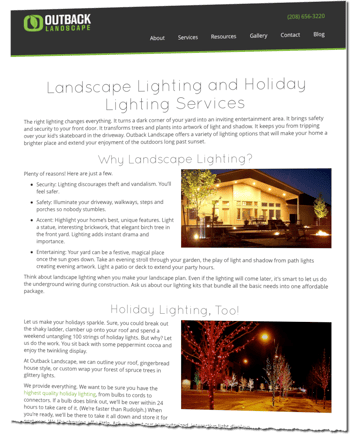 Every page on your website – whether it's a services page, blog or landing page – should be about one main topic. For example, if you're writing a site page about landscaping services, don't include information about snow removal. Or, if you're writing a blog about outdoor kitchen design trends, avoid getting too off topic by talking about landscaping trends.
Keep your content focused on one main topic, and use that topic as your target keyword for the page. This helps Google when they're crawling your website determine what the page is about.


3. Use Keywords Where It Matters Most
When you're optimizing your lawn care and landscaping website pages, there are certain areas that should focus on. This includes:
Page title or blog title:

Should be 50-60 characters and include your target keyword

Headlines:

Are found within the content and should contain supporting keywords

Content:

Avoid overstuffing your content with keywords, but make sure all of your target and supporting keywords for that page/blog appear at least once

Image name:

Should include your target keyword

Image alt text:

A short sentence that includes an overview of your page's content and should include a target or supporting keyword

Meta description: Should be around 150-160 characters, include an overview of what the reader can expect from reading your content and include the target keyword. Your meta description should be different for every single page


(RELATED READING: 7 SEO Quick Fixes For Your Lawn Care And Landscaping Websites)


4. Use A Permalink Structure That Includes Keywords
Some websites have odd permalink structures that use numbers or random letters to identify their pages. An example of this is www.your-domain.com/?pg-4611.
Not only is this bad for SEO, it doesn't look good or help visitors understand what your page is about. Instead, use a URL structure that includes text, and make sure to include keywords in your URLs. For example, if you're writing a services page about outdoor kitchen design, your URL could be www.your-domain.com/outdoor-kitchen-design.
Another important tip: separate multiple words in a URL with hyphens (-) rather than underscores (_).


5. Make Sure Your Website Structure Is Organized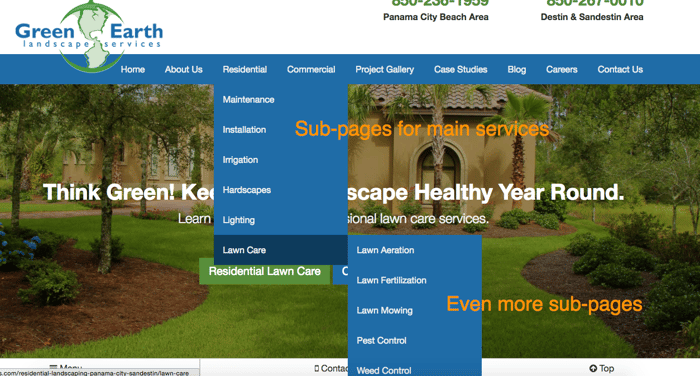 The way you organize your lawn care and landscaping website's architecture and navigation is critical to both SEO and your visitors. Search engines go through a link structure to find and index pages. If your site is structured in an organized way, all of the pages will be easily found and indexed by search engines.
Additionally, an intuitive navigation menu helps your visitors find what they're looking for in the least amount of time. The "three clicks rule" says that any information on your website should be available to a user in three clicks or less. Don't waste a visitor's time by making them dig for the information they want.


6. Write For Humans, Not Google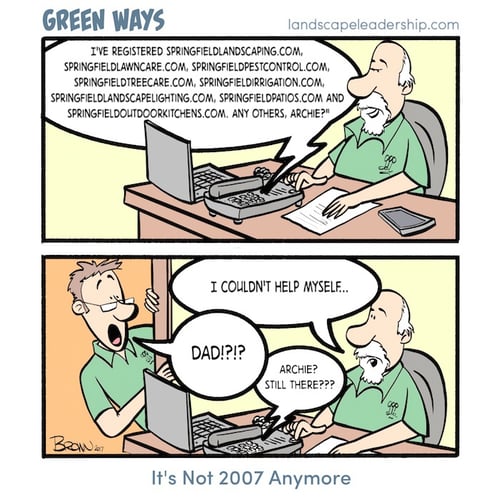 At the end of the day, you're writing for humans – not Google, Yahoo, Bing or any other search engine. Make sure your content is valuable by answering the questions your audience has and addressing their needs, pain points and challenges. Don't over-stuff your content with keywords, and make sure your writing is natural, clear and personable.
While there's no magic wand for getting your landscaping and lawn care website to rank in search engines, it is possible when you put in the work. SEO is a process, so don't be surprised it it takes some time to rank and optimize your pages for the right keywords. But by following these six on-page SEO tips and putting in the effort, you'll be well on your way to ranking in search engines.


Photo credit (top): Bryan Clayton