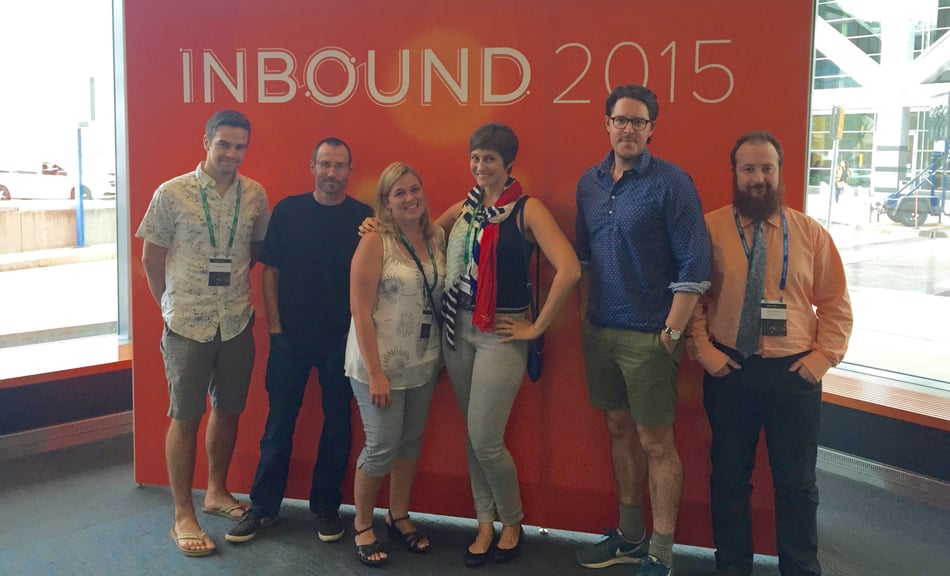 Well, another year of HubSpot's annual marketing conference, INBOUND, is in the books.
And while Chris and I had attended the previous year, our newer teammates Pete, Pamela and Emmett were first timers in 2015.
I remember being beyond overwhelmed — a hilarious combination of deer in headlights and chicken running around with my head cut off — when I stepped into the Boston Convention & Exhibition Center in 2014. (It's a maze of hallways, walkways that criss-cross the conference center by means of confusing shortcuts, rooms designated with letters and numbers.)
I was determined not to let that happen to us a second year in a row.
So before the Landscape Leadership team left our respective cities to meet up in Boston, we dedicated one of our regular weekly meetings to all things INBOUND.
We built session agendas, mapped out routes through the conference center, even downloaded the GroupMe app to keep in touch via group texts so we could meet up back in Club INBOUND during our breaks.
And when we returned to our desks and I asked for follow-up thoughts on the conference, no one was short on insight. Here's a look at five Landscape Leadership team members' favorite INBOUND sessions and takeaways from each.
Pamela Weir, content leader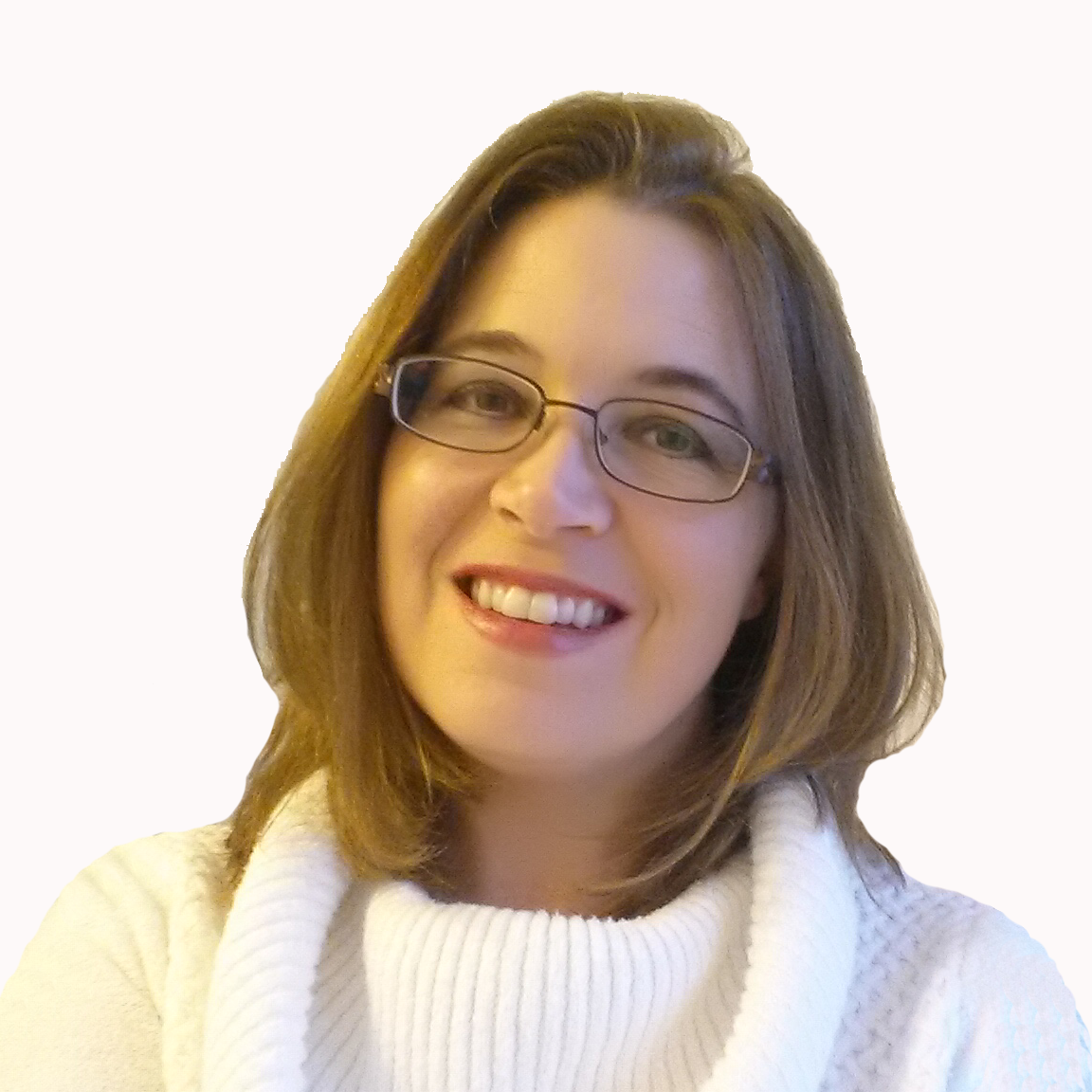 Pamela was my roommate during INBOUND, so we spent a lot of time talking — though it was mostly about our favorite shows on the Food Network, and the political differences between Canada and the United States.
I was eager to hear her perspective on the sessions she attended, as the head of content for several of our clients.
Ain't No Customer Like A Zombie Customer: Using Great Service To Create Rabid Fans
According to Shankman, people use social media for two purposes: They need to thank someone or they need to share their experiences (good or bad). Peter Shankman, a marketing and customer service futurist, said "zombie" customers are created when you add random amazement to normal situations.
His recommendation: "Do something nice without asking for anything in return."
Deep thought

: Whether answering customer questions purely to provide insight and information, or delighting your customers in another way…when's the last time you created a zombie?
Transform Your Strategies With Better Research
Tara Hunt talked all about how to use research to better inform your marketing strategy.
She described STEPPS, the vastly different reasons people share content (based on research, of course):
Social Currency
Triggers (familiar)
Emotions
Public (tribe)
Practical
Story
Generational labels are too limiting, she said; stop focusing on demographics and start focusing on psychographics.


Another takeaway, a good lesson for marketers and green-industry companies alike: Your competition might not always be direct — you are competing with everyone.
By the way, her slide deck is online if you're interested in reading more about her presentation.
Deep thought: Always be thinking about who else is trying to get your customers' attention (and hard-earned money!).
Hungry For Better Content: What The Mighty Hamburger Can Teach Us About Repurposing & Personalizing With Modular Content
Lee Odden had a lot to say about creating content for today's digital consumer. Just a few of his thoughts:
The consumer content journey isn't a straight path, so you should always show customers what to do next.
Don't rely on only one or two types of content to lead customers down the path you want to create.
Micro content is easier to digest and share. (That doesn't mean micro content will replace longer-form content, but if shares are what you're after…it may be something to consider!)
Deep thought: How can we work together to create compelling conversion paths that lead to new customers for you?
Pete Mihalek, content leader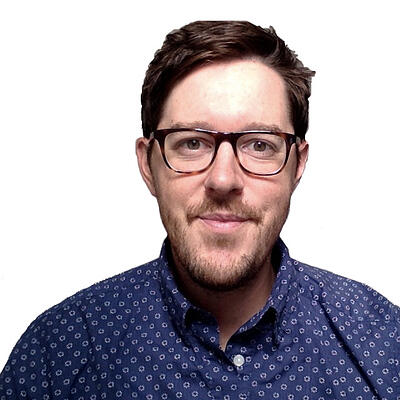 For Pete's first time at INBOUND, he was especially stoked to see a couple of sessions touting ways to deal with older content. He's responsible for a couple of legacy clients at Landscape Leadership who have tons of content — but some of it could use some work.
Did he find the solutions he was seeking?
Seven Reasons Even Your Mom Would Ignore Your Email
Pete attended one of HubSpot's deep dives into email marketing analytics. Led by HubSpot's Tom Monaghan, the presentation was based on HubSpot's analysis of more than a billion emails and 100,000 email campaigns with more than 100 sends.
Here were some of the findings from their study:
Monday and Saturday are the best times to send — and contrary to popular belief, late afternoons (from 5 p.m. to 7 a.m.) are successful, too.
If contacts haven't opened your last three emails, take them off your list! They're not going to start opening them now.
Stop using these four words (and no exclamation points, either):

Incentive
Urgent
Giveaway
Free
Deep thought: Do these findings line up with your experience? When's the last time you shook up your email marketing a little — even if just by sending an email at 5 a.m. instead of 5 p.m.?
18 Hard-Earned Lessons From the Trenches of the HubSpot Blog
Corey Eridon is a managing editor at HubSpot, so she's been part of a lot of publishing efforts. Here are some of her recommendations, based on her time "in the trenches":
Don't worry about this week/month: 76 percent of blog views come from blogs from the past (more than a month old)
On top of that, 92 percent of leads came from past blogs (more than a month old).
Got some older content that's performing well? Double down! Get more bang for your buck by putting a new buyer persona twist on that successful evergreen content.
Deep thought: It's time to lose the mentality of "blog as immediate sales tool." If you play your cards right with Google, the articles you publish online are going to work much harder for you with time. Inbound is all about the long game!
Optimizing the Past: How to Get More Traffic & Leads From "Old" Blog Content
Pamela Vaughan is HubSpot's manager of blog optimization & growth. She offered some great ideas on how to freshen up old content and keep it working to generate more traffic and leads.
Updating old content has become a top priority at Hubspot. Google rewards freshness, and you can actually build off older posts' existing search authority for an even stronger post in the end.
Pamela suggested identifying old posts with ranking potential — using keywords highlighted by HubSpot's keyword tool — and adding text-based call-to-action near top of article using keywords.
Want to know more about the fountain of youth for blog content? Check out Pamela's slides.
Deep thought: You don't need to cover the same angle of a topic multiple times just to stay fresh for Google. Why reinvent the wheel when you could add just a little love (and keywords) to give it super performance powers in the future?
Emmett Hughes, account manager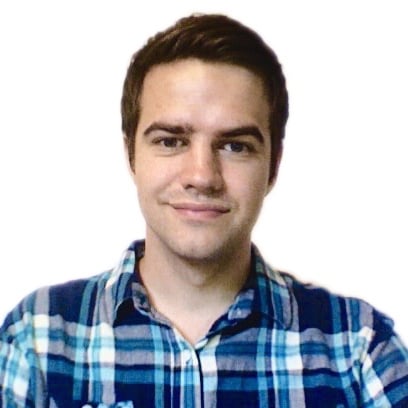 Emmett's energy kills me (in a good way). He was so jazzed from the moment we told him we wanted him to join us at INBOUND, and he tackled his agenda building like an Olympic event.
His recaps were so full of info, I'm just going to share them word for word.
Mobile Conversion Strategies
Tim Ash of SiteTuners, who literally wrote the book on landing page optimization, spoke at length on how to convert mobile users.
Mobile is dominating the way that the population searches for and consumes content. It's time to stop designing for a desktop user and start designing for the mobile user.
A good rule of thumb is to do the greatest good for the greatest number of people when designing. Don't be afraid to piggyback on well-known convention — stick to what works with mobile!
Deep thought: Are you creating content with a mobile first mentality? Or are you stuck in the era of the flip-phone?
Good Content Vs. Good Enough Content: A Fight for Sore Eyes
Ann Handley, chief content officer of the amazing industry resource MarketingProfs,
Emmett went because with more fish in the marketing sea than ever, it's important that content isn't just "created" — but that it's created with purpose.
The three keys to great content are "bigger, braver and bolder." Don't play it safe with your content; tell a bigger story, one that people care about. If you can do that, you can win your audience.
Content should:
Attract the like minded
Repel the timid
Say boring stuff in interesting ways (Editor's note: Hello, grub treatments and fall fertilization!)
Deep thought: If the logo fell off your website, would you still recognize the content?
The Superhuman Art of Predicting the Future
I mean, wouldn't you attend this session? Predicting the future sounds pretty freakin' awesome. The presentation wasn't actually about how to be a modern-day Nostradamus; Rohit Bhargava instead talked about how in the future, to move from noise to meaning, you'll have to curate an experience.
His talk holds true to content creation as well. You can't always just expect a reader to find meaning in what you write, BUT if you add the right tone and feel in the right areas, you will create a deeper meaning in your copy — and cultivate a better understanding of it.
Quick and dirty tips to get that right tone and feel:
Be observant
Be curious
Be fickle
Be thoughtful
Be elegant
Deep thought: How does your business offer a unique tone and feel in your content? Do many people within your organization contribute to and lend color to the content you create? If not…why not?!
Paige Worthy, client services director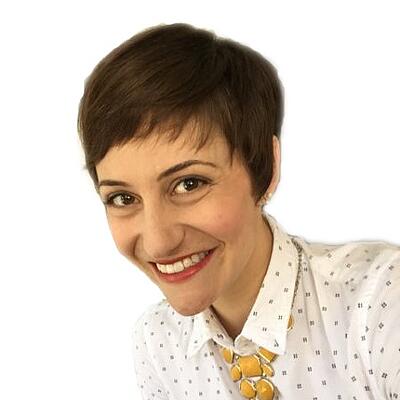 My INBOUND learnings were a bit softer. I didn't attend many sessions that interpreted reams of historical data or taught how to whip your content into shape.
As I move more into my role as client services director — which has many human resources and operations aspects as well — I attended sessions about company culture, attracting and retaining top marketing talent, and using inbound recruiting to get them.
But my favorite takeaway from INBOUND was about vulnerability, authenticity and communication. Brené Brown's morning keynote really blew me away, particularly her idea of stories we make up.
The gist: When there's friction or difficulty in a relationship, we have a couple of choices. One is to accept vulnerability, confront it head on and communicate about the situation. The other is to make up a story in our heads about what the other party is thinking, what their motivation is…a choice that can end in heartache, or at least a lot of misunderstanding and bellyache.
When you think of it that way…which would you choose?
I decided during Brené's presentation that I'm choosing communication and clarity in all scenarios moving forward.
Deep thought: Seriously, if you haven't taken the time to watch Brené Brown's TED Talk, spend a lunch hour taking it in and digesting it.
Chris Heiler, president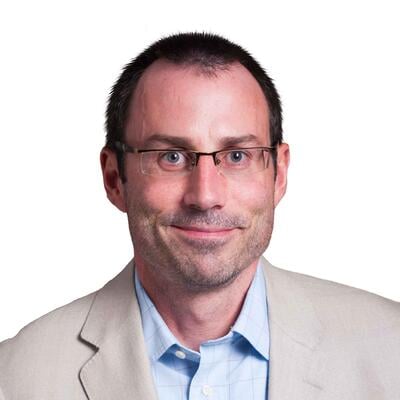 As with my experience, Chris's takeaways were bigger picture as well, and really tied to the process of building and growing our agency.
Here are his thoughts.
The best session I sat in on — and the one that had me most excited — was with David C. Baker of ReCourses. He just scratched the surface highlighting the best practices to staffing a marketing agency. I'm looking forward to learning more from him down the line. I already bought his book!
It's pretty clear that all HubSpot partner agencies are trying to figure out how best to deliver sales enablement services to their clients. This was a hot topic.
HubSpot is clearly looking for new ways to generate revenue from their existing users; one of their major announcements was the release of two "add-on" products that offer new features, sure — but also add more cost. I'm not wild about this move.
More Highlights From INBOUND 2015
There were a lot of opportunities for fun beyond the session rooms:
Savoring free chair massages in Club INBOUND; sampling food truck fare from some of Boston's best during lunch; hanging with our agency buddies Marcus Sheridan, George B. Thomas and the rest of the team at The Sales Lion during their "fireside chats"; and celebrating Pete's birthday with Boston Cream Pie (in the restaurant where it was invented at the Omni Parker House).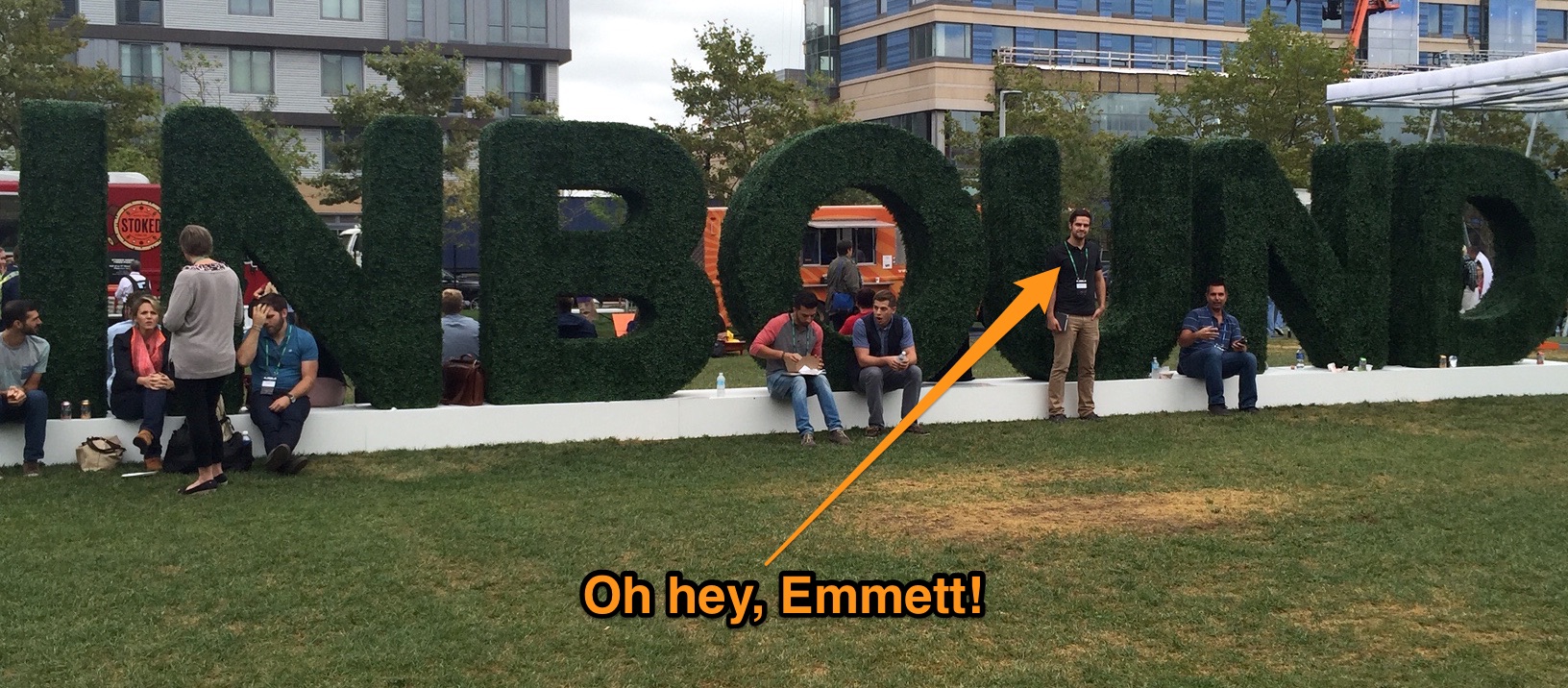 Chris and I agree that some of the best parts about INBOUND didn't even happen within the conference center.
One, it was the perfect excuse to get the team together. Having the majority of our staff in one physical place (we missed you, Lauren!) gave us some much-needed face time. Video chats and animated GIFs can never replace talking, laughing, sharing meals and just being in the same room.
And speaking of face time: Two of our clients also attended INBOUND in 2015. As rare as it is to spend time in person with our teammates, it's even rarer to get to do so with clients. It was great to have an opportunity to hang out with them one-on-one, especially for other team members who have never met them face-to-face.
As this post is already clocking in at 2,200-some words, I think it's pretty clear we could go on and on about our INBOUND 2015 conference experience. But I'd rather end here, so we can all get back to work putting what we learned to work for ourselves and our clients.
(Whew!)