My 7 Favorite Ways to Use Photos on Lawn Care or Landscaping Websites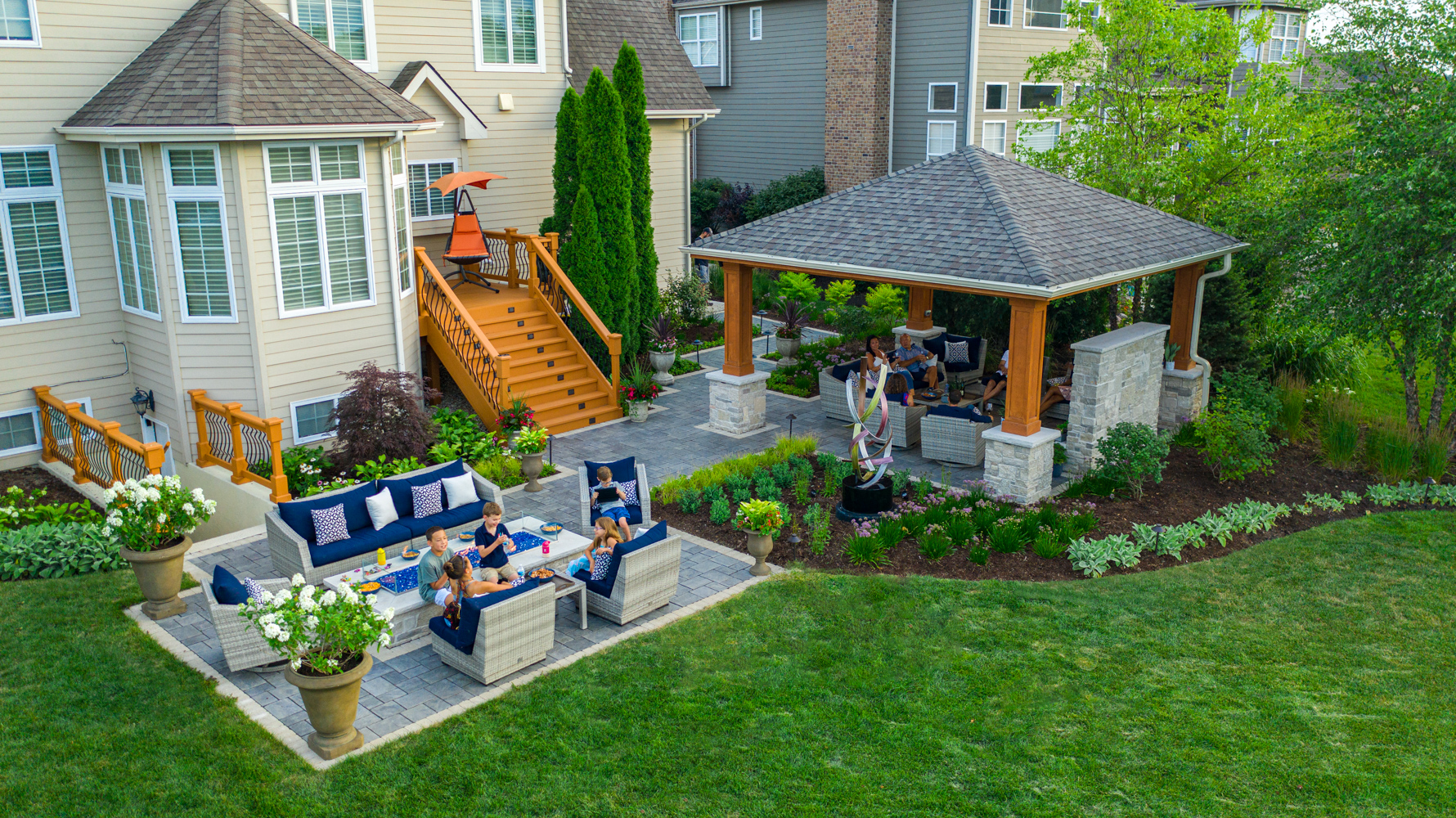 The best lawn care or landscaping websites are packed with beautiful photos. Thick, green grass. Masterfully-designed outdoor living areas. Pristinely manicured commercial properties.

And even though that's what you sell, don't forget about the people. The clients, designers, account managers, and hard-working crews and support staff that make this all possible.

If you're like the many busy business owners I talk to, getting more pro-quality photos may have been on the back burner longer than you'd like. Or maybe you have a ton of great visual assets. But for some reason, they're not easily found on your website.

If you'd like to create a captivating lawn care or landscaping website packed with images, check out these tips. And, I'll be sure to share lots of great examples for you.
1) Hero Images
Heroes don't always wear capes. On the best lawn care and landscaping websites, they're the first visuals that greet visitors on a page.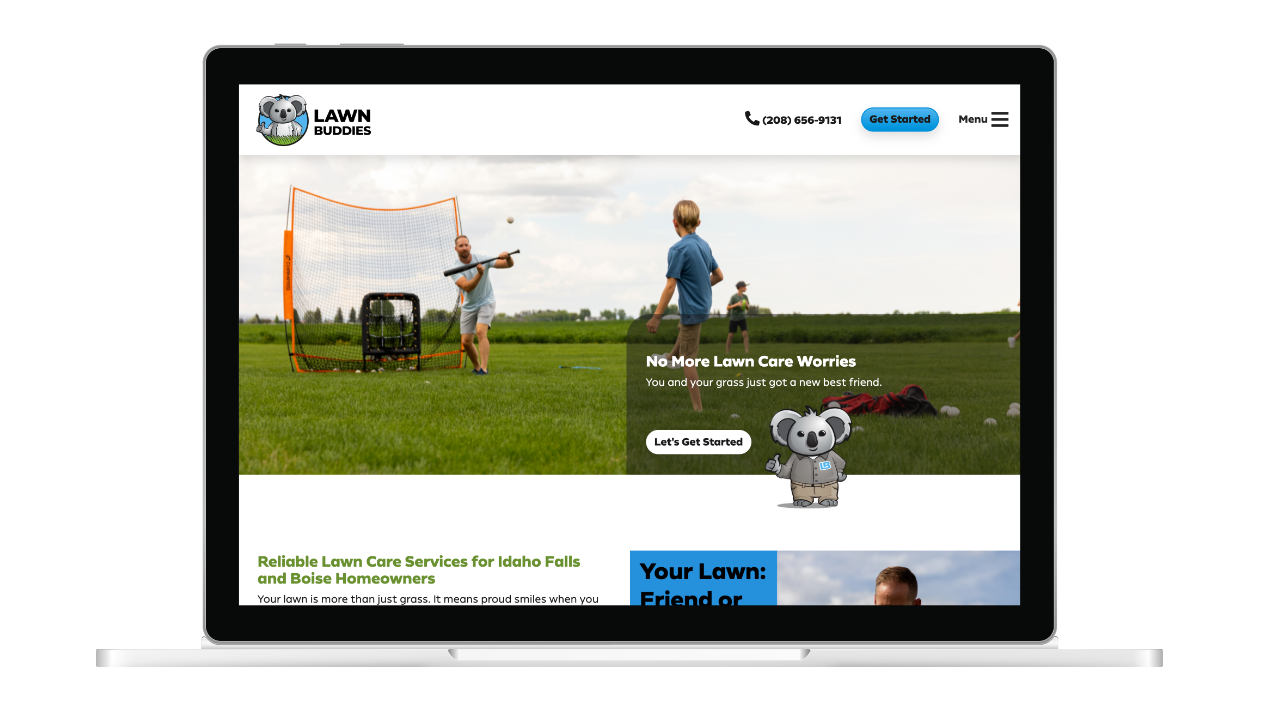 In the example above, we planned a professional photo shoot with some of Lawn Buddies' clients. You may sell lawn care services, but these moments are really what clients buy!
Full-width in all their glory, these images set the tone and expectation about the page's content. But most importantly, they can deeply connect with the website visitor.

Just imagine showcasing a family on a perfectly manicured lawn. Feel the cool breeze under the trees as you take your lunch at that corporate office complex.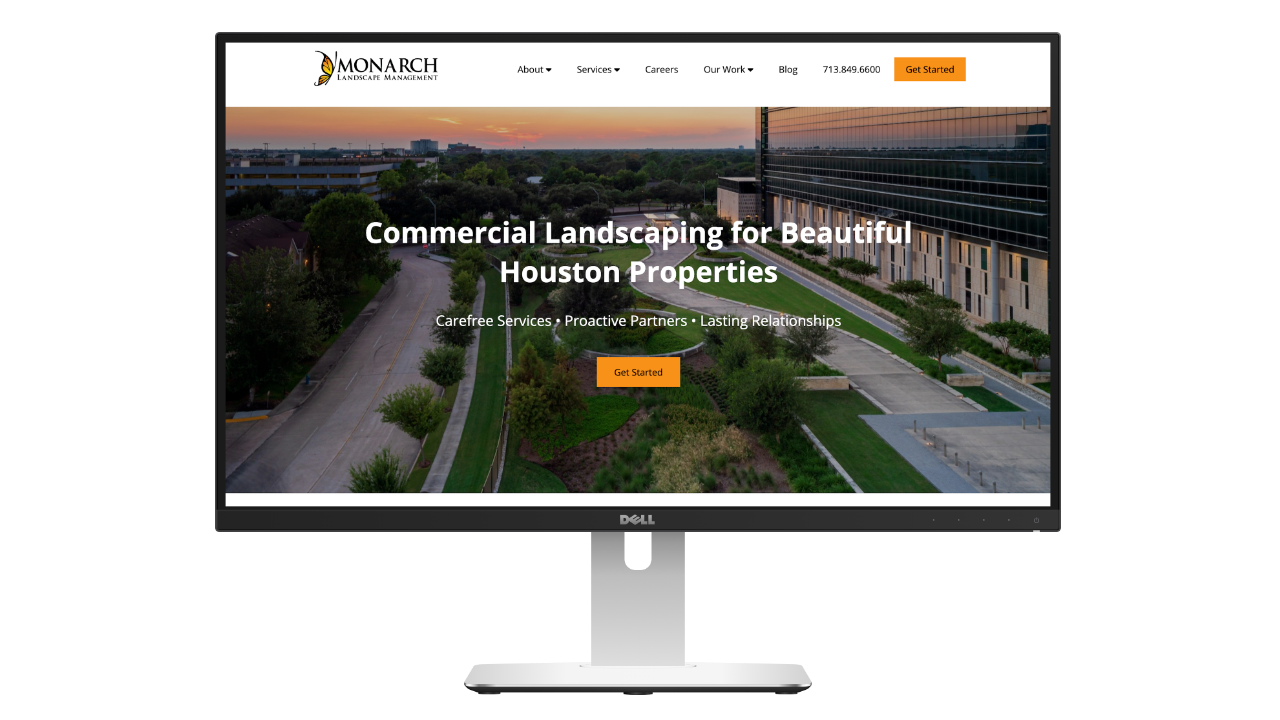 For the Monarch Landscape Management website, we captured stunning professional images of the beautiful properties they service. These wide shots are a great backdrop for minimal text.
Pow! First impression made. I often recommend using the real hero (your clients) in these images. People love to see authentic images of customers' lives you have improved.
2) Image & Text Split Modules
As you scroll down from the full-width hero image, the written content starts to explain more. These split modules are the Ying-Yangs of website design. Perfect balance. Half text, half image.
Below is how we broke up images and text on the desktop version of the RainMaster website. Notice how the image helps visitors to digest small sections of text with a visual illustration.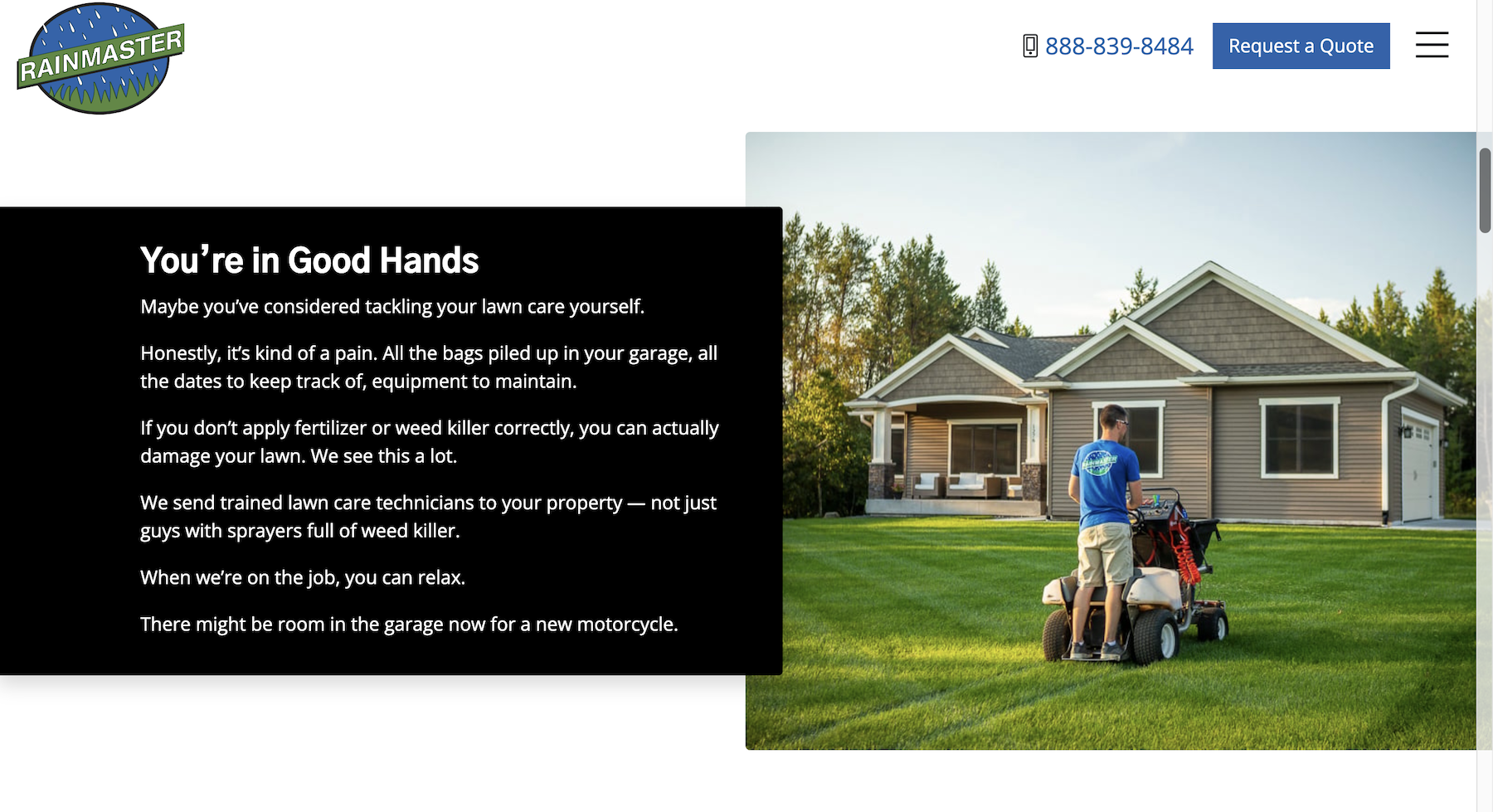 On desktop computers, they sit side by side, with each image complementing its textual counterpart. You can even alternate the position of the images as you break up text sections into delicious bite-sized morsels.

Mobile users? The split image layout stacks, offering a seamless flow between imagery and info.
Below is how this page responds on a mobile device.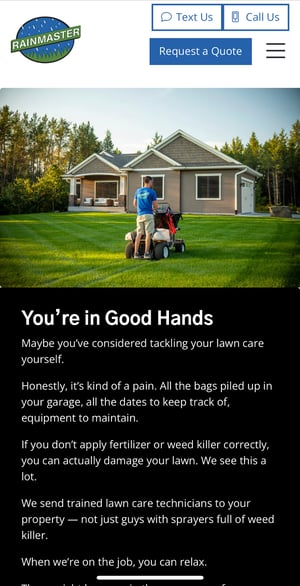 3) Image Cards
These little clickables (often with snappy images) guide your visitor deeper into the rabbit hole of your services or other info. Pique their interest with a visual snippet of what's to come, like a team member performing a specific service.
Watch the video below to see how you can use images as quick links to other pages. I love how we were able to repeat the shape of the Seacoast Turf Care logo in these image cards.
4) Image Collages
Who said landscaping and lawn care businesses can't be artsy? Tease your visitors with a splash of your best work: a beautiful blend of 4-6 images, subtly nudging them to explore more.
Watch the video below to see how these image collages really helped us to create some visual interest on the Yellowstone Landscape website.


Throw in a nearby button to "See More Images" and guide them to my next idea.
5) Dynamic Image Galleries
Let's get interactive! If you're still stuck with those archaic individual galleries, it's time for an upgrade.

Think filters. Consumers are used to going to a website and being able to quickly sort products to see exactly what they want.
Dynamic image galleries allow the aspiring grillmaster to select and see only the pics of the regal outdoor kitchens you've created.

Or showcase your mastery over a specific commercial property type like an HOA. Dynamic galleries make it a breeze.
Watch the video below to see how the Dynamic Image gallery on the Level Green Landscaping website allows property managers to sort through their library to see images of a certain property type.
6) Testimonials & Case Studies
Words are powerful, but a picture alongside a testimonial? That's dynamite!

The next time Mr. Jones raves about your impeccable service, why not showcase that majestic oak you pruned to perfection right beside his gleaming words? Or even better, get a picture of him!
Below is an example of how we featured client testimonials on the Limbwalker Tree Service website.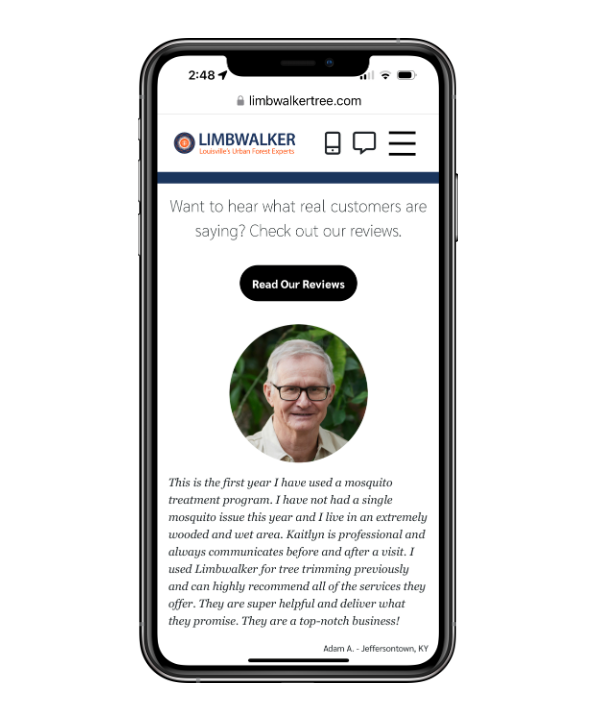 When a property manager participates in a case study article, put their beautiful smile right by their name, along with images of your team working on-site.
Below is an example of one of the many case studies we've created for Level Green Landscaping. Adding a headshot of the client helps to add a lot of authenticity to this article!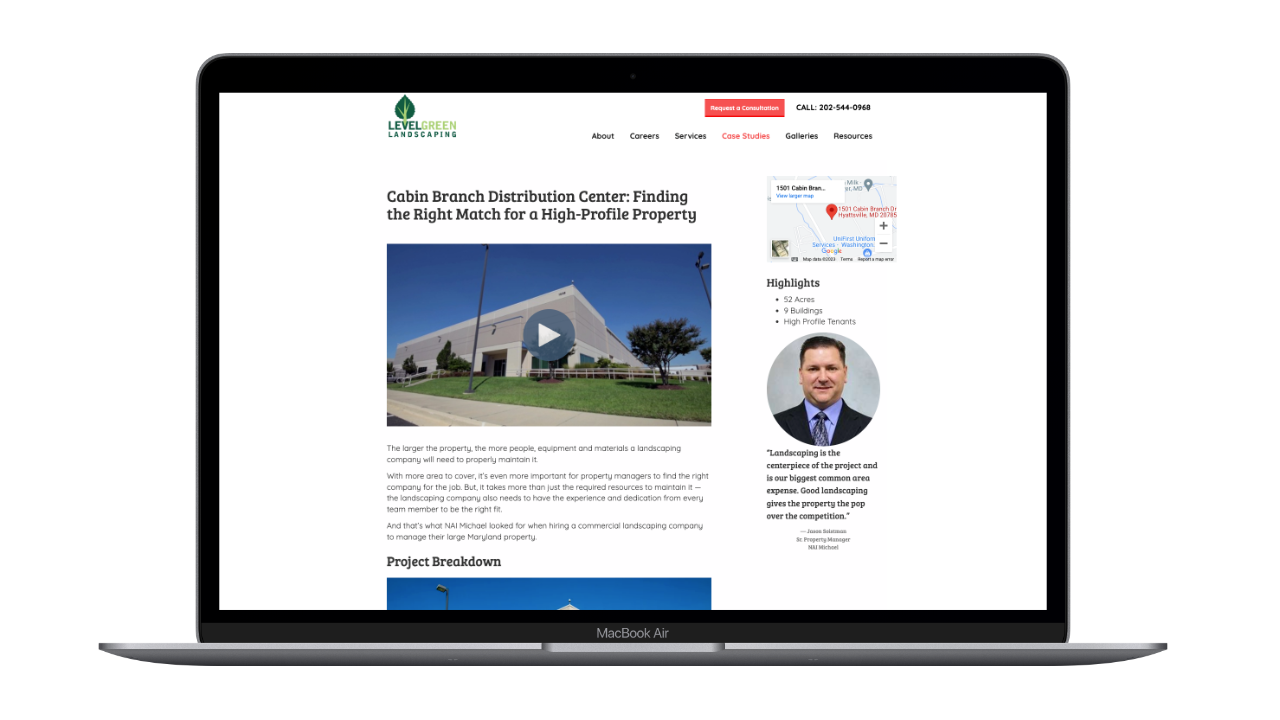 7) Blog Articles
For those landscaping and lawn care maestros aiming to educate (that should be all of you!), don't just tell; show!
Watch the video below to see how images add visual interest to the Joshua Tree Experts blog and can create a more immersive experience for the reader.


Whether you're discussing a common lawn ailment or the newest landscaping trend, vivid visuals can cement your points, making readers linger and—hopefully—fill out a web form!

Bonus Tip: Google often ranks website pages with a longer "dwell time". Adding images to articles is a great way to go from an average 1-minute skip-and-bounce to a 7-minute educational feast.
Photos, Making Your Lawn Care & Landscaping Website Sizzle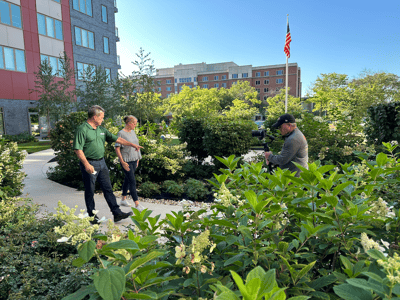 People love great images. They give a quick and powerful representation of your brand and help curious consumers become ideal clients.

In the grand theater of lawn care and landscaping, your website is your stage. Don't just be another face in the crowd with cheesy stock photos or those sad DIY attempts. Be the star. Invest in professional photography, and remember: it's not just about having the snaps; it's about how and where you flaunt them.

If you'd like more lawn care or landscaping website tips like these, subscribe to our blog. Be sure to also check out the free resource below. And if you're ready for an upgraded image with pro images and a custom lawn care or landscaping website, feel free to request a consultation.


Image Source: KD Landscape