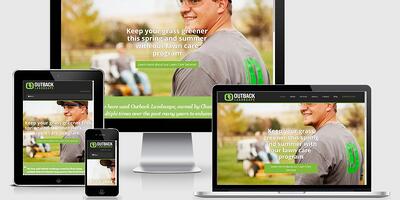 As the lawn and landscaping market becomes flooded with an increasing number of competitors, your brand identity is more important than ever before. It's your brand that represents who you are, as well as what you can offer customers, and it's that identity that can be a differentiator.
If you've done a good job at branding, prospects can recognize you by your logo一and maybe even your font or colors. So often, lawn and landscaping companies who have done an excellent job at branding tell us that their vans driving around town or their team members wearing branded uniforms一or even their building or signage一is doing a tremendous amount of passive marketing work for them.
Prospects feel like they already "know" the company, even if they've never used their services before. Good branding tells a story about who you are before you've ever even picked up the phone or answered a prospective client's email.
Unfortunately, many lawn and landscape companies are finding that their brand's impact is not what it could be一not necessarily because they haven't created a brand but because they haven't created a brand style guide.
We've found that a brand style guide is often the missing piece when marketing assets are inconsistent and the company's brand isn't doing what it should.
What is a Brand Style Guide?
If you've never heard the term before, a brand style guide is a document that contains the specifications on everything that plays a key role in your brand. You might think of it as a "rulebook," as it's often called in the marketing world. But it's essentially all of the standards that should be followed related to the use of your brand.
This is a document that every single company should have.
And while we can't emphasize that point enough, the truth is, most lawn and landscaping companies do not have a brand style guide. In fact, many might not be familiar with what it is. But hopefully after reading this article, you'll understand why it can benefit your business to create this relatively simple document.
What's the Big Deal About a Brand Style Guide, Anyway?
As we've already alluded to, the problem with not having a brand style guide is that the marketing efforts by your company often end up being inconsistent. Whether you're mailing out a postcard or you're investing in a billboard, if the overall look and feel of your marketing efforts lack cohesiveness, it can have a detrimental impact on brand recognition.
At the end of the day, the whole goal of branding is brand recognition, and ultimately, differentiation from your competitors. You want prospective clients to feel like they know who you are一and you want them to pick up the phone or shoot you an email because of that. In this way, brand recognition does a tremendous amount of "behind-the-scenes" marketing work for you.
But those efforts are going to fall short if you lack consistency.
You must have consistency if you're going to build brand equity in your market.
And the only way to ensure that you have consistency across all of your marketing assets and channels is to have this brand style guide available. It should be used by anyone who is handling marketing for your company in any capacity. That would obviously include your marketing department or agency but extensions of that, as well.
Your graphic designer, your photographer, the reporter writing an article about your company一all of these professionals can benefit by having a copy of your brand style guide.
Who Should Have a Brand Style Guide?
All lawn and landscape industry companies should have a brand style guide whether they are big or small. It also doesn't matter if you are a brand-new company that is just starting out or you're established and have been around 20 years.
If it's the latter, you might assume this isn't worth doing unless you're rebranding. But a brand style guide is a valuable tool that is going to enhance your marketing efforts and create cohesiveness where it might have been lacking. If you feel like your brand isn't doing the work it should be, a brand style guide is an easy first step.
What Should be Included in a Brand Style Guide?
A brand style guide does not have to be complex but there are some key elements that should absolutely be included. Ultimately, the goal is to be able to demonstrate how your brand assets (i.e.- logo, fonts, etc.) should and should not be used.
The following elements are all instrumental in that effort.
Your Brand Colors
Consistency in colors can definitely strengthen brand recognition. So, whether you're having a postcard created, wrapping a vehicle, or maybe even placing an ad in a magazine, you want to make sure that the colors that you've chosen for your brand are the only ones used.
Font/Typography
You also want to include font details in a brand style guide so that the correct font is used. Again, it all circles back to brand recognition. If you have completely different-looking fonts on your website, billboard, and postcard, you aren't getting the brand recognition power that you're seeking.
Tagline
The brand style guide should also include your company's tagline. Ideally, it helps to have a short tagline and a longer one, as these are often used for different purposes. For instance, a short tagline may be used in your logo and on your vehicles. The longer tagline may be used on your website and printed marketing collateral.
Language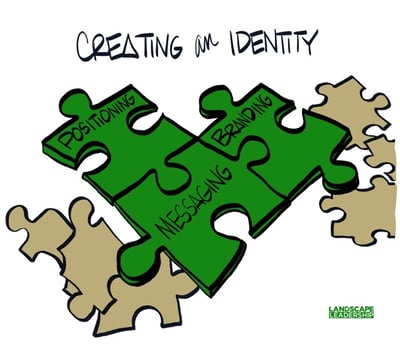 The overall language that's appropriate to use when talking about your brand is also helpful to cover in the brand style guide. If there are certain words you do not want to use when describing your brand, you can list them – and their alternative – in your brand style guide. Perhaps you don't want to use the word "landscaper", preferring "landscape contractor" instead. Add this to your brand style guide.
This is all part of your company's overall messaging.
Who Should be Involved in Creating the Brand Style Guide?
The thought leaders at your company should be involved in the creation of your brand style guideーincluding, of course, anyone who works on your marketing efforts. These are the folks who have a good understanding of your company's branding efforts and what you're trying to achieve.
The fact is, a lot of lawn and landscaping companies already have this contentーit's just never been formally put into a single document. And, there could be areas that haven't been delved into (making this an opportunity to do just that). For instance, maybe you've had a general idea of brand colors but haven't been totally consistent in using just the right ones. Each color has so many shade variations.
This is an opportunity to pin down the specifics.
But in terms of the actual creation of this guide, it can be accomplished by a graphic designer. This is something that any graphic designer should already be familiar with and will know what you're talking about when you ask.
How Much Does a Brand Style Guide Cost?
The answer to this question depends upon what you're looking to achieve.
If you are an established lawn or landscaping company and you just want to formalize your brand standards with a document (like we've talked about above), you could hire a freelancer on a site like 99designs or UpWork and probably pay as little as $500. Perhaps even less than that.
But if you are a company that is going through a rebrand (or you are a brand-new company), then the style guide is likely to be one part of a total branding project. If that's the case, you should expect to pay at least $5,000 for a basic branding package that will include this style guide.
Getting Started
The bottom line is that a brand style guide is a powerful tool that every company should have at their disposal. It's the glue in your company's cohesive marketing strategy. It's just too important to overlook.