I've attended my fair share of green industry events.
As managing editor of Lawn & Garden Retailer and GPN magazines, I flew to California for a whole week of plant goodness at Pack Trials, traveled coast to coast for two garden center bus tours each year, and experienced Short Course, the IGC Show and other trade shows for several years.
But as wonderful as those trips were for networking, education and just plain taking in the beauty that's so easy to take for granted when you work in our industry, they couldn't hold a candle to what I experienced in July: PLANET's Renewal & Remembrance.
This was my first-ever PLANET event — though it certainly won't be my last — and what an introduction it was. If you're not familiar with it, Renewal & Remembrance is a day where more than 400 green industry professionals fan out across Arlington National Cemetery's 624 acres to spread lime and gypsum, provide other lawn care and maintenance services, and even care for the beautiful historic trees that shade visitors and protect Arlington's hallowed grounds.
Shadowing our clients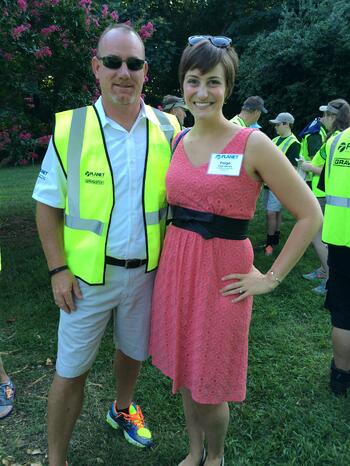 I was at this event as a representative of Landscape Leadership, but I also conveniently got to tag along with two clients in attendance: HighGrove Partners CEO Jim McCutcheon, who's also PLANET's 2014-2015 president; and Schill Grounds Management CEO Jerry Schill.
Jim McCutcheon had made the trip from Atlanta with his wife, Erin, who's also HighGrove's CFO…talk about a power couple! You can read Jim's blog about Renewal & Remembrance — and watch video of his opening address in the cemetery's Old Amphitheater — on his Year in the Life blog; HighGrove's also got a recap posted on their site.
Jerry Schill (show in photo with Paige) traveled from Cleveland with a serious posse: his fiancée, Krista (congratulations!), four kids and two dedicated Schill employees. Schill's reflection on the event is live on their website.
Offering sweat equity
My father's father is buried at Arlington National Cemetery. He was an Army Lieutenant Colonel, and I took a bit of time to visit his space in the Columbarium while I was there.
But I hadn't truly experienced Arlington until the day of Renewal & Remembrance.
Everyone I talked to that day had a story to share about a friend or loved one they'd lost, something they'd experienced while serving the country in their own way, or simply that humble feeling of playing a small part to keep the grounds beautiful in memory of those who had made the ultimate sacrifice.
("Ultimate sacrifice" can feel like an eye-roller of a term, by the way, until you're surrounded with thousands upon thousands of headstones, each one representing someone who lost their life protecting our country and our freedom. Then there's no other way to describe it. Think about it.)
Everywhere I went that day, I saw PLANET members giving everything they had to care for those grounds. Seriously — their neon yellow vests were everywhere, pushing spreaders up and down the hills, aerating, cabling trees…I was so proud to be part of that group.
Following the next generation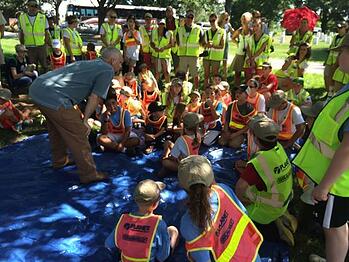 I spent most of the morning following the Children's Program throughout the grounds. We piled on and off two buses, often stopping for 15 minutes at a time to wait for a funeral procession to go by. (There are up to 30 funeral services every weekday at Arlington.) The kids were incredible to watch that day; their parents had obviously briefed them before the trip on what an important day it was and how to act while on the grounds.
They squirmed a little as the Changing of the Guard took place at the Tomb of the Unknown Soldier, and they watched respectfully as two children from our group got to be part of a wreath laying at the tomb. Then, inside the amphitheater behind the tomb, they politely asked questions of the off-duty guard — like "What happens if you have to pee?" — when given the chance.
Then, after fruit snacks and Goldfish crackers, they got to work. We got off the buses one last time in a small corner of the cemetery, where the kids split off into three groups to offer their own pint-sized sweat equity.
Roger Phelps (@uphelpsr), who works with STIHL, got choked up as he talked to the kids about what an important service they were providing. He reminded them — as well as all the parents, volunteers and me — that each name on each headstone they saw represented a real person who had died after serving their country. The kids were never so quiet as they were at that moment.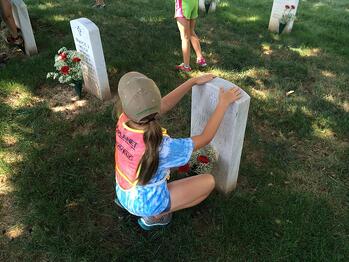 They first settled onto a tarp and made baby's breath and carnation flower arrangements to place on two rows of graves. Another group planted tall grasses on a hillside to prevent erosion in an area of the cemetery that's been plagued with it — they also got to see how much the grass they'd planted the year before had established itself. The third group planted milkweed in a butterfly garden designed to be a pit stop for Monarchs — I can only imagine the peace those butterflies will bring to cemetery visitors, whether visiting loved ones or just passing through.
I'll be honest: I expected a lot of goofing around, a lot of yelling, a lot of cartwheels between gravesites. But I saw none of that. What I did see: a pretty incredible group of young people who are going to be incredible assets to this industry when they get older. Those kids were such hard workers and already so aware of what good the green industry does for the world around us.
Renewal & Remembrance: short and [bitter]sweet
It's hard to believe so much could be accomplished in such a short time, but the buses started to head back to our hotel by about 1:30 p.m. — which arrived in the blink of an eye.
After a well-deserved lunch, many stayed behind for the afternoon, taking the opportunity to appreciate the grounds they'd just spent the morning toiling on.
Jim McCutcheon's opening address that morning revolved around "simple decisions," and for me, returning to Renewal & Remembrance in future years will be one such decision. I'm so lucky to be part of an industry that gives back like this.
The hard work PLANET volunteers did during our short morning of Renewal & Remembrance barely scratched the surface of those hallowed grounds' lawn care and maintenance needs, but the opportunity to be part of caring for Arlington National Cemetery is one so few get to experience. Despite the sunburns, bug bites and exhaustion I'm sure many felt after their work that day, I don't believe anyone regretted their simple decision.