WORKSHEET: The 20 Most Important Local Business Directories
There are hundreds of online business directories where you can add your company's information. This worksheet lists the 20 most important and relevant directories your company should be included in.
Listing your business in these local online directories will:
Increase the number of local consumers who find your business online
Help boost your search engine rankings by linking back to your website.
Download our free worksheet and stay organized!
The worksheet includes the Alexa Ranking and Google PageRank for each directory as well as a link to the sign up page on each site. You can add the activation date, username and password to the worksheet as you add your business to these directories over time.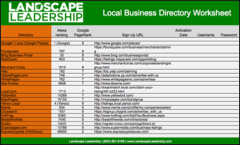 Download this free worksheet to keep all of your company's online business directory listings organized.