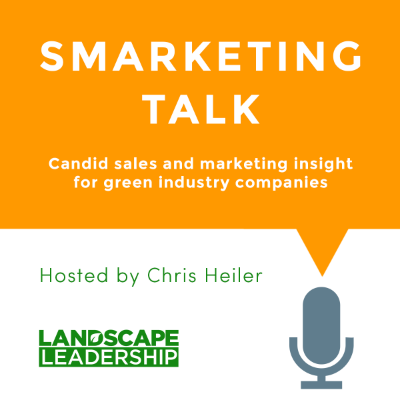 Over the past year or so I've been recording and sharing my personal insights on sales and marketing in podcast format, delivered to your inbox as Smarketing Talk.
In this time I've published 15 episodes. I know, I know, not real impressive :-) Most successful podcasts (meaning people actually listen) are published weekly. To say I've fallen short of that would be an understatement.
I personally have a really hard time adding more recurring tasks to my already long weekly to-do list. I'm sure you know the feeling.
But I really do enjoy sharing these podcasts with you and getting your comments and feedback. So I've decided to do something a little different. In fact, I don't know of any other podcasts that do what I want to do. (Note to self: Maybe that should be a red flag?)
I'm not going to commit to do a weekly podcast. Instead, I'm committing to doing a "season" which will consist of seven unique episodes starting in June and running through July.
I'll publish each new episode on Wednesdays. Then – looking even further ahead (again, dangerous for me) – I'll probably take six weeks off and then come back with a second season of 13 episodes in the fall and early winter.
This is a schedule I can actually commit to :-)
If you've listened to Smarketing Talk in the past, you know these are produced as a monologue: Just me talking. The reason I do this is because lining up guests takes an incredible amount of time and if I went with that format I would never get this off the ground. So the monologue format will continue. That said, I promise to be candid and honest as hell.
If you want to receive new episodes in your inbox be sure to subscribe. There's a subscription form at the bottom of this page. Or go here. You can also subscribe to Smarketing Talk on iTunes or Stitcher.
Smarketing Talk Season 1 Schedule
June 7- (Part 1) Hiring in-house marketing help: We'll discuss the advantages and disadvantages to hiring marketing help in-house compared to working with an outside agency. If you do hire in-house, what should the role look like? What skills and background should the position require? What should compensation look like?
June 14- (Part 2) Best practices for vetting and hiring an outside marketing agency: We'll discuss what to look for in an agency, what mistakes to avoid in your search and how to set proper expectations when you do engage an agency.
June 21- Using professional video and photography in your marketing: In such a visual industry, why are the majority of companies so terrible at showcasing their company and work in video and images? We'll discuss practical and purposeful ways to leverage video and photography and also talk about the costs involved with hiring a professional.
June 28- Comparing B2B vs B2C marketing: How you market your company and how you set expectations depends greatly on whether you market to homeowners (B2C) or target commercial properties (B2B). At Landscape Leadership we've been working with both types of companies for almost five years so we'll share our/their experience with you.
July 12- What would Chris do? Let's do a little roll play action. What if I were just hired as an in-house marketing director for a landscaping company trying to transition to an inbound marketing approach? What would my first six months on the job look like? What would my first year objectives be? What about my long-term objectives? And – maybe most importantly – how the heck will I convince my boss to do what I want to do!?!?!
July 19- Where does social media fit in? How are you using social media in your marketing mix? How should you be using social media? I'll share my candid thoughts on the current state of social media with you. You'll probably be surprised. We'll look at data from some of our clients.
July 26- Thoughts on SEO and hiring an SEO agency: I've ranted about SEO providers in the past – and I'm going to do it again because companies are still falling for their shady pitches. I'm tired of seeing companies blow thousands of dollars on "search engine optimization" and get nothing in return. We'll talk about mistakes to avoid and what you should reasonably expect if you hire an SEO agency.
This is going to be fun so be sure to subscribe. Do that here or on iTunes.
I'm looking forward to kicking this off. We'll see you next week.
Chris