My grandfather Robert Hayes died in February 2014.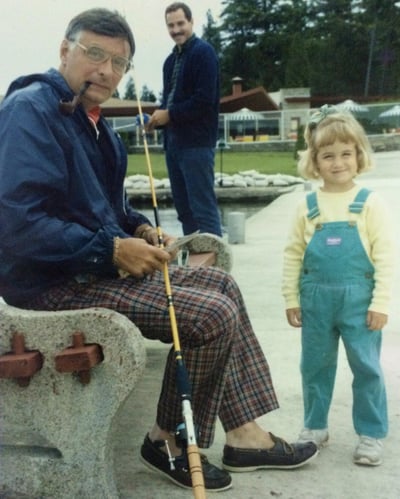 He was well loved by everyone who knew him: family, friends and colleagues. His obituary read more like a résumé at times, listing degrees he'd earned; companies he'd founded, run and sold; boards he'd served on; associations he'd founded or been a member of.
Even though I didn't understand exactly what he did as a management consultant for most of my youth, I remember always being impressed by his business acumen, financial savvy and constant air of professionalism.
At his request, there was no funeral; in lieu of that, a small group of family members got together on the brick patio of my grandparents' house a couple of months after his death to share our memories of him. We spent a couple of hours reading old letters, flipping through black-and-white photographs and laughing as we remembered him piloting his boat, Spirit; insisting on showing up to Christmas morning already dressed in dress pants and a button-down; and sabotaging arts & crafts projects at family gatherings.
Before we left, my grandmother handed everyone an overstuffed file folder with memories they might particularly enjoy. In addition to some priceless photos, mine contained a simple 8 ½ x 11–inch sheet of plain printer paper with the following words printed on them:
Bob Hayes' 5 Rules For Good Client Relations
As client services director of Landscape Leadership — a role I never got to speak with him about personally — I'm always looking for ways to be more professional, better interact with our clients and offer the most value I can to everyone I work with.

Of the five rules on that page, four of them resonated deeply with me. Here's a look at them, and what they've taught me about my current role.
Rule #1: Figure out who has the power to change things, and latch onto that person early. This is your client.
"Don't worry about the chain of command."
While it's important for everyone on the Landscape Leadership team to understand who all the important players in our clients' organizations are, one of our big priorities during onboarding for our services is to find a person within our client's ranks who can serve as our eyes and ears: our in-house champion.
Because we rarely have the opportunity to visit our clients in person, having a "man on the inside" is crucial — someone who can help us execute on our strategies and get stuff done even when things get crazy around their office (which they inevitably do).
They may not have the ultimate authority to give things a firm "yes" or "no," but they have the ear of every decision maker in the place, and more importantly, they have the persistence to push content in front of people and get the big decisions made on time.
Rule #2: Talk to your client at least once a week throughout the project. If you don't have anything to say, talk to him or her twice a week.
"You don't have to talk about findings."
Yes, yes, yes! This is so important in order to a) stay top of mind and b) maintain a great relationship in general. Not every conversation needs to be a milestone celebration or — as the case may be — a "come to Jesus."
Honestly, I'm never more delighted than when I wake up to an email from a client that's completely unrelated to a project we're currently working on. I love sharing in clients' everyday joys, concerns and curiosities, even if they're not directly pertinent to what's on my to-do list that day.
One of our clients, Jerry Schill at Schill Grounds Management, often forwards us e-newsletters from vendors and other companies as great examples of email marketing he likes.
Of course, when we're in the weeds, it can be hard to remember just to check in or say hello. But this is a good reminder that a little extra communication can go a long way, even if it's not an in-depth discussion.
Rule #3: Let your client know you as you really are, faults and blemishes included.
"We are always building client-consultant trust and confidence."
I've been a huge believer in this since long before I joined Chris at Landscape Leadership full time — for better or worse.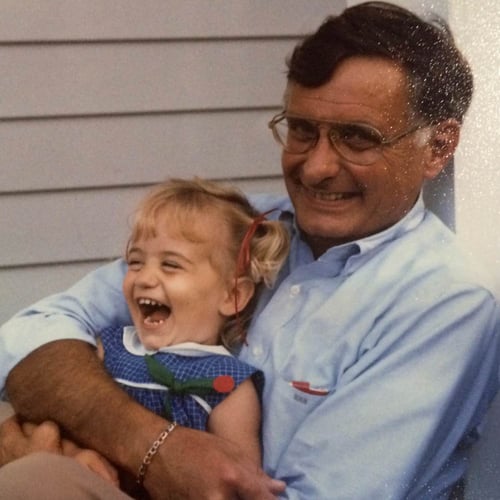 It all boils down to vulnerability, a topic that was front and center during Brené Brown's INBOUND 2015 keynote (watch her incredible TED Talk if you haven't already). Allowing a client to see an authentic version of yourself, flaws and all, can build trust and strengthen your relationship.
I'm not saying I'm going to break down in tears on a monthly call when we don't quite hit our numbers… But I'm going to be quick to admit fault for mistakes, and I'll never try to answer a question I'm not completely confident of the answer to.
Personally, I'm goofy and a little weird, and I would never try to make anyone think otherwise. My personality isn't everybody's cup of tea, but it does come with a huge heart and 100% dedication to getting the job done right.
We've worked hard to build a team with similar dedication to our clients' causes, and every one of our employees has their own quirks, idiosyncrasies and foibles that makes us who we are as Landscape Leadership.
The same goes for our clients — I'm happy to understand what's going on in their lives and in their businesses. It gives me a clearer picture of what's going on with their account and how I might be able to help.
Rule #4: Identify follow-on projects as soon as you can and talk to the client about them in a conversational way — not a selling way.
"Repeat business is the life-blood of every enterprise."
My favorite part about this rule is that it stresses communicating these additional projects in a conversational way. I'm not sure when my grandfather wrote down these rules, but it shows me that the mentality of helping, not selling — and being subsequently treated as a partner with a seat at the table, not a vendor with a line on a bank statement — has been around for quite a while now.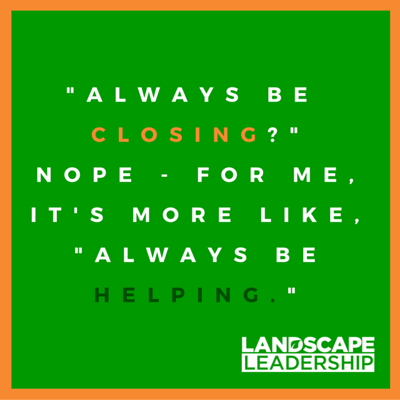 When we have conversations in the months leading up to a client's renewal date, it's never a discussion we take on blindly with the thought of, "How can we squeeze more money out of this account in the next 12 months?"
Never.
Those discussions involve long, deep dives into their HubSpot portal and lots of back and forth about what worked, what didn't work and what we weren't able to try this time around — and how we can change and grow in the next year to get even better results.
I imagine landscape contractors are the same way. You wouldn't blindly go to a client recommending services just because that's what you're selling at the moment. Your crews walk clients' properties on a regular basis — sometimes even daily or weekly. They're always looking for potential issues and ways to make a property healthier and more beautiful, and that's the repeat business you can sell when the time comes. (And it's not nearly so hard a sell then, either.)
Part of that conversational approach means coming to our clients with strategic recommendations throughout the year, not just when it's time to put together a new contract. "Always be closing?" Nope — for me, it's more like, "Always be helping."
That phrase is one that's been attributed to many an inbound-marketing guru… But I'd like to think my grandfather pioneering the concept.
Doing things the old-fashioned way
At the risk of seeming morbid, I'll refer to my grandfather's obituary one more time: My favorite part was an old quote, attributed to no one in particular: "A father is neither an anchor to hold us back nor a sail to take us there, but always a guiding light whose love shows us the way."
While I'm sad not to have been able to share in his wisdom longer, I'm thrilled to have his rules of client service by my side to remind me how to do things right in business today: the old-fashioned way.