Videos are one of the most impactful marketing and recruiting assets in the green industry.
They can make your landscaping or lawn care company appear to be on a whole other level than your competitors.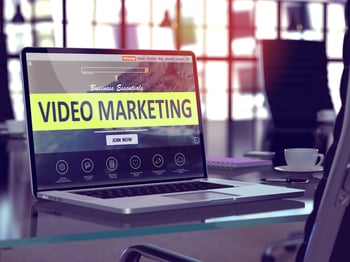 The right video can make job seekers excited about a rewarding career with your organization.
Or, if the videos aren't great...they can have a very unfortunate effect.
Prospective customers can raise their critical eyebrows and wonder why you would ever create a video so cringe-worthy.
Job seekers can be unimpressed and turned off.
In the mind of that ideal prospect or job recruit, you've suddenly lost all credibility.
Maybe you are remembering some examples right now. Maybe they're on your website….ouch…
Now cut yourself and those well-intentioned companies some slack. Creating great landscaping or lawn care videos is one of the most difficult things to pull off. Composing a unique and meaningful story, directing team members and customers, capturing pro-quality footage and sound, and editing it all together in a way it stands out...whew...that's a lot of work!
Filming and producing landscaping or lawn care marketing and recruiting videos has been one of my favorite things we do for our clients here at Landscape Leadership. I have some great examples for you along with some comments for more inspiration.
Loop Videos
These lawn care and landscaping videos are typically shorter in length and have no audio. They are meant to provide captivating visuals that go a step beyond photos. Loop videos are most often used for the top of website pages and can even be used on Facebook for a cover video.
1. RainMaster Lawn Systems: Homepage Loop Video
This was a fun lawn care video to plan out for RainMaster Lawn Systems. We wanted a prospect to see that they are buying quality time and relaxation. The lawn care or irrigation services are just a means to an end. We wanted this to be the first thing a prospect would see when they come to the website.
The family involved were actual customers. All it took was a few takes of this cute little guy and his furry (and very obedient) friend running back and forth.
(RELATED READING: 12 Essential Ideas to Implement on Your Landscaping Website's Homepage)
2. Level Green Landscaping: Career Center Loop Video
Another way you can repurpose video footage is to take some of your best clips and compile them together in a short video to loop on the top of a page. Here you see some clips of the Level Green Landscaping team and the beautiful properties they maintain.
We'll have a few more examples of Level Green's recruiting videos later in this article.
Brand Videos
This is probably the format you're the most familiar with. These lawn care and landscaping videos tell a company story. These can be centrally-positioned on your website's homepage or "About" page, or can even be reformatted as television commercials.
3. Natural Green: Brand Video
One of the most powerful things you can do is make your brand video more about your customers than your organization. In this video, we scripted out some empathetic statements for Natural Green Lawn & Pest owner, Scott Emerson. Then we just asked the right questions to a few customers and the result is a compelling message.
4. Joshua Tree Experts: Television Commercial
Television commercials are not typically our first recommendation for marketing campaigns. However, if you get a few years into an effective video campaign like Joshua Tree Experts has, you can repurpose footage and use a professional voiceover talent to create a video like this for additional branding on TV.
Service Promotional Videos
It can be awkward and overwhelming to cover all the services you have to offer in a single video. There's only so much time and you can only go so deep.
However, if you have a place on your website where someone's interest is obviously specific, you can create landscaping and lawn care videos that match your prospect's context. Here are a few examples of how to do this.
5. Earth, Turf, & Wood: Landscape Maintenance Video
If you focus primarily on design/build but want a handful of the best maintenance accounts, it's important to screen your customers and projects.
I love how we used this video to not only promote their "GROW" landscape maintenance program but also showed what types of properties and customers Earth, Turf, & Wood is a good fit for.
6. Joshua Tree Experts: Aeration & Seeding Video
As you may imagine in the example above, interviewing multiple team members and customers adds a degree of complication to video production. However, you can also create service-specific landscaping or lawn care videos to meet the context of your website visitor in this alternative format.
In this example, we created a specific video all about aeration and seeding for the corresponding page on Joshua Tree's website. If you venture to their other services pages, you'll see we slightly changed each video for that page's context.
We also created near-identical versions with added background music and a call-to-action slide at the end for them to post to social media.
7. Rock Water Farm Landscapes & Hardscapes: Landscape Design Video
Maybe you have a completed project that really sells a landscape design transformation. It has an outdoor kitchen, dining and lounge areas, along with landscape lighting and an outdoor fireplace.
This was the case for this recent project for Rock Water Farm Landscapes & Hardscapes. Watch how we used the captions, footage, and upbeat music to market not just the features, but the quality time or relaxation the customer is really after.
Solution Explanation Videos
Sometimes people just would rather watch a video than to read. Using a landscaping or lawn care video is ideal for visual learners. Plus, it helps communicate value for what you are offering.
8. Joshua Tree Experts: Lawn Care Program Video
For Joshua Tree, we used the various prior footage along with some captions and transitions to walk the buyer through the three program options visually right at the top of the lawn care pricing page on their website.
This actually tripled the number of leads we get on this page!
We also did this for their Plant Health Care packages and are working on a version now for their new Pest Control packages as well.
(RELATED READING: Why & How to Address Cost of Services on Your Website)
Case Study Videos
People love great stories. A case study video can promote specific services but focuses more on the experience and specific challenges that your customer had to overcome. Here are a few examples.
9. Level Green Landscaping: Church Campus Case Study Video
Level Green Landscaping works on various types of commercial properties. One type of client they love working with are local churches. Check out how this would appeal to you if you were responsible for finding the right commercial landscaper at your church!
10. Earth, Turf, & Wood: Smaller Projects Case Study Video
Case studies can also overcome undesirable perceptions. Earth, Turf, & Wood primarily designs and builds large, high-end projects. However, they love the right smaller projects as well and want prospects to realize that. Check out how this case study tells a great story about a smaller project completed for this couple with a modest home.
We also have a few more of these case study style landscaping videos on their website.
Lawn Care & Landscaping Recruiting Videos
One of the biggest challenges the green industry faces is finding good team members. Green industry recruiting videos can position your company as an employer of choice.
I have so many examples of these that it was hard to narrow down the list. Here are a few to check out.
(RELATED READING: Recruiting in the Green Industry - How to Create a Winning Employer Brand)
11. Kingstowne Lawn & Landscape: Why I Love Working Here
We all know that job seekers want different things based on their past experiences or the role they are applying for. This video for Kingstowne Lawn & Landscape's Career Center captures various team members in both English and Spanish. Watch to learn why they love working here!
12. Grassperson Lawn Care & Landscape
One of the best things about working in the green industry is the feeling that you have a meaningful purpose and are part of a team that will support you along the way. Check out how we added this lawn care and landscaping recruiting video to explain this visually on Grassperson's Career Center.
13. Earth, Turf, & Wood: Green Industry Careers Video
Each job seeker has a different background story. I loved how we were able to interview multiple people at Earth, Turf, & Wood to show how they attract great recruits within or outside of the green industry. Check out how this green industry recruiting video enhances the Earth, Turf, & Wood's Career Center.
14. Level Green Landscaping: Day in the Life of a Crew Member Video
Sometimes you need to fill specific positions. Job seekers are always wondering what these jobs look like and a green industry recruiting video like this helps to make it more clear.
Bonus points for also showing our industry is a great place for women to work!
This commercial landscape company has invested in a lot of different landscaping recruiting videos. Check out more on the Level Green Career Center.
Landscaping & Lawn Care Videos with Endless Possibilities
This is just the tip of the creative iceberg and I have so much to say on creating landscaping and lawn care videos!
I wish nothing but the best for your company's video strategy. May your prospective customers and job recruits be nothing less than impressed!
If you feel inspired by these examples, I'd encourage you to follow me on LinkedIn or check out the Landscape Leadership Facebook page. I frequently publish our newest video productions to those platforms.
Ready to create multiple videos as part of a thoughtfully-planned overall marketing strategy? We'd love to talk. Schedule a meeting with us to learn more